National parks have grown in popularity. We got the itch, and Yellowstone got a spot. We opted to stay outside of Yellowstone's west entrance, since park lodging was closed tied to COVID-19. I chose not to stay at Under Canvas Yellowstone, but instead stayed at the Bar N Ranch, which is on the same property. I love to hear about others' glamping adventures, but have never wanted one of my own. I had the opportunity to tour Under Canvas Yellowstone. Game on. I have a very big crush on Under Canvas.
Editor's note: This article has been updated with current information (April 25, 2021).
Good to Know
Yellowstone is the first Under Canvas property in the USA. Under Canvas properties are located at these destinations.
Yellowstone – Montana
Glacier – Montana
Moab – Utah
Zion – Utah
Lake Powell – Utah
Mount Rushmore – South Dakota
Great Smoky Mountains – Tennessee
Arcadia – Maine
Grand Canyon – Arizona
Yosemite – California (Coming soon)
Dining
At Under Canvas Yellowstone, dining is served in a separate lodge, with a full-service bar, and is shared by Bar N Ranch guests. The lodge is rustic and charming, surrounded by windows. Burgers are the bison kind. Staff is friendly. Reservations are accepted. A kids' menu is offered. We were late season guests, and did not make a reservation. Campfire reservations were also available for roasting smores.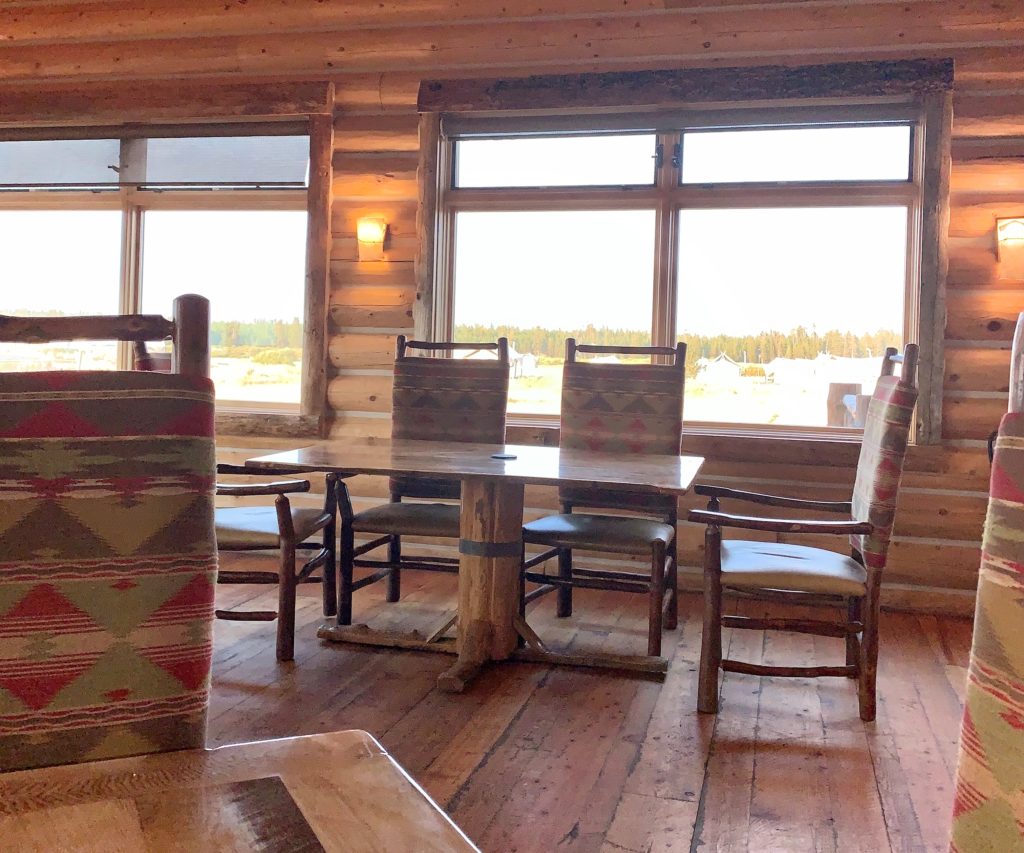 Accommodations
En suite tents are extraordinarily nice with essential heaters and West Elm furnishings. The bathrooms have respectable showers, with warm water, plus essential privacy using barn doors or canvas curtains, pedestal sinks, and makeup mirrors. A few of the Yellowstone rooms had shared bathrooms. I took a closer look at an en suite bathroom to get over my camping bathroom fear. I loved what I saw
The bathroom did not have any counter space.  A luggage rack and towel make a great table for toiletries when countertops are small or missing.  Strategy Workshops for the Expert Traveler cover tips guaranteed to ramp up your travel experience.  Remember this tip, and register for the workshops.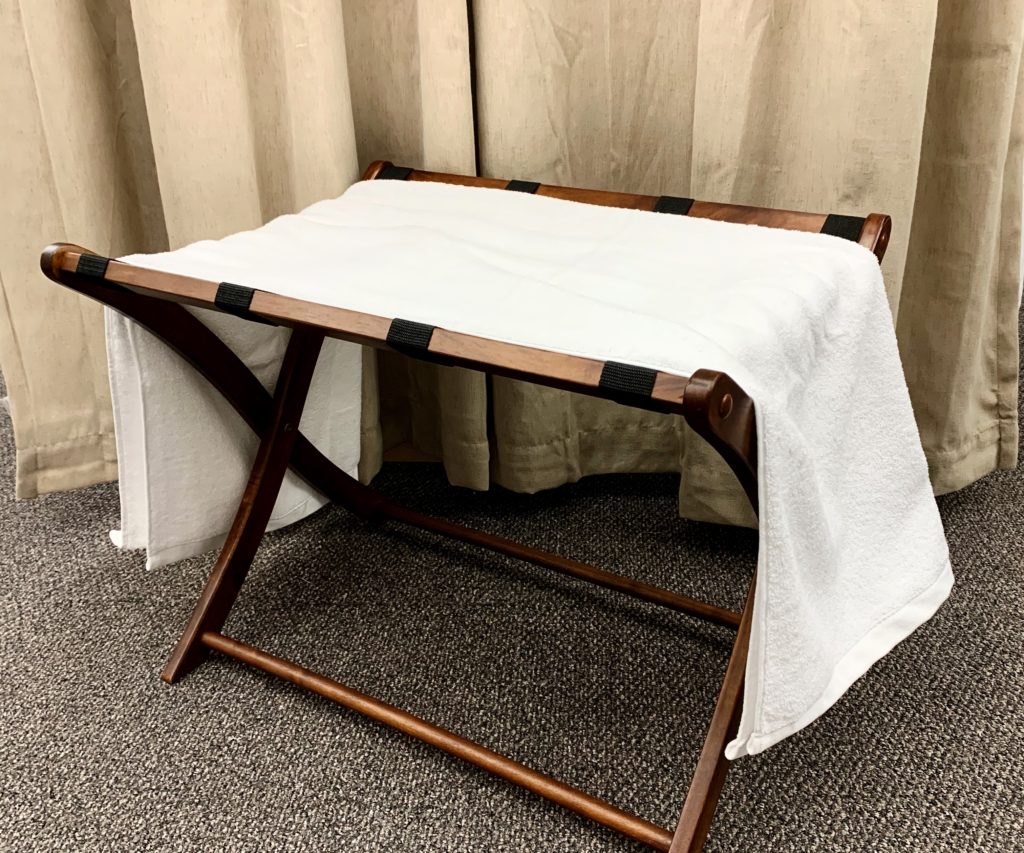 Chairs and a table are on the front porch.  The porch makes an ideal spot for watching sunrise, sunset, or doing morning yoga. There is Wi-Fi onsite too. Towels were respectable. Stargazer is an updated tent option that has a clear over the bed ceiling to watch stars at night.  Two central lounge areas were onsite, one indoors, and one outdoors.  They were ideal spots for playing board games, hanging out, enjoying hot chocolate, or an adult beverage.
The reception area also had seating and I noticed coffee and baskets of grab and go power bars.
The Crowd
The crowd was a trendy one including lots with families. A Tesla pulled into the property as we were pulling out.  This was not an outlier given the folks observed milling around.  A young couple, grilling the night before, had movie star looks and Instagram swag. Yoga mats were common on the front tent porches. 
The Not-So-Good
The tent stoves require attention.  It's cold at night – real cold. Tents must be zipped, and garbage disposed of properly. It's bear country.  Lighting is not the Four Seasons kind, so the place is dark – real dark.  A friend who stayed at Under Canvas Grand Canyon said her steamy hot shower was a lofty dream.  She settled for a warm shower, and made friends with the pull chain system that conserves water.  She loved the stay, and would do it again.
Tips on Under Canvas
Take as little downside risk as possible, and book during the driest, warmest period with the longest daylight hours. Old man winter made his appearance the day after I visited Under Canvas Yellowstone. This is a good time to upgrade your room (tent), and turn a good stay to great. Finally, read the Under Canvas Yellowstone Trip Advisor reviews, or the reviews for your location of interest.  Discern what feedback is relevant for you.
Strategy Workshops for the Expert Traveler
Travel is complex.  Strategy Workshops are guaranteed to ramp up the travel experience.  Move to Expert Traveler status with one or more 50 minute sessions. Workshops are curated based on needs and goals.  They are offered live in Austin, Tx, and by Zoom for all locations.  Participants range from students, preparing for a summer abroad, to office staff, responsible for travel arrangements.  Group size ranges from 1-300.  Return is guaranteed for those who book on their own or through a professional.  Let's chat and get you, your group, or office staff on the road to Expert Travel. The payoff is great.  Email TravelToolsTips@gmail.com.
Related Posts
Amazon Prime Packing System Prevents Travel Nightmares offers a start to finish guide for carry-on packing.  Essential travel supplies are covered for all travelers, including those who check luggage.
Subcribe
If you like this, hit Subscribe for updates and other travel inspiration.  Emails are infrequent, and will not wear out their inbox welcome.  Follow TravelToolsTips on social media too.  Visit the Blog for other great intel.