A visit to Lauren's Garden, in the Historic Market Square Park at 301 Milam Street, was a treasured visit included with a weekend getaway to Hotel ZaZa and Houston's Museum District.
Good to Know
Lauren's Garden was created to honor my sorority sister Lauren Catuzzi Grandcolas, and her unborn baby, who died on 9/11 when Flight 93 crashed in Pennsylvania. The park was dedicated on September 11, 2010 to honor all those we lost on 9/11, with a special dedication for those on Flight 93. It was gift to the city of Houston from the Lauren Catuzzi Grandcolas Foundation, established by Lauren's parents, who are Houston residents.
More About Lauren
Lauren was from Houston's Stratford High School. She was a senior when I was a freshman at the University of Texas. We both were active members in the Alpha Delta Pi Sorority house, overlapping one year. According to the Texas Alcade there were three longhorn alumnae we lost on 9/11, including Lauren.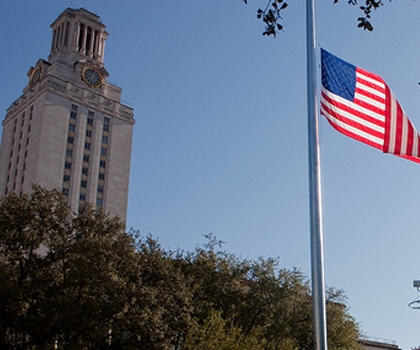 Lauren's Sorority Alpha Delta Pi
When serving as an Alumnae Board Member for Alpha Delta Pi, the group was tasked with creating a written memorial for Lauren inside its home in Austin, Texas. I was living in Washington DC in 2001, but commuting by plane on the weekends to Upstate New York. Events of 9/11 were closer to home for me, so I took the lead on the memorial. The sorority's memorial has a picture of beautiful Lauren, along with the history of her sacrifice on 9/11.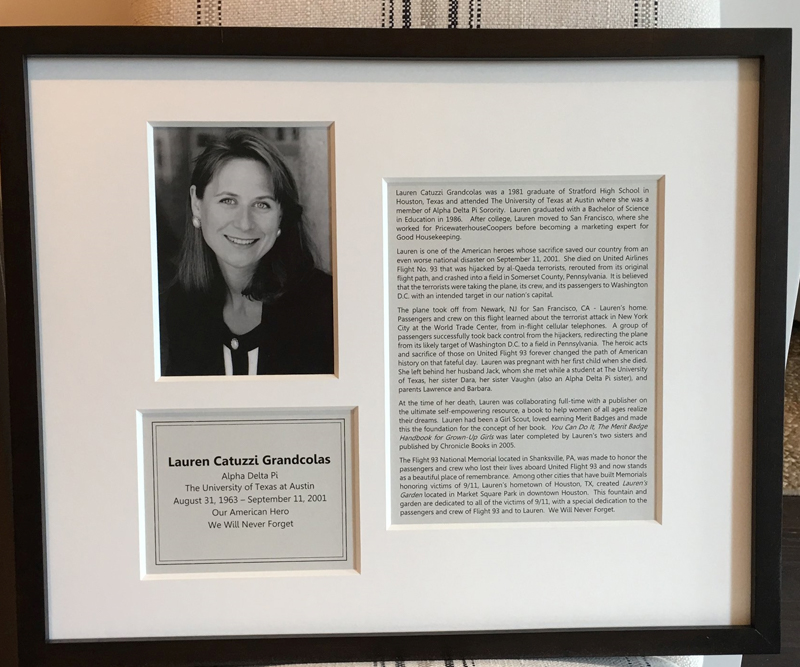 I spent time by telephone with Lauren's sister, also an Alpha Delta Pi, to get the data and the written message right for the memorial. The memorial hangs today in one of the living areas where the girls study, eat and socialize, at the historic Alpha Delta Pi home at 2620 Rio Grande in Austin.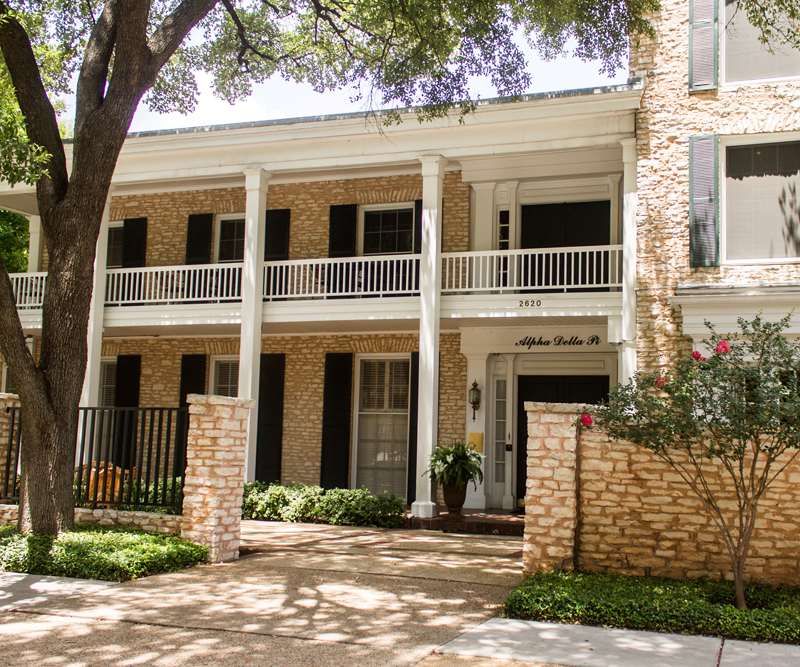 Some of the girls in the sorority today were born after 2001. All who pledge Alpha Delta Pi will know that an American hero preceded them. They will know a group of passengers on Flight 93 successfully took back control from the hijackers, redirecting the plane from its likely target Washington DC, to a field in Pennsylvania. They forever changed our American history.
Lauren's Garden
As for Lauren's Garden, it's a very happy space filled with light, bright mosaic tile, benches, abundant crape myrtle trees, and is surrounded by city skyscrapers. Its sweet voice is the opposite of that terrible day, as Lauren's family intended.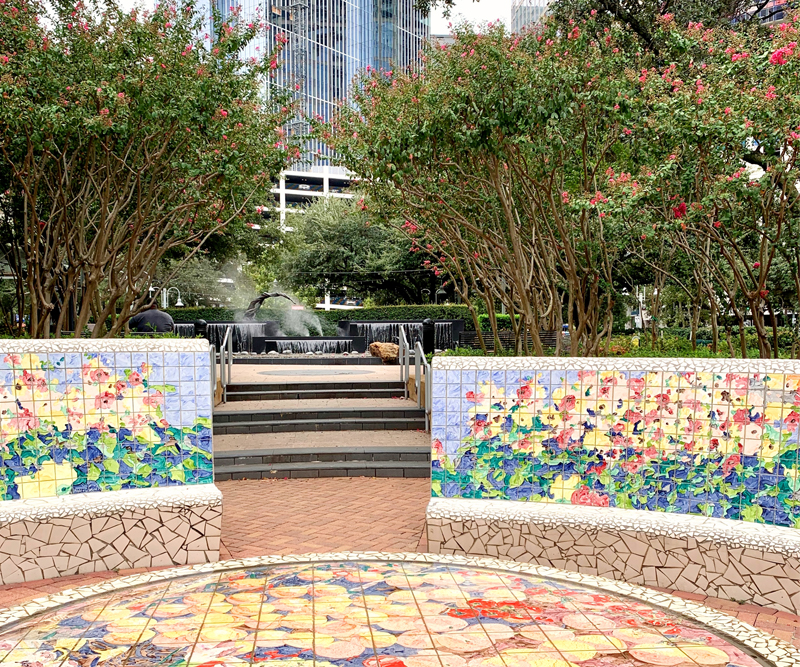 Its centerpiece fountain has three granite walls for the three crash sites, New York, Washington, DC, and Pennsylvania. There are 40 large stones in the fountain that represent those we lost on United Flight 93 in a Pennsylvania field; another 2,653 small pebbles represent those we lost at the World Trade Center in New York City; and 194 larger pebbles for those we lost at the Pentagon in Washington DC.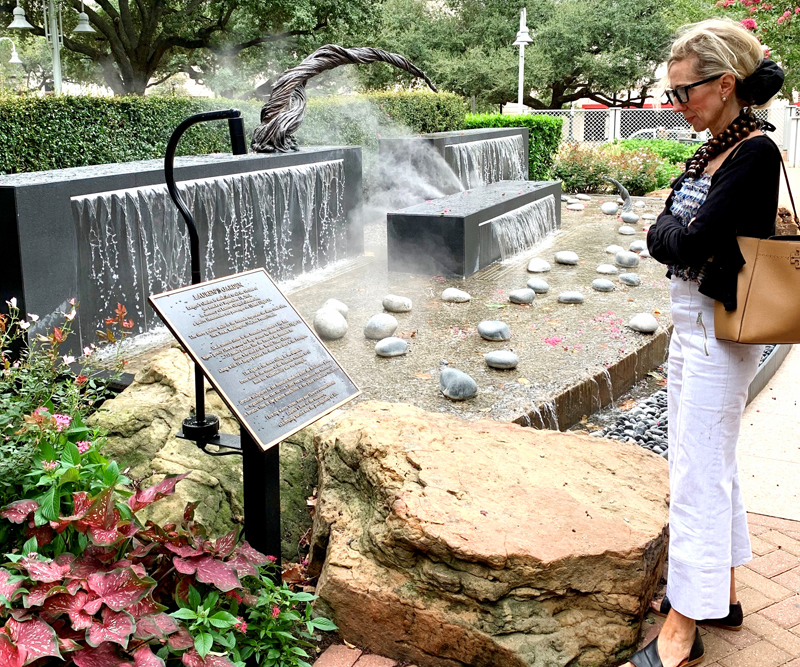 Lauren's youthful face in caste-bronze surveys the park and its visitors. Other works described as organic poetry, commissioned by artist Ketria Bastian Scott, also fill the space.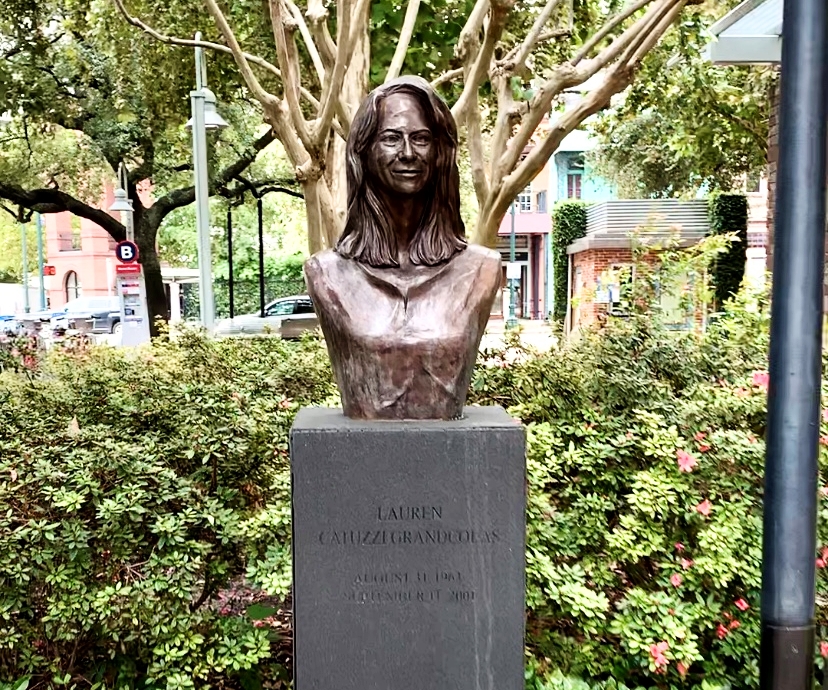 Visitors to the garden learn who Lauren is, and are reminded of all the others we lost on 9/11. She is sadly forever young in her garden. For Lauren, and all of the others we lost, we will never forget.
Related Posts
A read of the post ZaZa & Houston's Museum District offers other stops to pair with your visit to Lauren's Garden.
Subscribe
If you like this, hit Subscribe for updates and other travel inspiration. Emails are infrequent, and will not wear out their inbox welcome. Follow TravelToolsTips on social media too. Visit the Blog for other great destinations.