Houston is an easy drive from most Texas cities. A short weekend in the Houston Museum District, paired with the Hotel ZaZa Museum District, didn't just fill our cultural canteen, but it goes down as a surprise charmer I can't wait to repeat.
Editor's note: This article has been updated with current information (April 23, 2021).
Good to Know
The website weather-atlas is a great planning tool, and provides average temperature and rainfall by month. The ZaZa Hotel Collection is known for being edgy, unique and artsy. ZaZa has a loyal following, and got 4 spots in Conde Nast Top 20 Hotels in Texas: Readers Choice Awards, including the Houston Museum District location. Once your hotel is reserved, then jump over to The Houston Museum District website for information on nearby attractions, and for travel planning.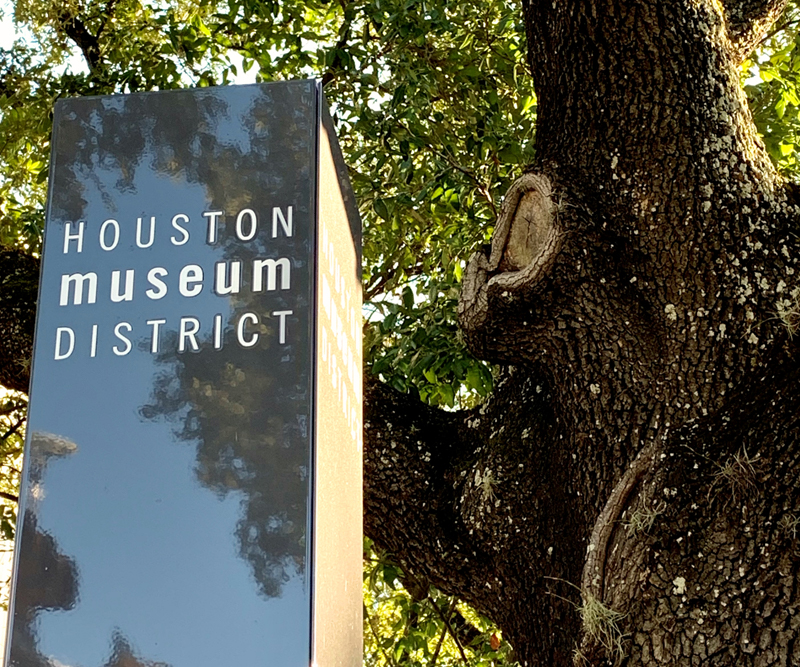 Airline Travel & Car Rental
Airline Travel
Houston's Museum District is 11 miles from William P. Hobby Airport (HOU), and 22 miles from George Bush Intercontinental Airport (IAH). IAH offers nonstop flights to 186 destinations, and HOU to 64 destinations, according to FlightsFrom.com.
Car Rental
You do NOT need a car to explore the Houston's Museum District. If you choose to rent a car, secure it ASAP. Rental car inventory across the USA is a disaster, with sky high rates and/or no availability.
Hotel ZaZa Museum District
There was a bounty of bling inside the ZaZa hotel. Service was spectacular. Rooms differ abundantly in décor. We stayed in the Pool Villa room, which is light and airy, in contrast to the dark sensual vibe for the rest of the hotel. The Pool Villa bathroom has 2 sinks and shower/tub combo. French doors open to a balcony, overlooking the pool.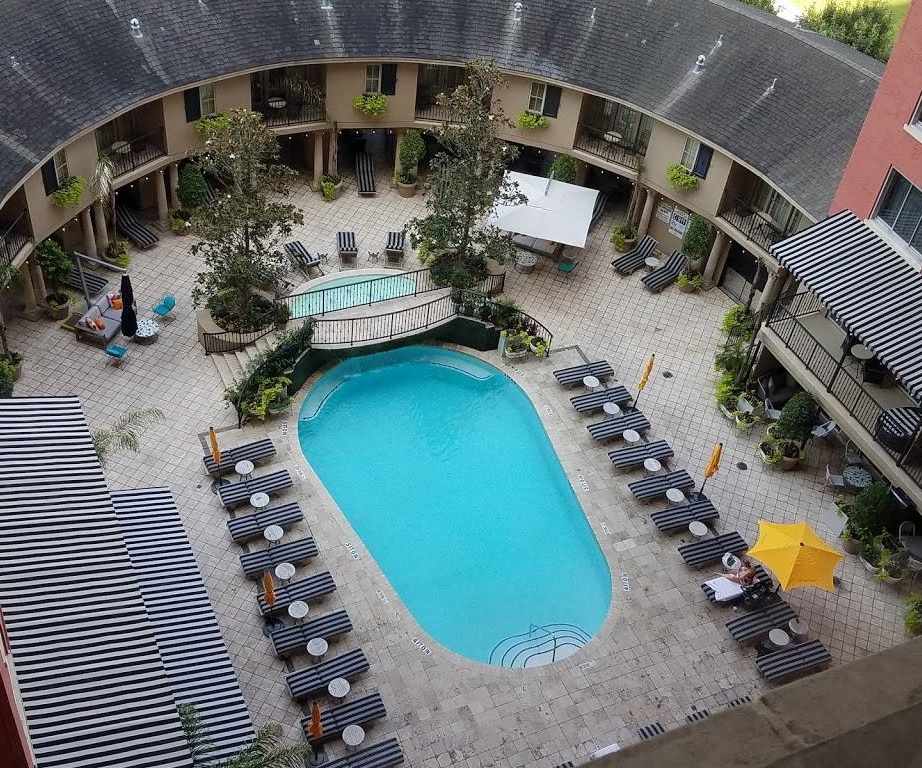 The Monarch is a happening onsite restaurant, frequented by Houstonians, along with hotel guests. There was a DJ outdoors, and the patio was filled, the night we were there. We opted for a quiet corner table indoors to watch the beautiful people. There were lots of them.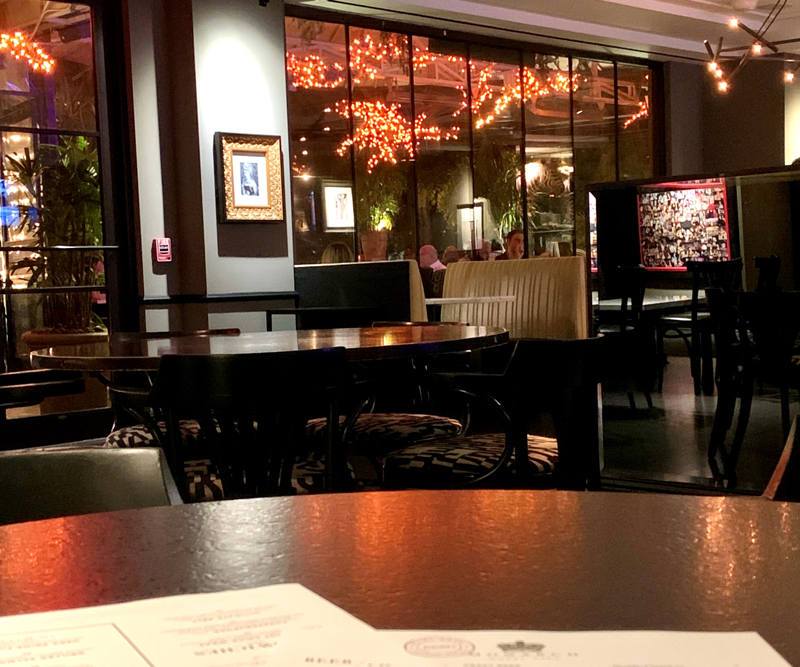 By the way, meals are paid for with the American Express Gold Card and 4 points are earned for every dollar spent. The smartest ways to earn and use travel reward points are covered in Strategy Workshops for the Expert Traveler. The hotel provides complimentary rides, in a Texas style limousine, within a range of 5 miles.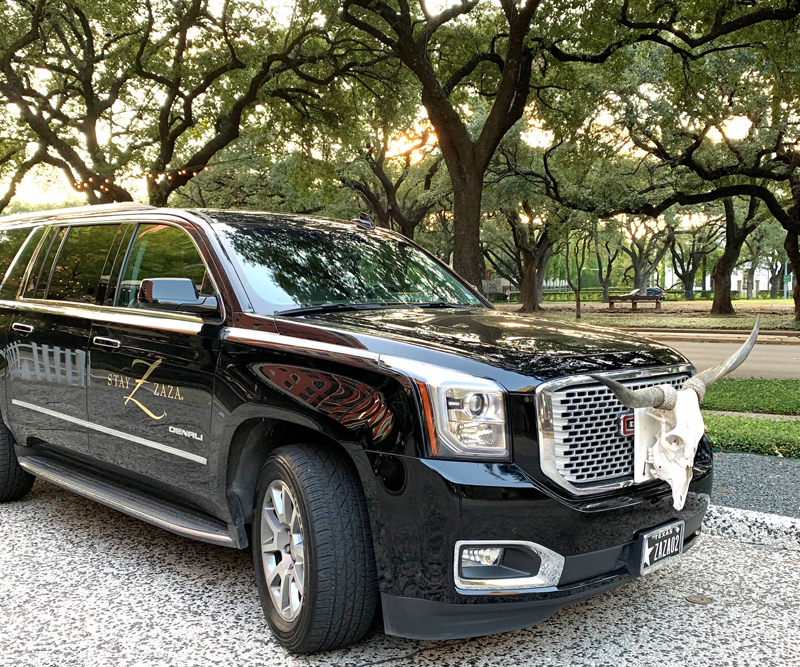 Edgy art was everywhere, including the elevators. The hotel has a business center with copier, computers, and tables in natural light, making ZaZa a great spot for mixing work and play.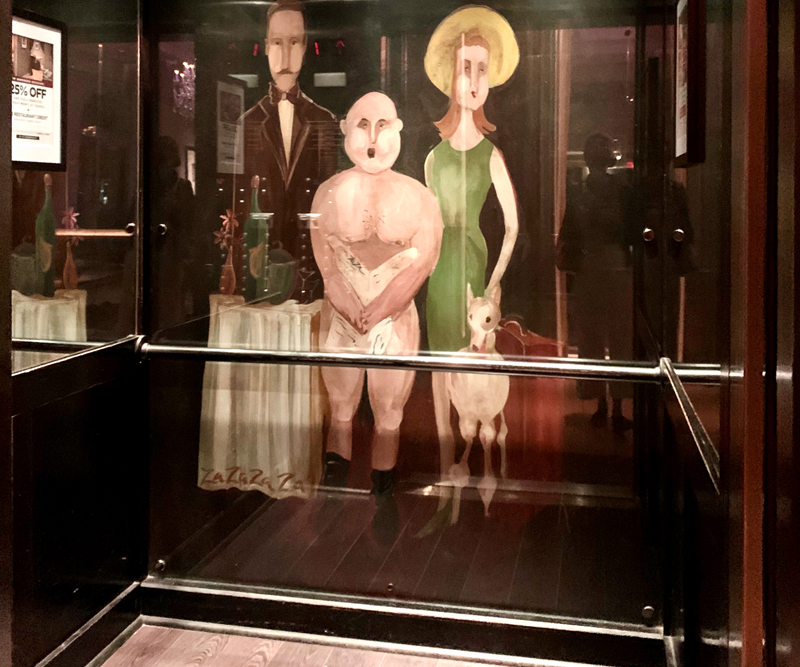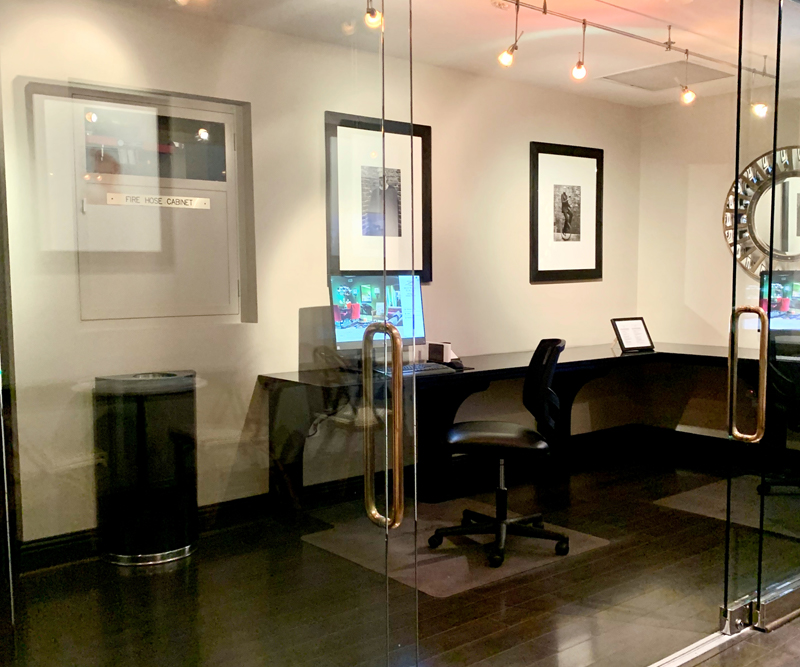 The stay at ZaZa was paid for with the Chase Sapphire Reserve Card, and 3 points were earned for every dollar spent. Travel reward cards are a big deal for frequent travelers. Reward points lock in my business class, lie flat seats, for 4 international flights taken yearly, on average, valued at $15,000 – $20,000. More on that in Strategy Workshops for the Expert Traveler. Ramp up your travel experience and register for the workshops. Many areas are covered, not just reward points. Bullseye Packing is another favorite.
Museum District Stops
Houston Zoo
The Houston Zoo is .8 miles from Hotel ZaZa. It's a gorgeous walk through Hermann Park, which includes a stunning reflection pool. The zoo debuted its $28M gorilla exhibit in 2015. It's an attention getter for all ages. The zoo is on the small side, in just the right way, with the standard lineup of rhinos, elephants, and giraffes. We showed up first thing Saturday morning, and enjoyed the park free of crowds. Crowds were robust when we departed. The zoo was gearing up for Halloween the day we visited.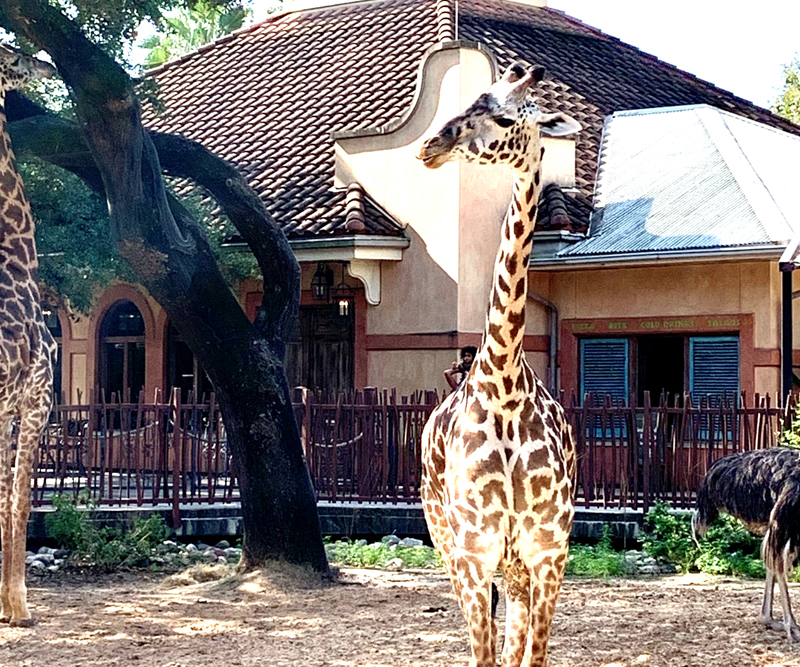 Lillie & Hugh Roy Cullen Sculpture Garden
The Lillie & Hugh Roy Cullen Sculpture Garden is .3 miles from Hotel ZaZa. It's a perfect place to spend 30 minutes or 3 hours. It's free and open every day. Research provided marginal expectations. The garden is over the top. This Houston Chronicle article discusses the garden's 2018 facelift. Rodin's sculpture Walking Man is one treasure. Henri Matisse exhibit, The Back Series, is another. The Back Series is a collection of 4 bronze sculptures, coined as Matisse most highly regarded sculptures. The garden has one set of nine displayed throughout the world.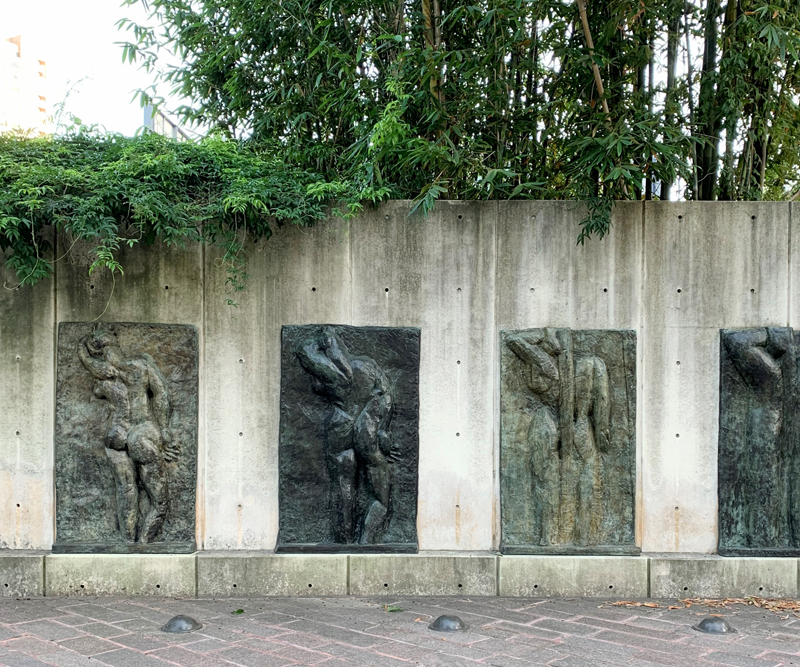 Cloud Column is also an attention getter, installed in 2018. It may remind you of the Chicago Bean. It should, because it's by the same artist, Anish Kapoor. The installation is dubbed the Houston Bean.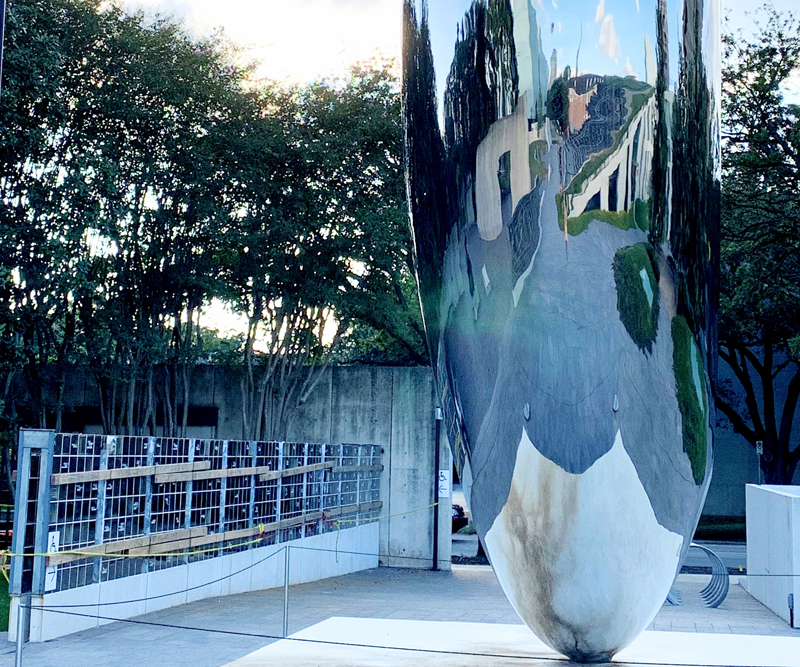 Museum of Fine Arts Houston (MFAH)
The MFAH is .3 miles from Hotel ZaZa. We visited the temporary exhibit Glory of Spain onsite March 1, 2020 – January 3, 2021. One of the displays was Francisco Goya's, The Duchess of Alba, painted in 1797. Here's a little museum "tea". Goya and the Duchess may have been more than friends.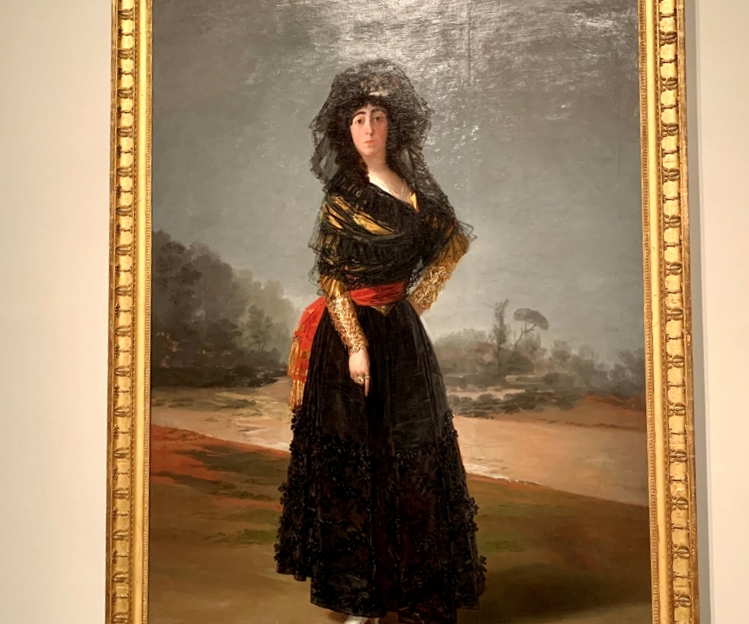 Many museums are using QR coding systems for visitor education. Pack your ear buds. MFAH is comprised of three buildings connected by underground tunnels: the Caroline Weiss Law Building, the Audrey Jones Beck Building, and the Nancy and Rich Kinder Building. The Kinder is the most recent addition to the MFAH, and opened November, 2020. It includes works from Picasso, Matisse, O'Keefe, and Pollock . This is the tunnel between the Law and Beck Building, and includes a James Turrell blue masterpiece.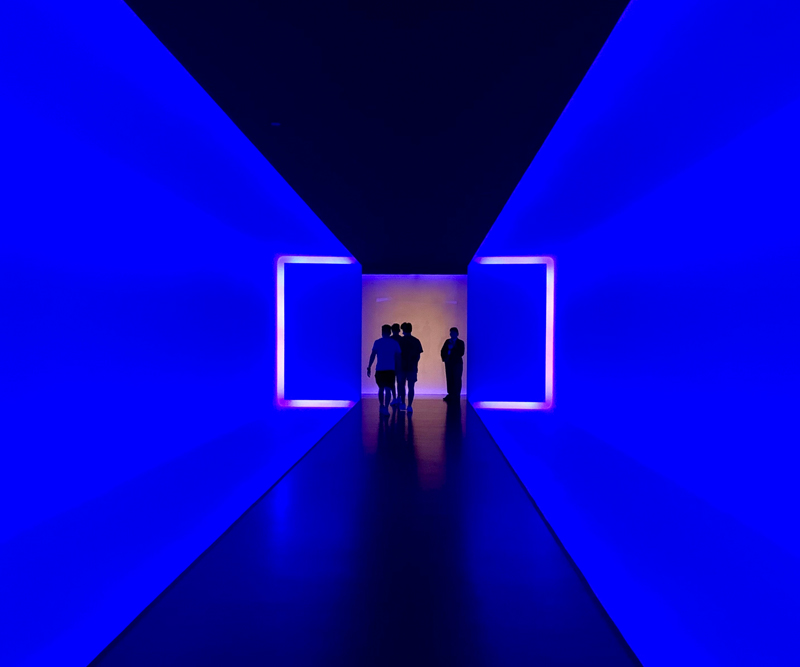 Tips on Houston's Museum District
When making hotel reservations, be careful to reserve the right ZaZa hotel. There are two in Houston, Museum District and Memorial City. Traffic noise in the Museum District was pronounced Friday at rush hour. All was quiet on Saturday and Sunday. Plan ahead for your museum visits, to include reservations when required. Museum district operations, across venues, differ for days, times, or both. If the Houston Museum District were a ship, then in one short weekend, we covered the gangplank. There's so much to see and do.
Related Posts
Lauren's Garden – We Will Never Forget offers information on a nearby Houston garden and memorial for Houston resident, and sorority sister, Lauren Catuzzi Grandcolas, and all those we lost on 9/11.
Amazon Prime Packing System Prevents Travel Nightmares, offers a start to finish guide for carry-on packing. Essential travel supplies are covered for all travelers, including those who check luggage.
Strategy Workshops for the Expert Traveler
Travel is complex. Strategy Workshops are guaranteed to ramp up the travel experience. Move to Expert Traveler status with one or more 50 minute sessions. Workshops are curated based on needs and goals. They are offered live in Austin, Tx, and by Zoom for all locations. Participants range from students, preparing for a summer abroad, to office staff, responsible for travel arrangements. Group size ranges from 1-300. Return is guaranteed for those who book on their own or through a professional. Let's chat and get you, your group, or office staff on the road to Expert Travel. The payoff is great. Email TravelToolsTips@gmail.com.
Subscribe
If you like this, hit Subscribe for updates and other travel inspiration. Emails are infrequent, and will not wear out their inbox welcome. Follow TravelToolsTips on social media too. Visit the Blog for other great intel.