National parks have skyrocketed in popularity, and Joshua Tree National Park is in the lineup.  Palm Springs, the nearby town, has become a draw for travelers other than retired golfers or LA weekenders.  A last-minute flight was booked to see what the buzz was all about.  Five days flew by.  Palm Springs is exceptional, and earns a well-deserved spot on the US bucket list.
Editor's note: This article has been updated with current information (December 11, 2022).
In Memoriam
Dave Barry (1968-2022) you made this world a much better place.  Every day was brighter when you were part of it.  Palm Springs and Joshua Tree included.  You are missed beyond words.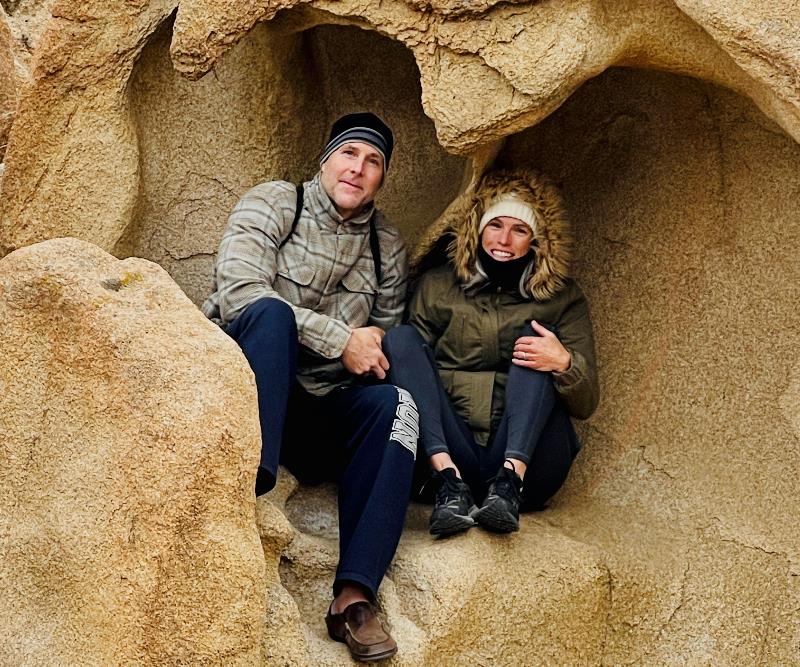 Good to Know
Palm Springs is in the Sonoran Desert.  Avoid June – Sept when Palm Springs highs are at or over 100 degrees.  It can reach 121 degrees.  If you are extremely sensitive to heat then avoid May – October.   The website weather-and-climate.com is a great planning tool.  Layers are your friend.  A coat and swimsuit worn in the same day is a thing.  The climate can differ 30 miles away, so change the location in your weather app or you will be duped.  Precipitation hovers around 4-5 inches per year and is not a factor, however, wind is a big one. This day saw 60-mph winds.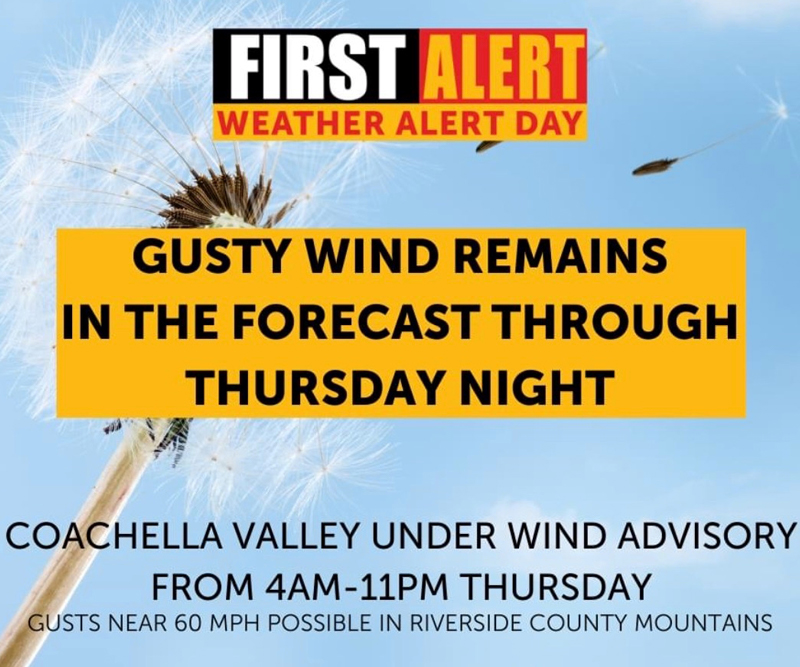 Airline Travel & Car Rental
Airline Travel
Look first for flights into Palm Springs International Airport (PSP) which is 2 miles from downtown Palm Springs with nonstop service to 20 plus cities.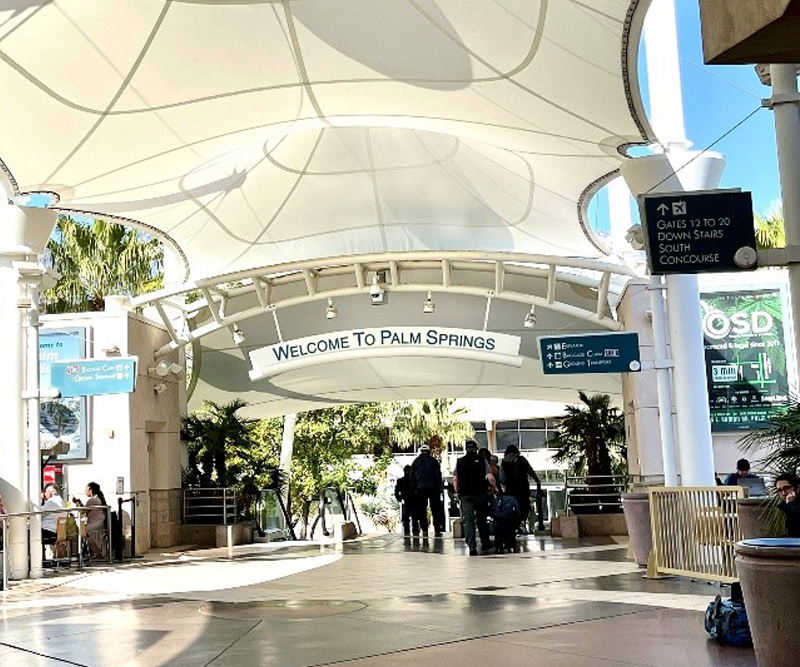 Next, look at Ontario International Airport (ONT) 69 miles away with nonstops to 20 cities.  Alternative airports are John Wayne International Airport (SNA) 98 miles away; Long Beach 109 miles; and LAX 121 miles.  Don't discount LAX flights.  Those can be highly affordable.  FlightsFrom.com is used to gather this data.  By the way, Strategy Workshops for the Expert Traveler hit key websites and apps guaranteed to ramp up your travel experience.  Note this website, and register for the workshops.  
Car Rental
You need a car.  Inventory at rental car locations is low across the country, and you could find yourself without one.  Check rental car rates before booking flights to be sure cars are available.  Reserve ASAP.  There's ample parking everywhere, and airport pick-up/drop-off at PCP was a breeze, and breathtaking.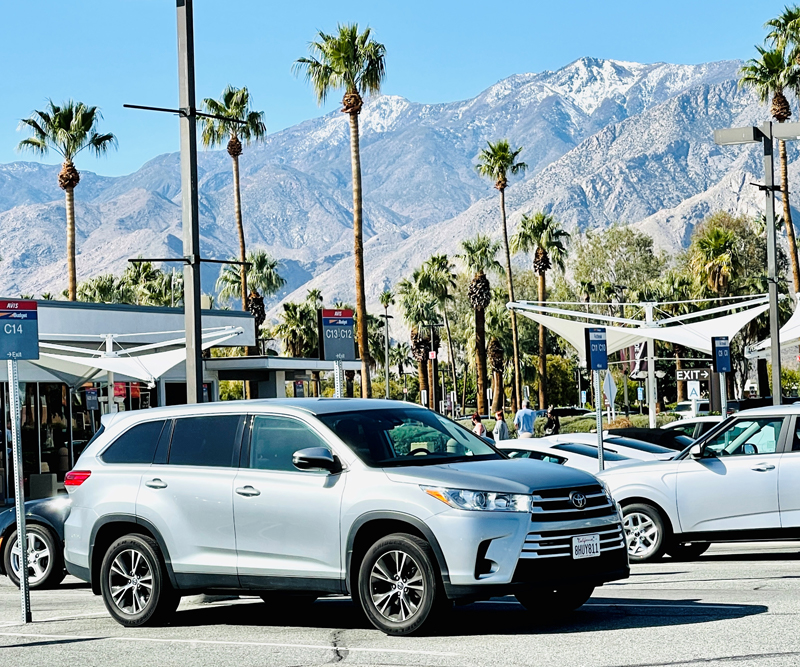 Festivals & Events
The Coachella Valley Music and Arts Festival is held over two weekends in Indio, 20 miles east of Palm Springs.  Its country music cousin Stagecoach immediately follows.  While we were in town Desert X was going on.  Its upcoming dates are  March 4 – May 7 in 2023.  This an annual event showcases outdoor art installations, with on point social messages.  We hit Desert X day one and got an expansive introduction to the city.

Palm Springs Resorts
Decide first how you want to spend your time.  If golf, spa visits, and drinks by the pool are your targets then consider one of these 3 resorts, all located southeast of Palm Springs International Airport (PCP):   
The Ritz Carlton Rancho Mirage, owned by Marriott International, is a luxury property 7 miles from PCP. Note they send golf patrons to their sister property at JW Marriott Desert Springs Resort and Spa.  A refresh is overdue for this property so evaluate the rate with that in mind.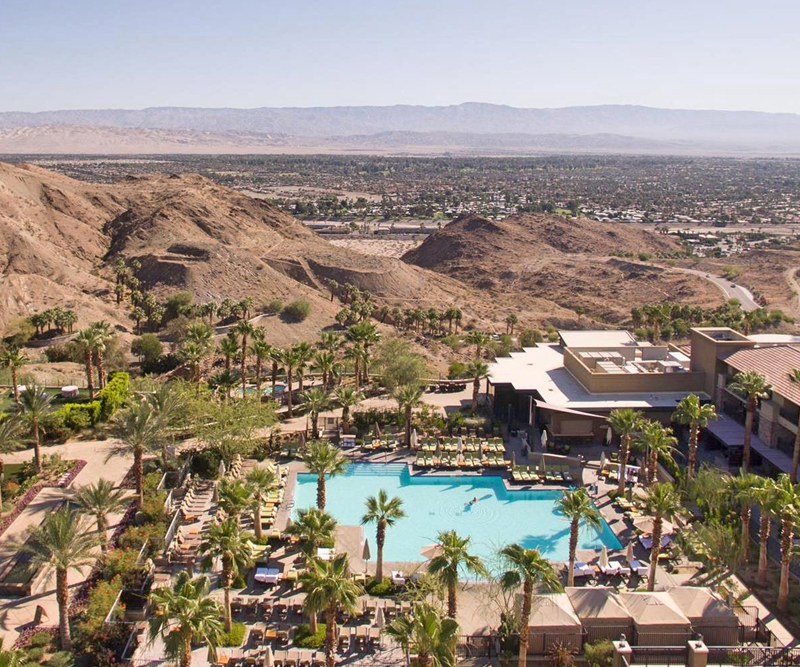 Hyatt Regency Indian Wells Resort and Spa, 15 miles from PCP, got a $21M renovation in 2020 and is nirvana for families.  It has a new waterpark with slides and lazy rivers plus Camp Hyatt for dropping kids. The golf box is checked here too.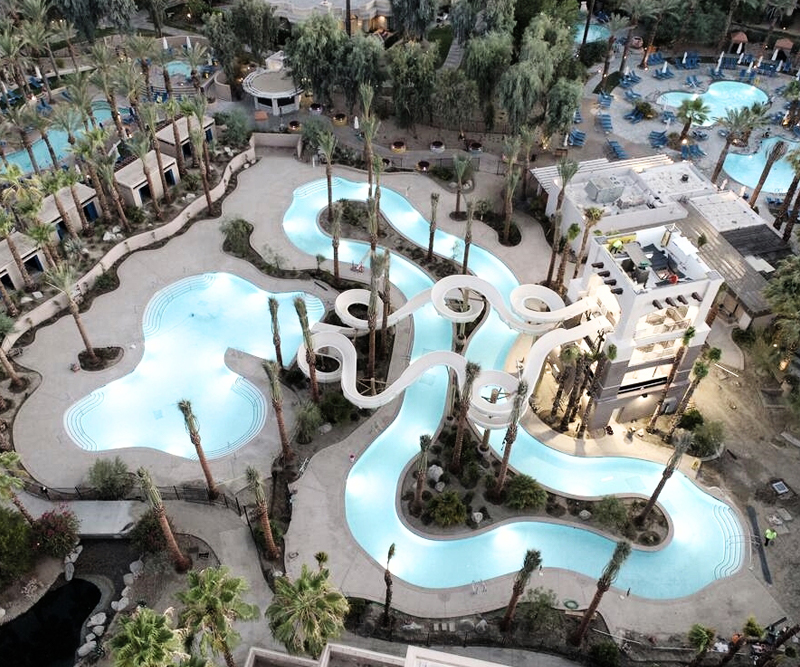 La Quinta Resort & Club, 21 miles from PCP, is a luxury Hilton property and is where Bachelorette Season 16 was filmed.  That's the 2020 season where the first bachelorette bolted and another took over.  The resort is giant, as in GIANT, spanning 1400 acres.  It's in the town of La Quinta.  There are nearby hiking trails, and a Sunday Farmers' Market is open only during the temperate months.  The golf box is checked here too.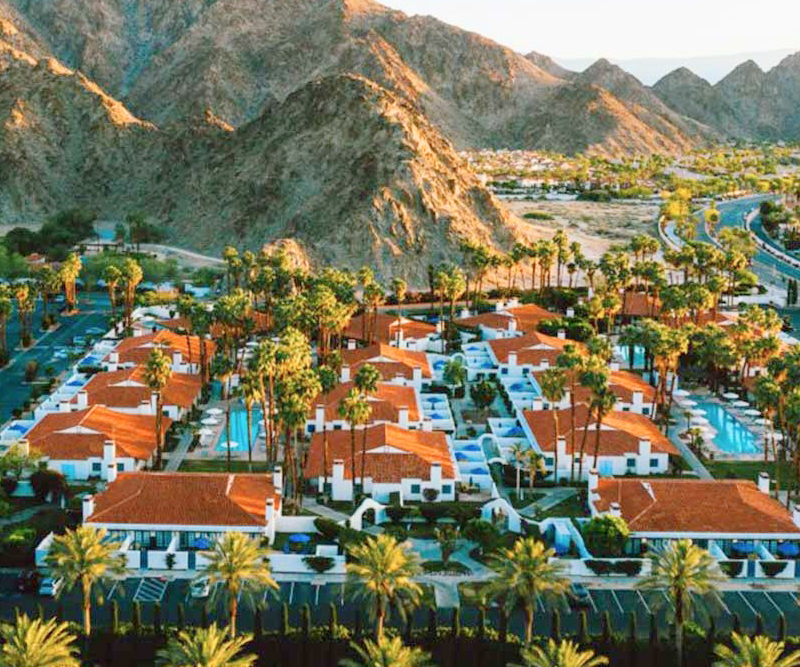 Palm Springs Hotels
If you are an active traveler, and want a great spot to drop your bags, hassle free nearby parking, day trips versus pool days, then avoid the resorts and grab a hotel. 
Rancho Mirage
Consider close in centrally located Rancho Mirage for lodging.
Hotel Paseo
The Hotel Paseo, a Marriott Autograph Collection property in the El Paseo Shopping District, is a top pick in my book.  This hotel has great location, style, rates, and offers abundant dining and shopping yards away.   Check out Strategy Workshops for the Expert Traveler for a deep dive on Marriott and other reward points, specifically how to earn and use points the right way, and ramp up your travel experience. Marriott's El Paseo space is mid-century modern with a  1955 Eldorado in the lobby.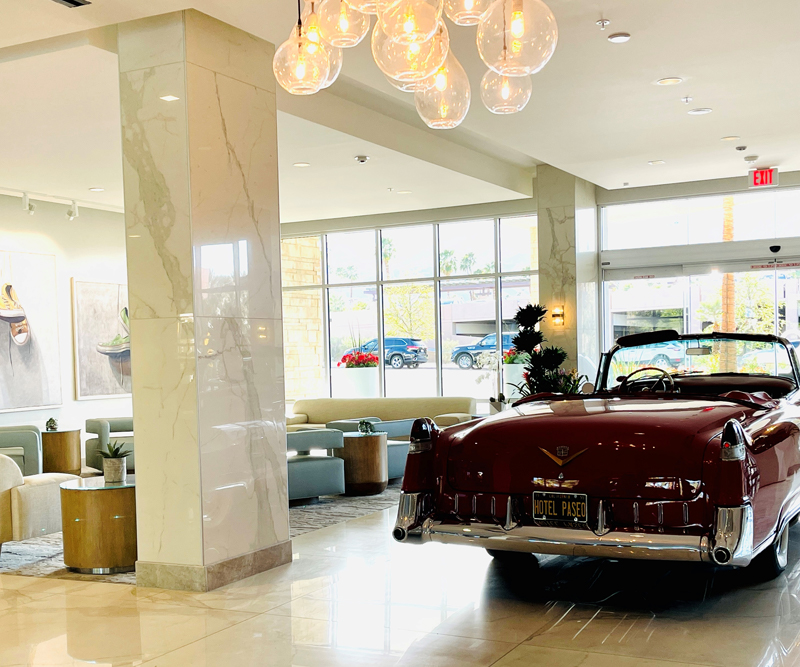 The vibe at El Paseo is authentic Palm Springs with pops of color and flamboyant statements.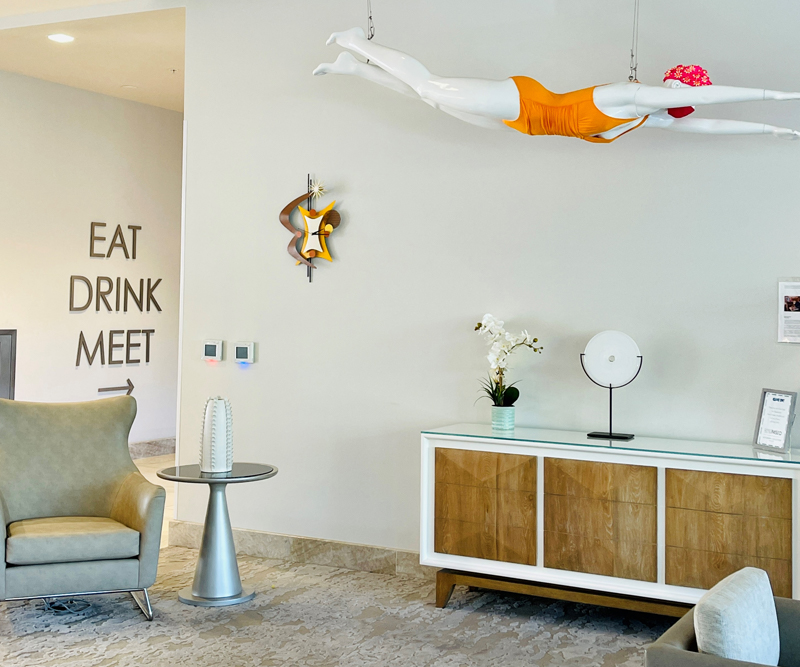 The Shops on El Paseo offers dining, shopping, strolling and gallery hopping, and sits adjacent to a lovely Ranch Mirage neighborhood.  By the way, ladies, you will find Anthropologie here, plus a bunch of nail and hair salons.  A friend is loyal to Pretty Nails and Hair for mani/pedis.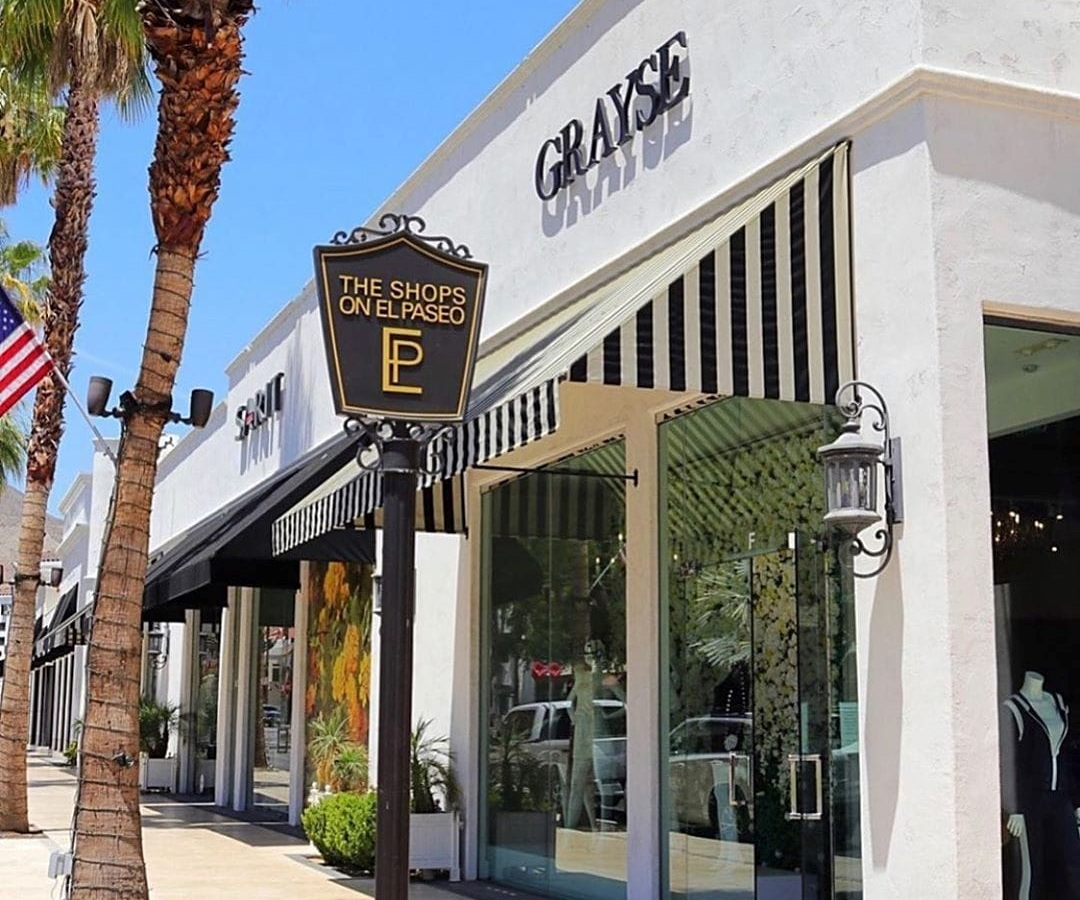 There's a Starbucks for your daily java.  Restaurants are abundant and include Sweet Basil, Kitchen 86 Bar & Restaurant, Il Corso, and Tommy Bahamas.  Some of these have multiple locations.  When reserving a table make sure to reserve the El Paseo location in Palm Desert. Ask for a table with a view at Tommy Bahamas.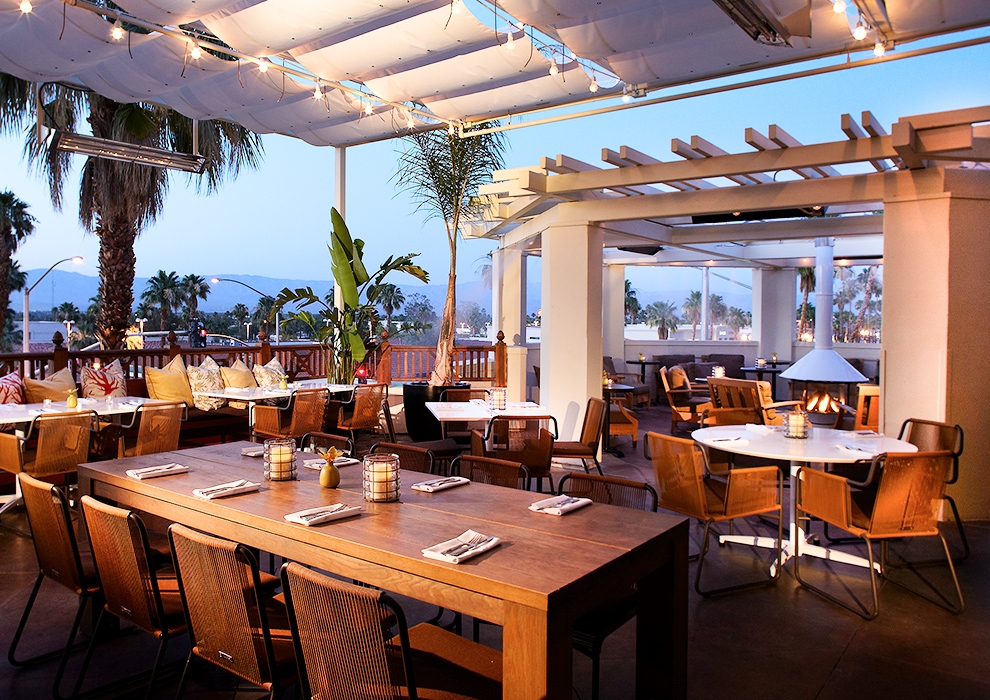 Downtown Palm Springs
Downtown Palm Springs is another option for hotel stays, perhaps limited to shorter weekends.  Palm Springs downtown lodging is on the high side. Some properties are "historic", so watch out for tired spaces. 
Avalon Hotel
If downtown Palm Springs is your mojo, then consider the Avalon Hotel.  This hotel, built in 1936, sits on the southern fringe of downtown.  That's a good thing.  Downtown Palm Springs makes for an ideal day trip discussed later.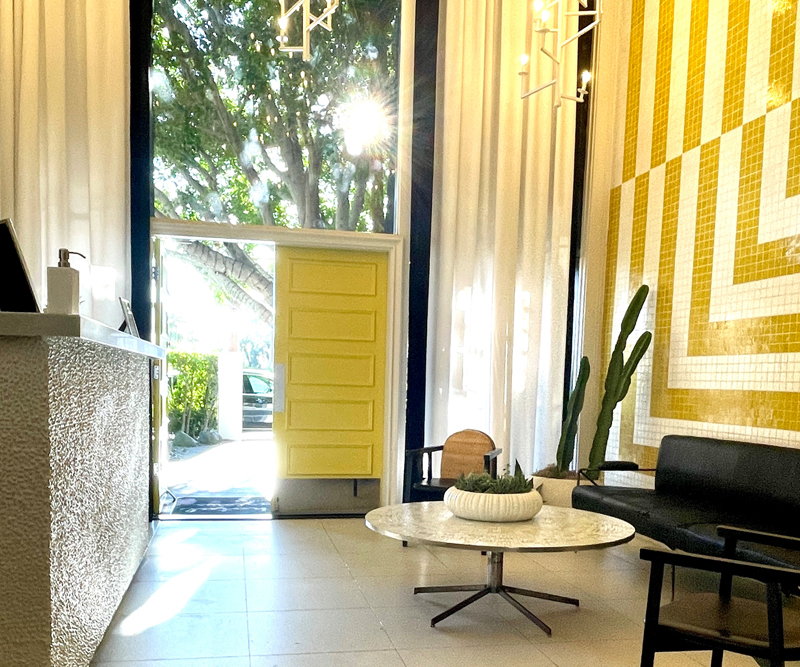 The grounds are gorgeous, but not pretentious, and are surrounded by mountains.  Pups and kids are allowed.  Kids can splash away in the family pool, but the other 2 pools are adults only.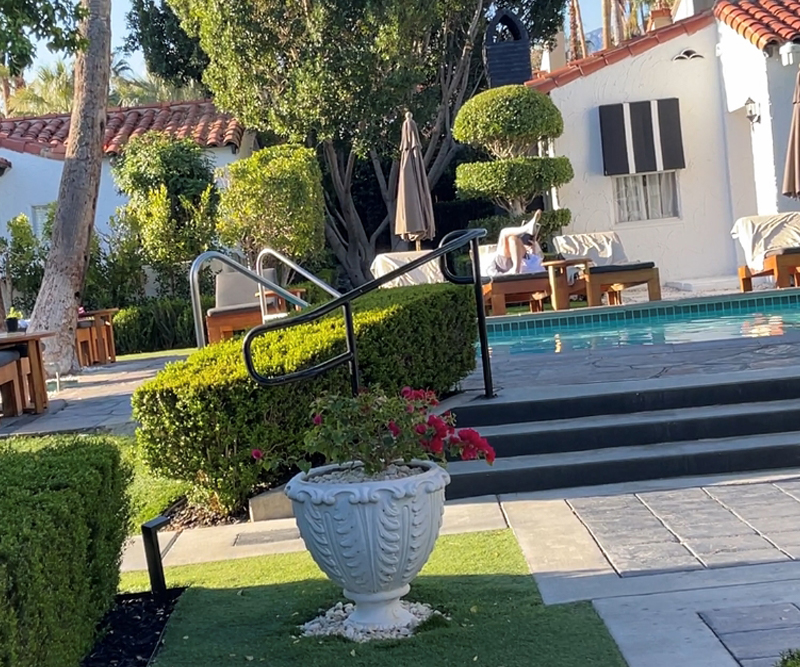 The onsite restaurant Chi Chi is open every day for breakfast, lunch/brunch, and dinner. Portions were large so consider a split plate.  Chi Chi's outdoor tables, by the pool and on the patio, are casual and charming.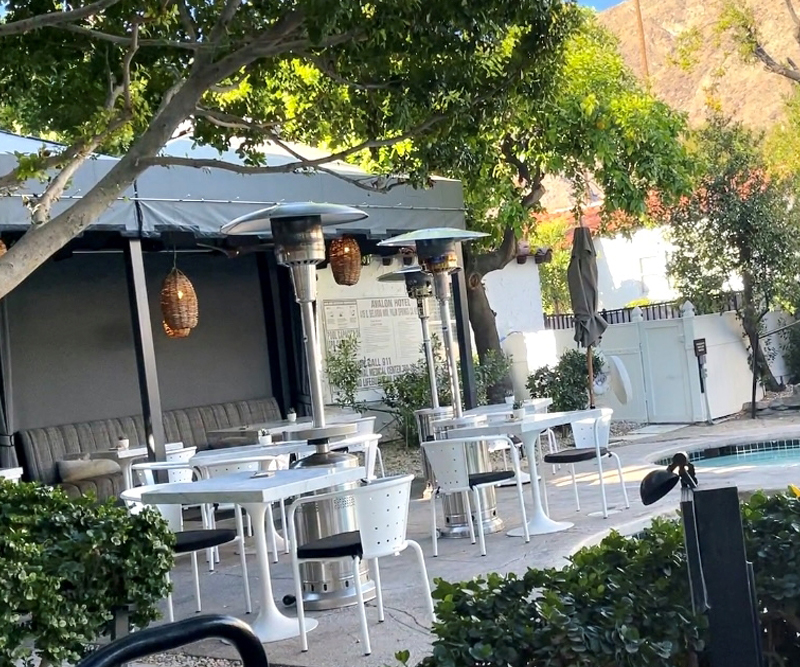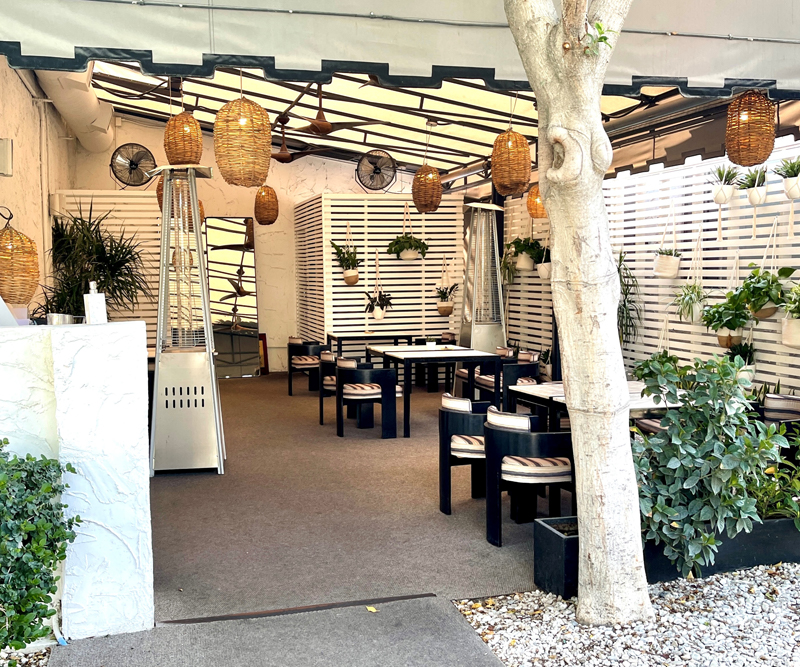 Ingleside Inn
Our stay in Palm Springs was last minute. Options were limited so the Avalon's sister property next door, the Ingleside Inn, was booked.  Pups and kids are allowed.  There is one pool, complete with a fire pit.  Cottontail bunnies were abundant at night.
All rooms at the Ingleside Inn differ.  A premium room guarantees a private patio. All those were gone so we stayed in Room #13, the Library, next door to the lobby.  The drapes in this room had to stay closed due to its central location.  A laptop/iPhone plug was available on one side of the king bed but not the other.  Closed drapes and missing plugs are not so desirable, but the grounds at this historical property are one of a kind.    
When traveling, organization and connectivity is paramount.  Therefore, I travel with an extension cord which solves that bedside plug issue.  I use this one with multiple inputs. If an adapter is needed for international travel, then I use one adapter for the extension cord, and plug devices as normal into the extension.  Store the extension in your carry-on when you return home.  The Europe & USA Packing List is is a good resource for packing supplies.  All are Amazon Prime.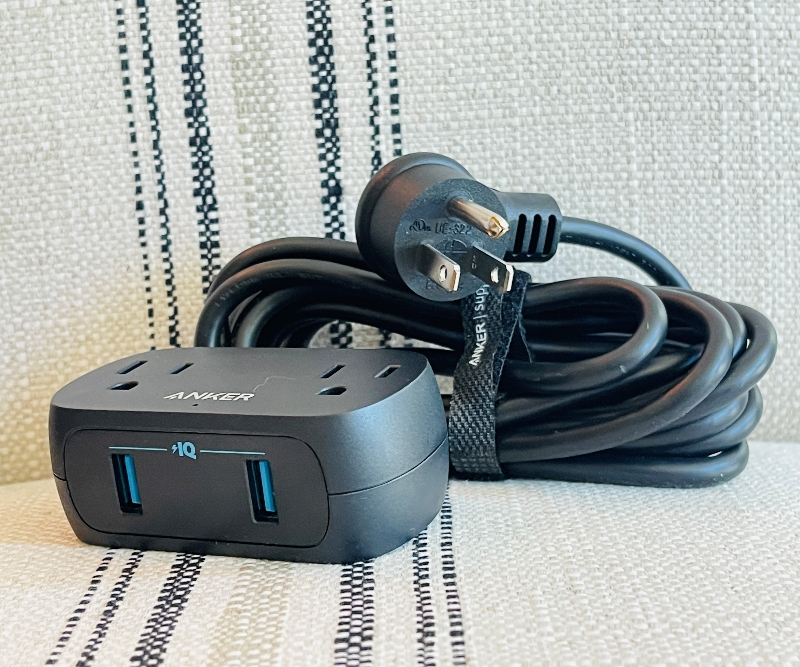 Dining options are limited at the Ingleside Inn.  Ho hum coffee was offered in the lobby.  The popular upscale restaurant Melvyn's has limited service times.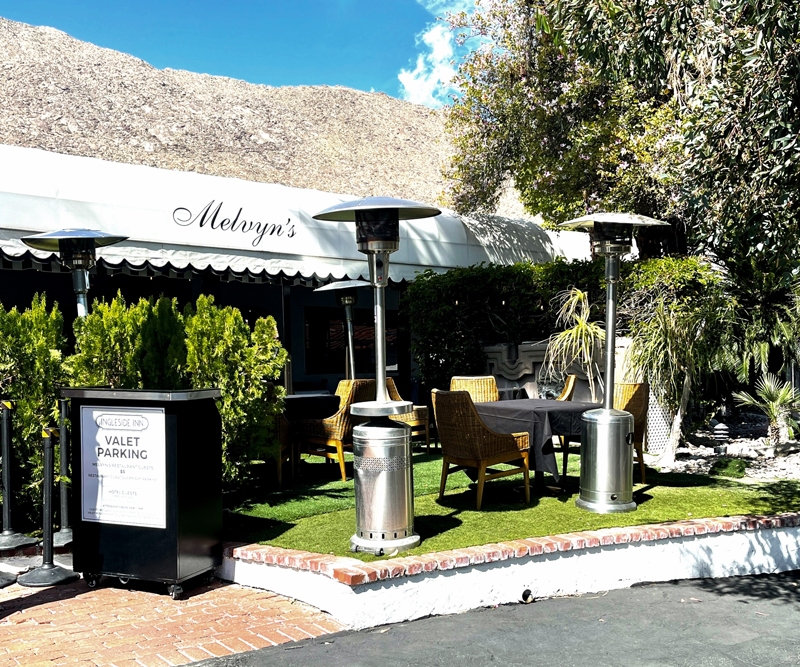 For an unforgettable dinner, walk a few steps north and dine at Azucar at the hotel La Serena Villas.  The restaurant is open daily for lunch and dinner.  Book a reservation in advance and specify rooftop.  No time is too early to book dining reservations in Palm Springs.  Food was good, service was superior, but the view and vibe were magical.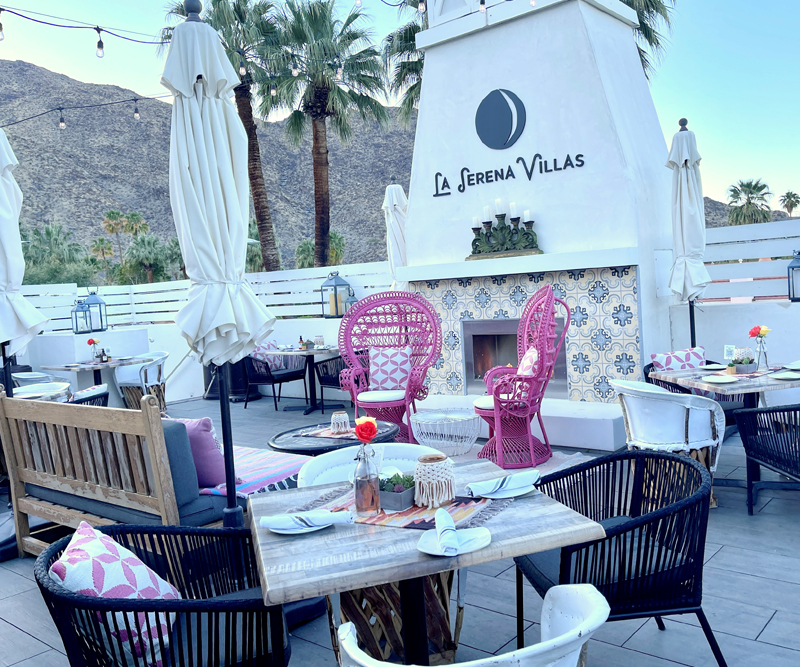 Day Trips
Joshua Tree National Park
Joshua Tree National Park is 45 miles from downtown Palm Springs and is open every day of the year.  Set aside a minimum 5-7 hours for this visit.  Admission is charged per private vehicle and can be purchased in advance at Recreation.gov.  Military veterans and gold star families enter free.  See this link for this and other military benefits in national parks.  You can grab a boxed lunch at Roadrunner Grab+Go or the Dez outside the park entrance.    
A half-day tour was originally planned with Red Jeep Tours but the wind was high making jeeps not viable.  Instead, we took off on our own and started with a stop at the park's West entrance for pointers from park staff. During busy days, the West entrance to the park can be backed up a mile. 
Here's a side note for general travel planning.  If long weekends are your thing, try for Saturday to Tuesday versus Thursday to Sunday.  On Sunday, folks leave and crowds lighten.  Crowds are often missing Monday, though check for closures at restaurant and key sites.  
The park staff sent us to the Boy Scout Trail for an out and back 7.5-mile hike.  The trail is flat and no dogs are allowed on any trails.  Restrooms are available at the starting point.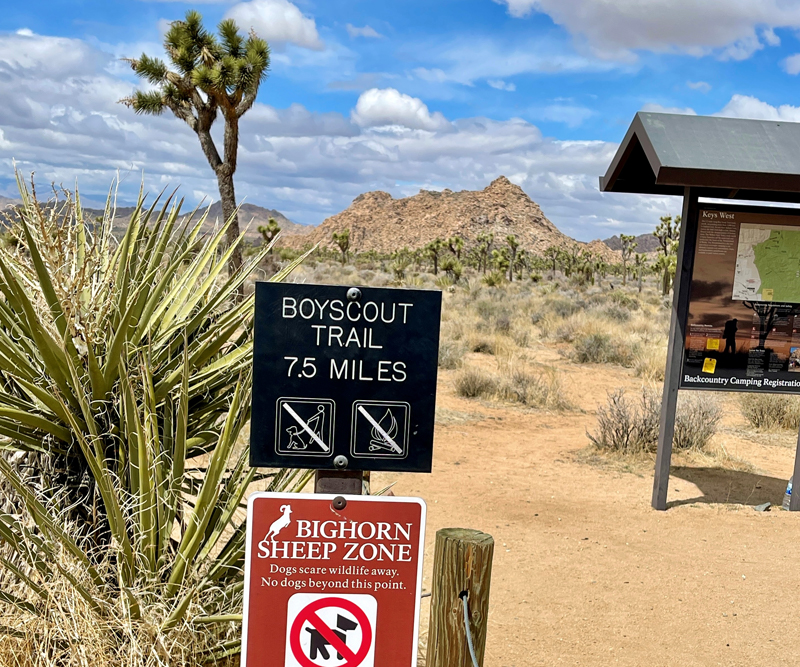 At different points the trail felt like a movie studio lot.  In fact, Walt Disney filmed in the park. As the story goes, Walt painted on some rocks to jazz up the space for a for a movie shoot.  That didn't go so well with park authorities.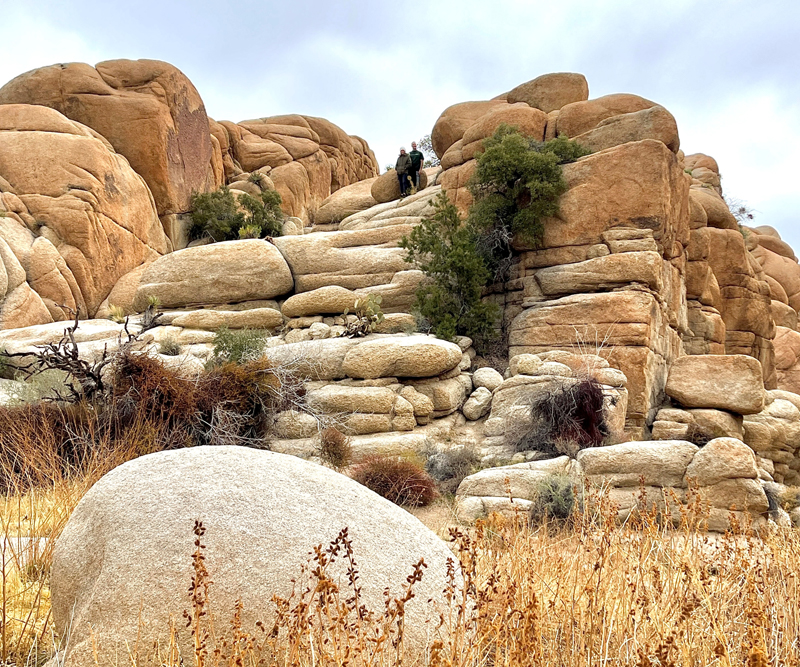 Trip Advisor's Top Attractions in Joshua Tree National Park has a good list for planning.  Remember water (1 gallon/person minimum), sunscreen, and layers. Temps for a March hike started low, and close to a winter ski day, and ended higher, close to a spring beach day.  The visit to Joshua Tree was an 11 on a 1-10 scale.
Sunnylands
Sunnylands is the 200-acre Annenberg estate located in Ranch Mirage.  Set aside a minimum 4-5 hours to include onsite lunch.  Sunnylands conjured up an image of a sprawling southern cemetery.  It's not that.  Before you visit check the hours and months of operation.  Closures happen in the summer.  The gardens and exhibition space are open to visitors.  Admission is free.  Reservations are not needed.
This is the garden backdrop when you walk through the main doors.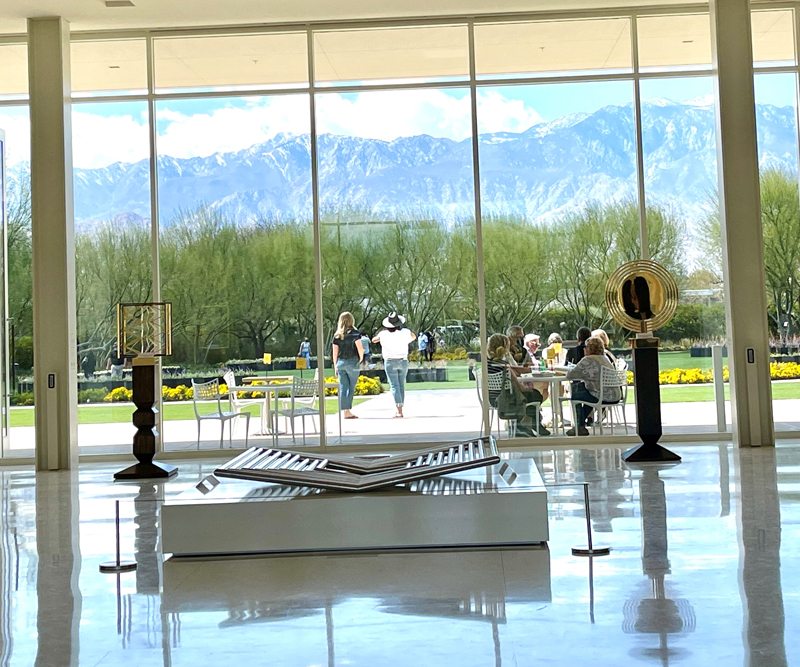 An aerial view for one garden installation was apropos for a visit during Women's History month.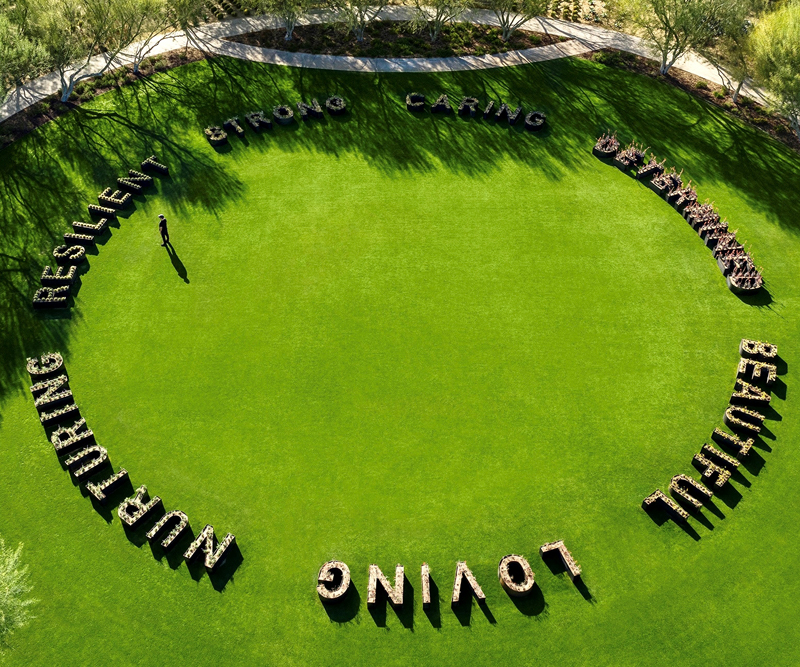 The café has walk up service with tables that sit alongside an infinity garden.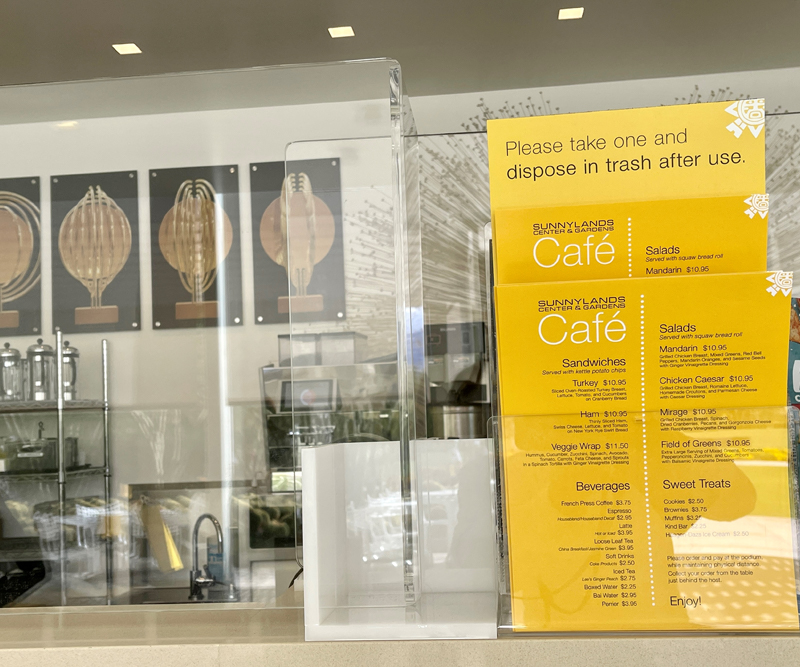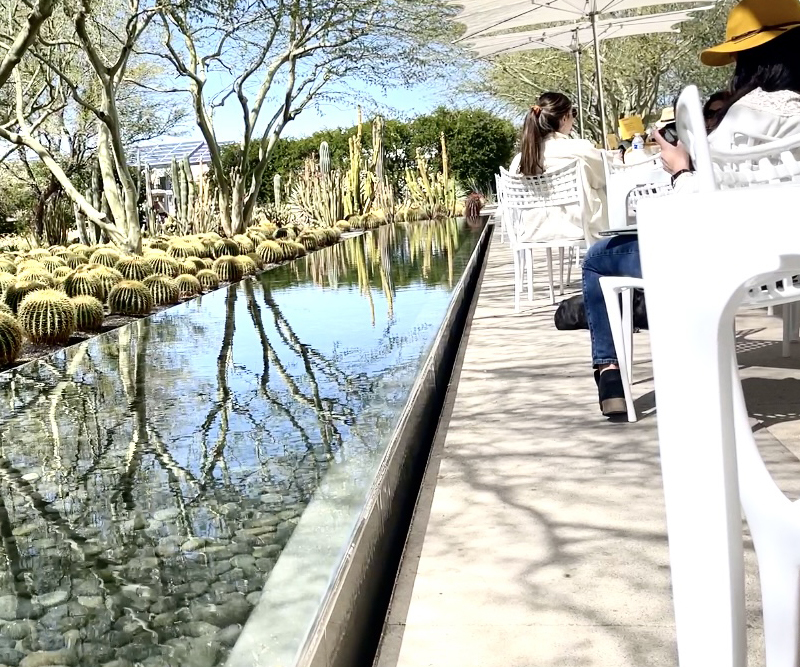 A visit to the private Annenberg residence requires a reservation.  Do that far in advance. Guided outdoor walking Tours of the Estate go on sale the 15th of each month for the following month.   This is a glimpse behind the private gate.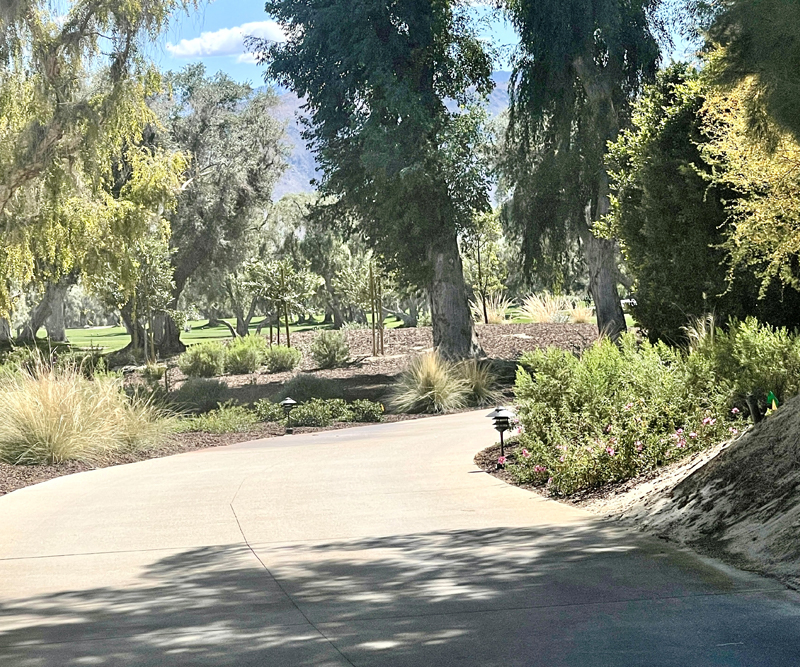 Sunnylands has been used for world peace and diplomacy summits attended by Presidents Eisenhower, Nixon, Ford, Regan, Bush Sr, Bush Jr, and Obama.  This is a top visit for all.
Downtown Palm Springs
Downtown Palm Springs is in a transition state.  The polish and class Doris Day and Frank Sinatra enjoyed on the strip during its golden age is foggy, but a revival effort is underway.  Dining and shopping are ho hum.  Parking is a breeze.  There are however some can't miss treasures. 
Drive the Old Los Palmas neighborhood and scout Famous Houses in Palm Springs using the web or app from GPSmyCity.  This is another winning app covered in Strategy Workshops for the Expert Traveler.  This tour gives you a bird's eye view of the uber cool neighborhood that's as exclusive today as it was in the 1920s.  Bikes, including guided tours, are an option, but prepare for hills.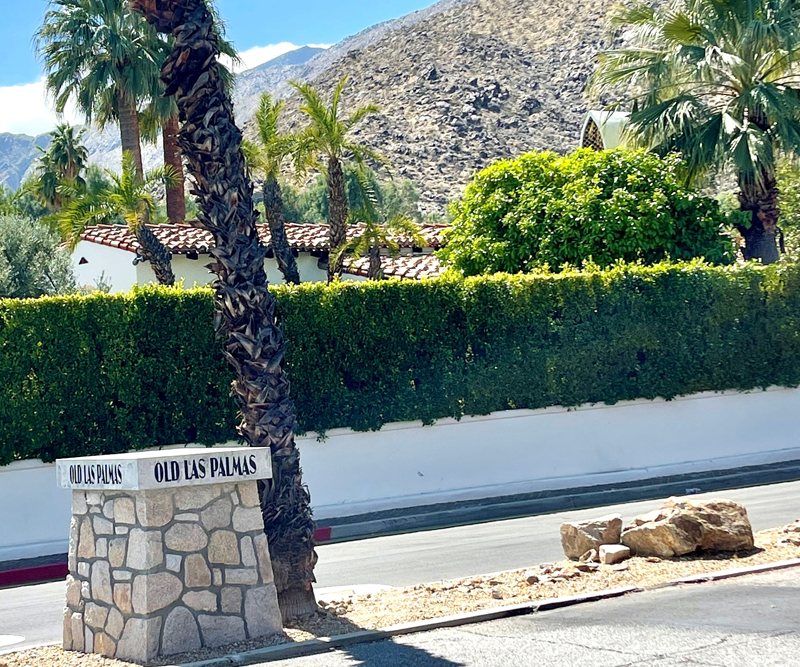 Spoiler alert.  Some of the homes are in disrepair, while others are secluded behind walls and gates.  This white home was owned by Peter Lawford and Patricia Kennedy. Rumor has it Peter introduced Marilyn to his brother-in-law John.  Ms. Monroe's home is around the corner.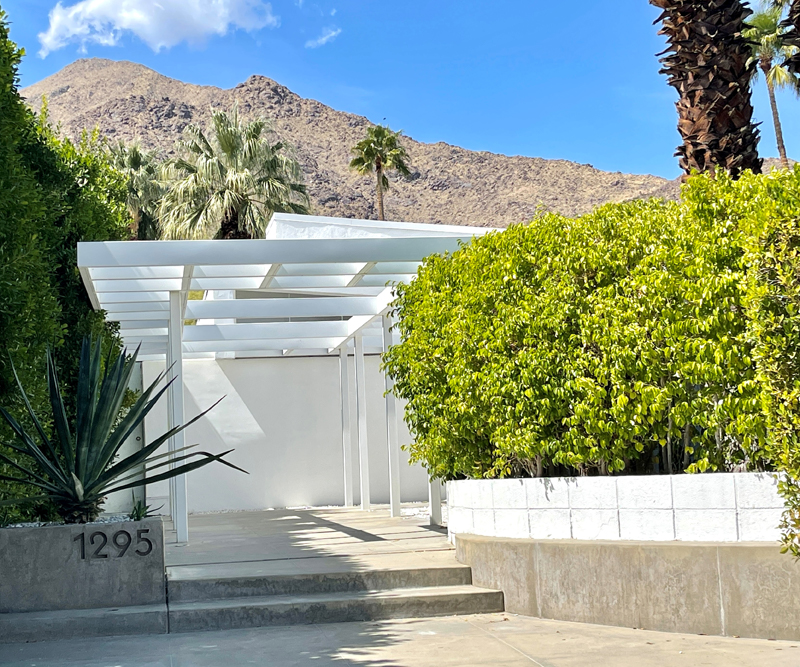 For a next stop in downtown Palm Springs hit the Palm Springs Art Museum.  Check the museum's operating hours in advance.  The Annenberg Theater is alive with music, dance, and theater events.  Grab a casual lunch or cocktail at the High Bar on the rooftop of the Kimpton Rowan Palm Springs.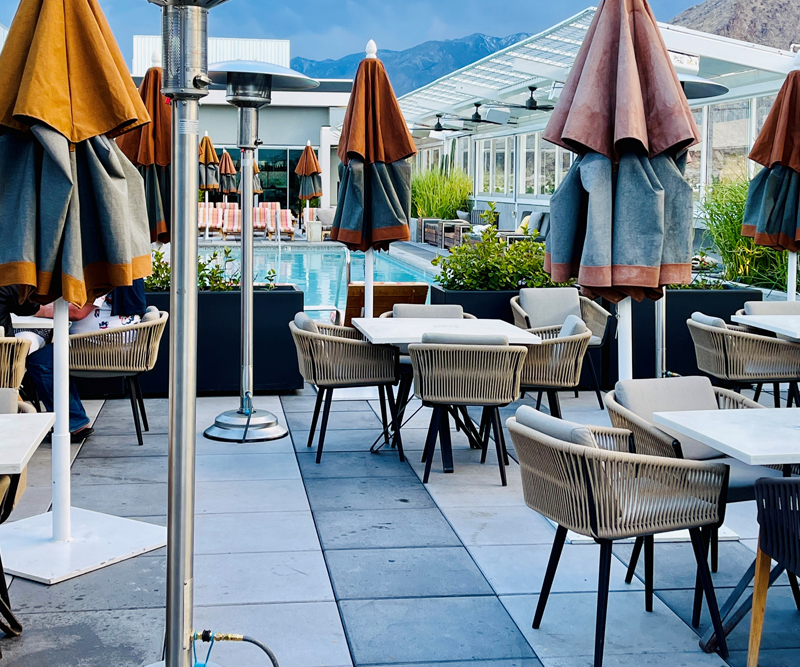 The Kimpton perches above the Palm Springs Art Museum and provides a front row seat for the outdoor "Sand Pit" exhibit filled with 10 fiberglass babies by Czech artist David Cerný.  Exhibit info from Palm Springs Life is a good read while waiting for drinks.  A parking garage will eventually fill the space.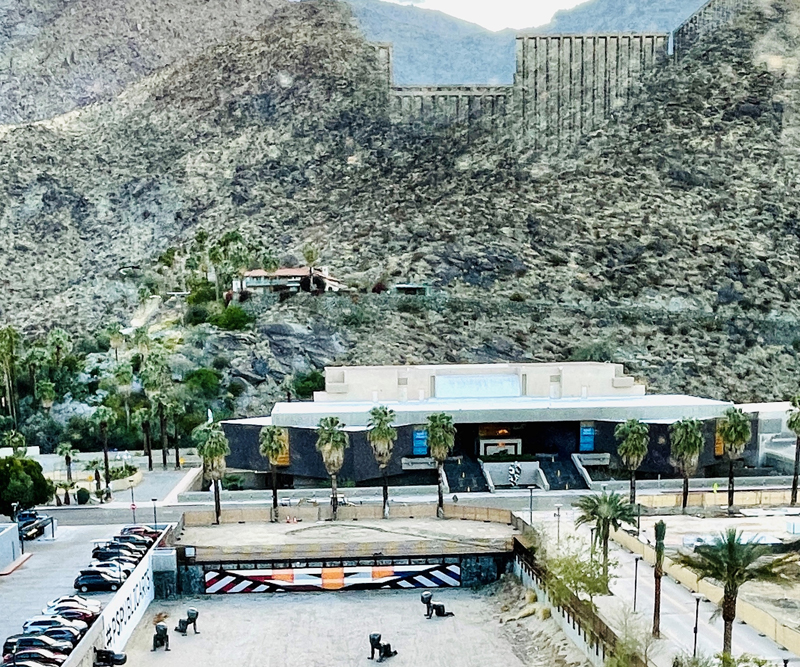 Palm Springs Aerial Tramway
The Palm Springs Aerial Tramway takes riders 2.5 miles on a 10-minute journey to the Mountain Station in San Jacinto State Park.  Allow 2-8 hours depending on your activities at the top.  Get your tickets immediately.  If your day is not on sale then return early and purchase your ticket immediately when available.  Purchase parking too.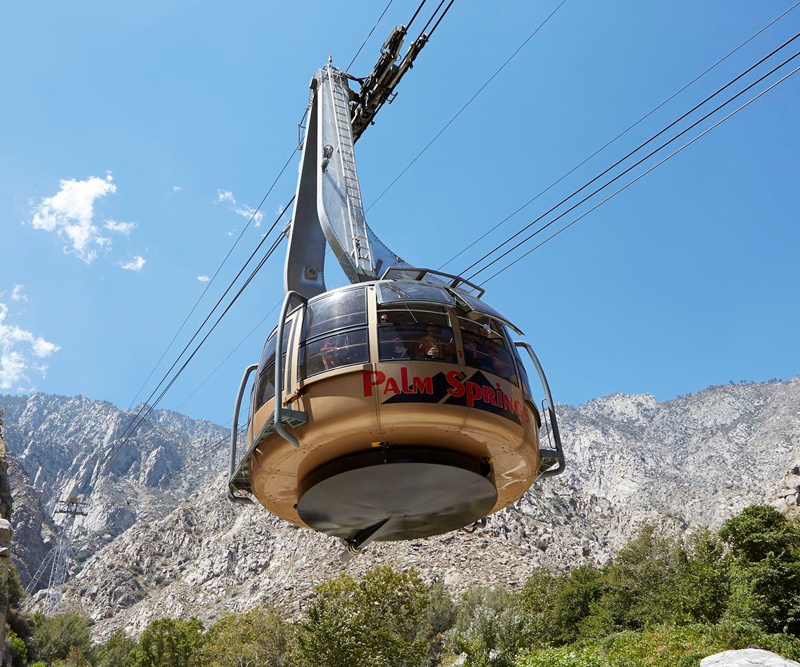 Riders have access to two restaurants, observation decks, a natural history museum, and theaters.  Download a San Jacinto State Park map for planning. 
Weather at the top can differ by up to 40 degrees from weather at the bottom.  Wind differs too.  The weather portal on the tram's website is an imperative read.  Our tram and hiking day fell apart.  Predicted high temperature on the mountain was 31 degrees and our winter clothing was back home in Austin.  Locals love these elevated hikes for a reprieve from extreme summer heat.     
Hiking & Golf
If hiking and/or golf are your past-times then Palm Springs is your place.  AllTrails Palm Springs is a go to resource for Palm Springs trails. The Araby Trail will take you past Bob Hope's house.  Consider a hike on the AllTrails La Quinta list, a little further out, and stop in Twenty6 for breakfast or lunch at Hilton's La Quinta Resort and Club.  The  AllTrails Coachella Valley is a third list to scout and consider Pushawalla Palms Loop pictured here.  Remember water (minimum 1 gallon/person), sunscreen, and layers.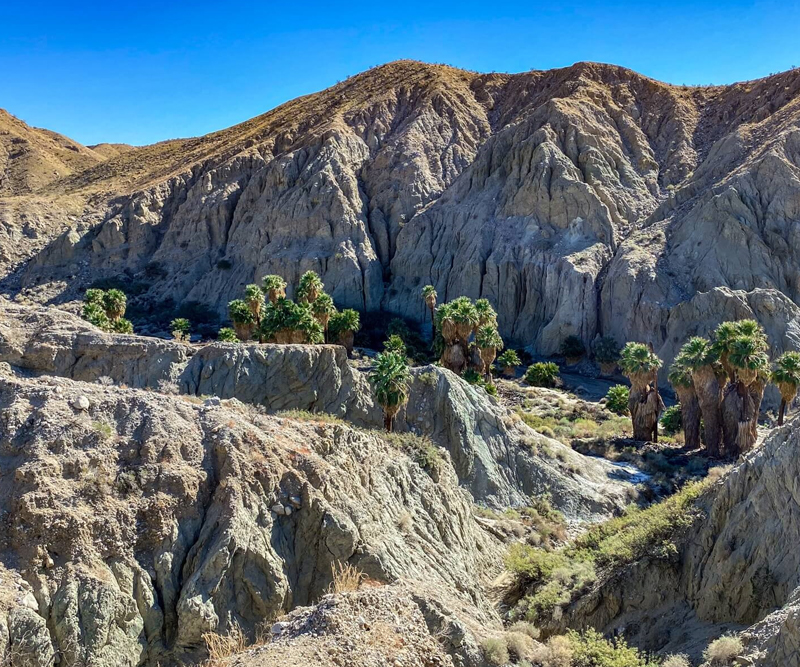 For a day of golf consider booking a tee time at the Desert Willow Golf Resort.  The Firecliff Course is named the top public access golf course by Desert Golf Magazine.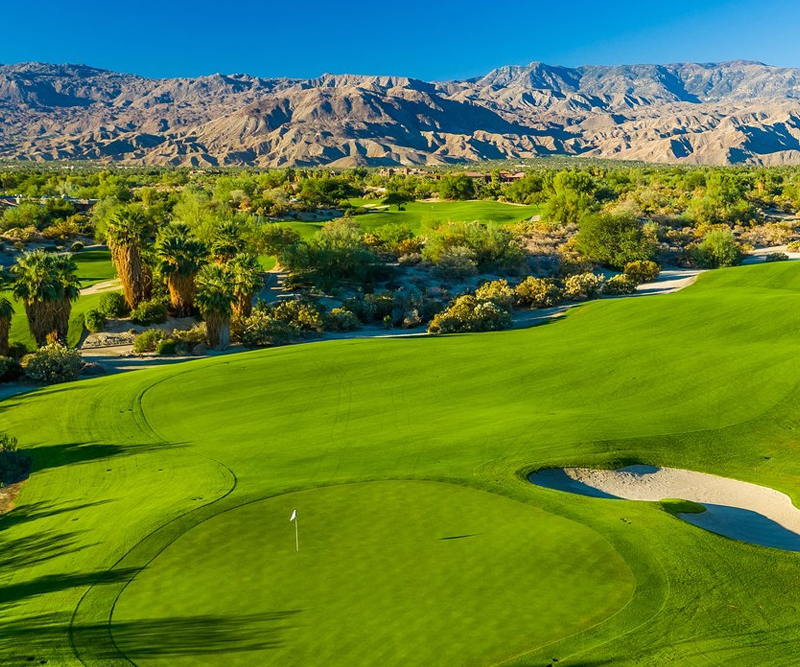 Tips on Palm Springs
Reservations are a must and advance planning is essential.  Just because it's the desert don't be fooled.  Gloves and a parka were needed in March.  When evaluating weather, use the exact location since climate can differ dramatically a few miles away.  Wind is a thing.  Abandon your desert expectations.  Lush gardens and green spaces are the deal.  The sky is the bluest of blue and mountains feel so close you touch them.  Palm Springs is a desert paradise.  
Strategy Workshops for the Expert Traveler
Strategy Workshops provide a gold mine of Travel Tips. Good-bye travel nightmares – hello bubbles and bliss! Pay less – get more! That's covered too. Workshops are offered live in Austin, Tx,  Registration is here.  Zoom is offered for all other locations.  Talks are curated for groups too based on needs and goals.  Contact TravelToolsTips@gmail.com for Zoom and custom opportunities.  The bottom line is a ramp up in your travel experience.  Guaranteed.
Shopping
The Amazon Prime Packing System Prevents Travel Nightmares.  This guide offers a punch list for carry-on packing.  Essential travel supplies are covered for all travelers, including those who check luggage.  Gift Pairs for Him and Her is the real deal for that perfect gift.  Some are travel inspired.  Others are not.  The Shopping portal has something for everyone including Fido and Fluffy.  All goods are Amazon Prime.

Subscribe
If you like this, hit Subscribe for updates and other travel inspiration.  Emails are infrequent, and will not wear out their inbox welcome.  Follow TravelToolsTips on social media too.  Visit the Blog for other great intel.