Fredericksburg is an ideal weekend getaway in the Texas Hill Country, and is an easy drive from most Texas cities.  Wildflowers bloom March – May, plus there are abundant draws all year long.
Good to Know
Weather Atlas provides average rainfall and temperatures.  Take a look.  Temps get high during the summer months June-September.  Another planning tool is Visit Fredericksburg.  Fredericksburg has a strong German heritage.  Pay close attention to closures on Sunday, Monday and Tuesday.  Many are mentioned here, but check for changes before you go.  Places close early too.  Open containers, beer and wine only, are allowed along Main Street.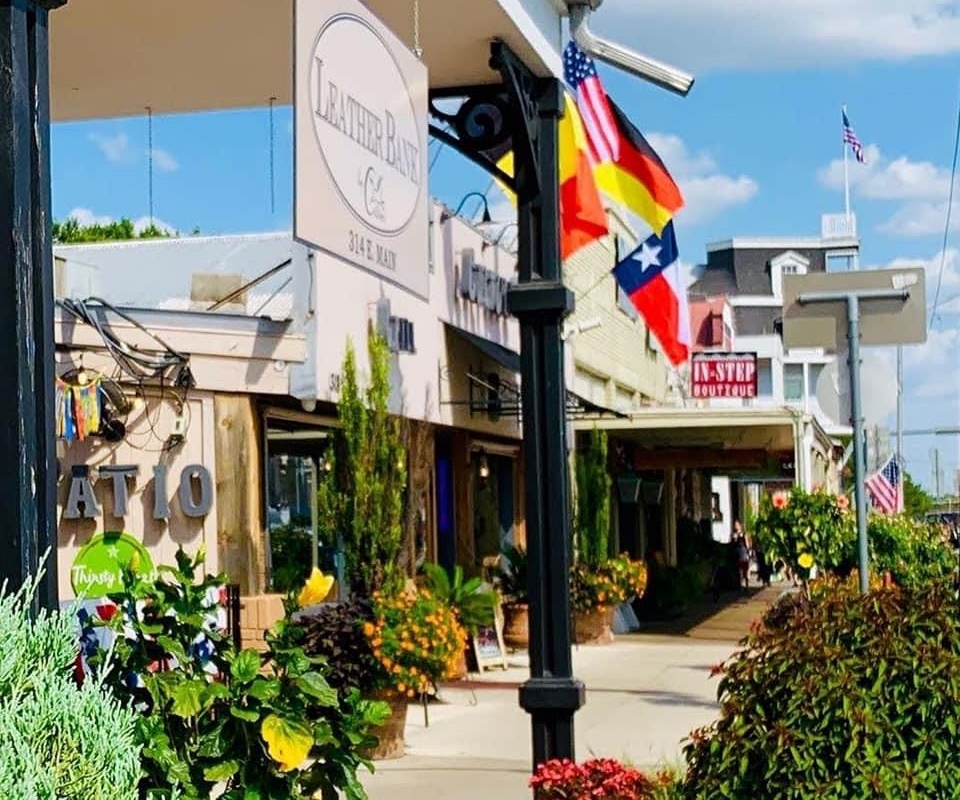 Bullseye Packing is a 60-minute workshop for the Expert Traveler that includes secrets for carry-on only packing.  Recommended travel items can be purchased on TravelToolsTips.com including 12-ounce tumblers.  Purchase one, pack it, and register for the workshop.
Airline Travel & Car Rental
Airline Travel
Fredericksburg is 57 miles from the San Antonio International Airport (SAT), and 73 miles from the Austin-Bergstrom International Airport (AUS).  SAT offers nonstop flights to 36 destinations, and AUS to  58 destinations, according to FlightsFrom.com. 
Car Rental
You need a car to explore the region.  Rental car inventory across the USA is a disaster, with sky high rates and/or no availability.  Secure your car ASAP.  
Lodging in Fredericksburg
Hoffman Haus
Hoffman Haus is Conde Nast recommended. This B&B has houses, suites, and rooms, and is not too close and not too far from Main Street. Everything is an easy walk away. This map of the property is helpful. Call the property for input on room selection. The service at Hoffman House is exemplary. Rockers or adirondack chairs are on every porch. Below are the porch rockers for unit #14, the Farm House.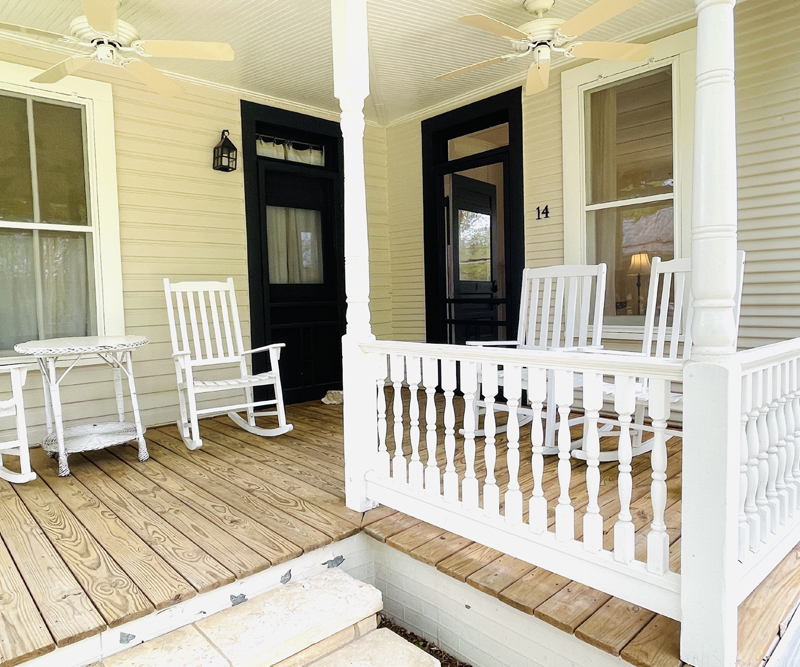 Puzzles and games can be borrowed from the library. Linens at Hoffman Haus are the good kind. Breakfast, which is served in baskets daily at the front door, is heavenly and not for calorie counters.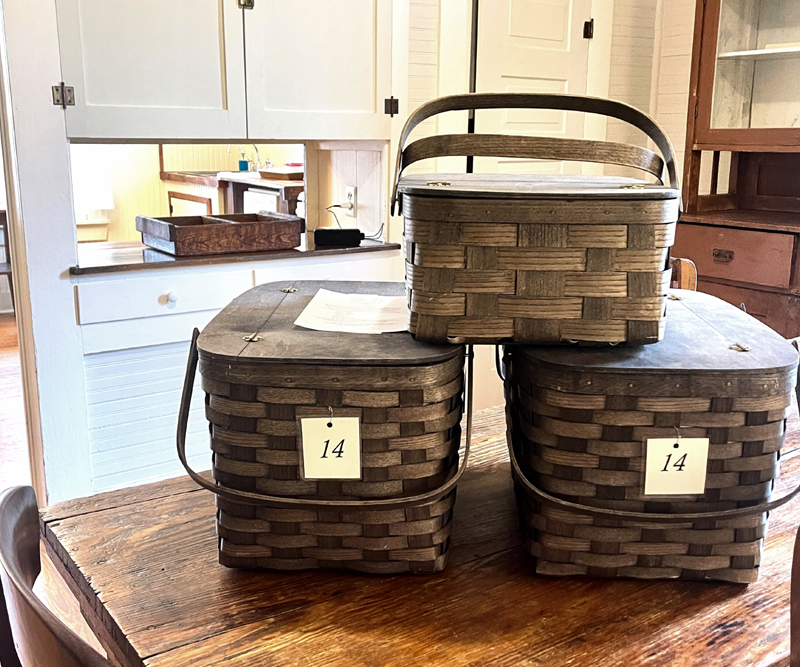 The Farm House unit #14 has a pedestal sink which is apropos for that property. Other bathrooms at Hoffman Haus are the city kind, updated, and many have double sinks. Remember this travel hack. A luggage rack and towel make a great table for toiletries when countertops are small or missing.

Other Lodging
VRBO and Airbnb have extensive options in Fredericksburg, too. By the way, Strategy Workshops for the Expert Traveler discuss third-party lodging, e.g. Airbnb, and how to save up to 20% by booking directly with the property manager, versus through third-party websites. I always reserve & pay for lodging with my Chase Sapphire Reserve credit card. That paid off recently when a trip was cancelled last minute. My prepaid lodging, paid directly to the property manager, was refunded by Chase. Travel insurance is covered in the workshops too.
Dining in Fredericksburg
Main Street Dining
Heads up.  Your Open Table app will get you nowhere.  Most dining in Fredericksburg is casual and reservations are not a thing.  For a full hill country vibe check out Hondo's on Main and Altdorf Biergarten.  Check calendars for the music lineup.  Hondo's is open for lunch and dinner all but Monday and Tuesday.  Aldtorfs is open for lunch and dinner Wednesday – Sunday, except Sunday dinner.  Both have indoor and outdoor seating.  Hondo's picnic tables are a big draw.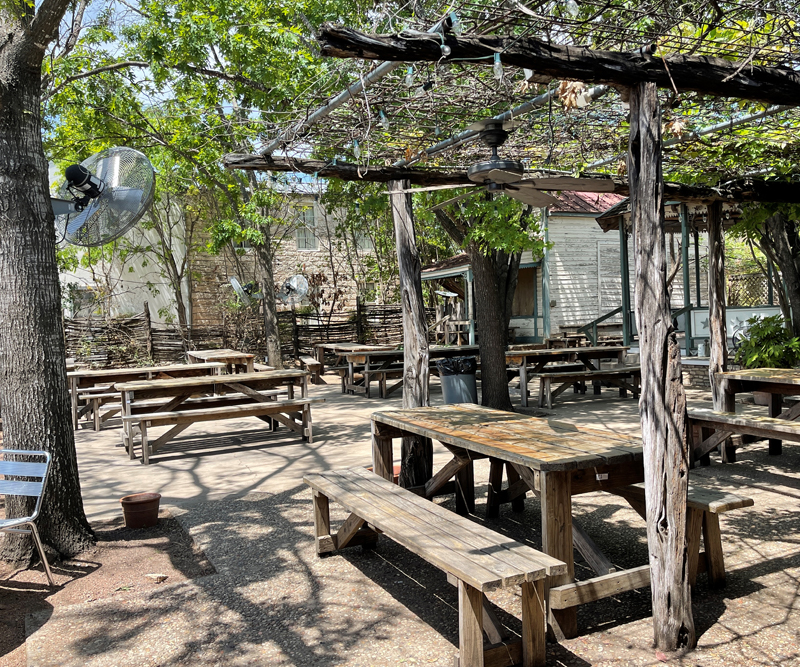 For exceptional pasta try Pasta Bella, open for lunch and dinner all but Sunday.  They have indoor dining that is dark and on the loud side.  Burger Burger serves gourmet burgers, vegetarian ones, too with indoor and outdoor seating. Lunch and dinner are served every day, except Sunday dinner.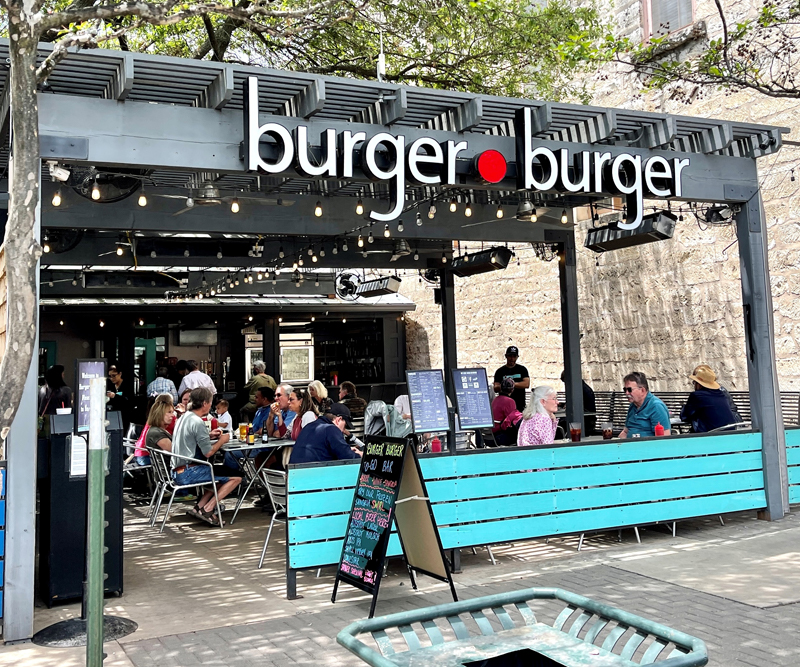 Woerner Warehouse is a great spot for breakfast or lunch Monday – Saturday and has both indoor and outdoor dining.  This spot oozes southern charm and is near a handful of popular home furnishings stores including Carol Hicks Bolton Antiquities' and Black Chalk Home and Laundry.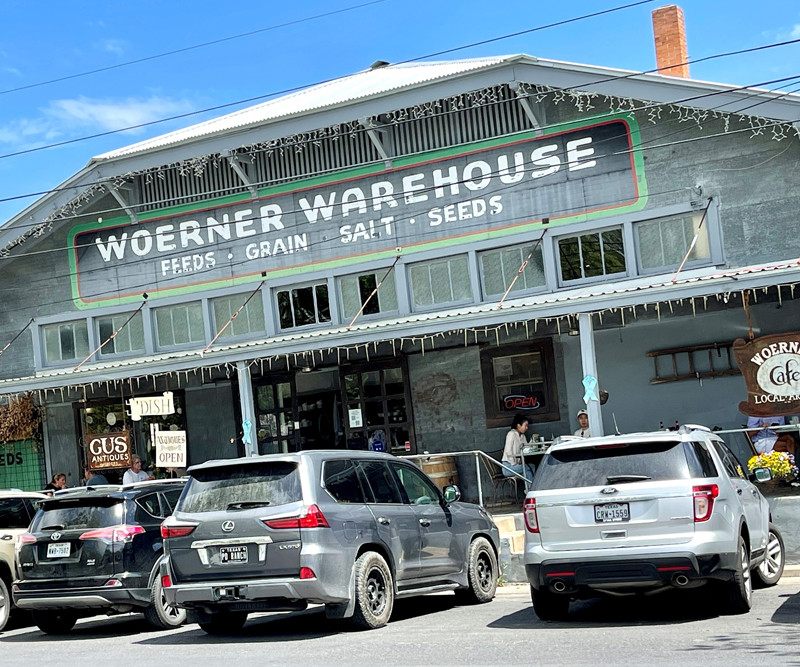 For upscale dining make a dinner reservation at August E's.  It's open for dinner only all but Sunday and Monday.  There is bar seating, with a food menu too.  Limited outdoor tables are available.
Vaudeville is another upscale option that is housed in a spectacular 3-story 1915 building. Reservations are required for larger groups of 5 or more and a prix fixe menu applies to large groups.  Dining is mostly in the ground floor basement with limited outdoor tables alongside the grand white Main Street entrance.  Vaudeville is open Friday and Saturday for dinner plus lunch every day.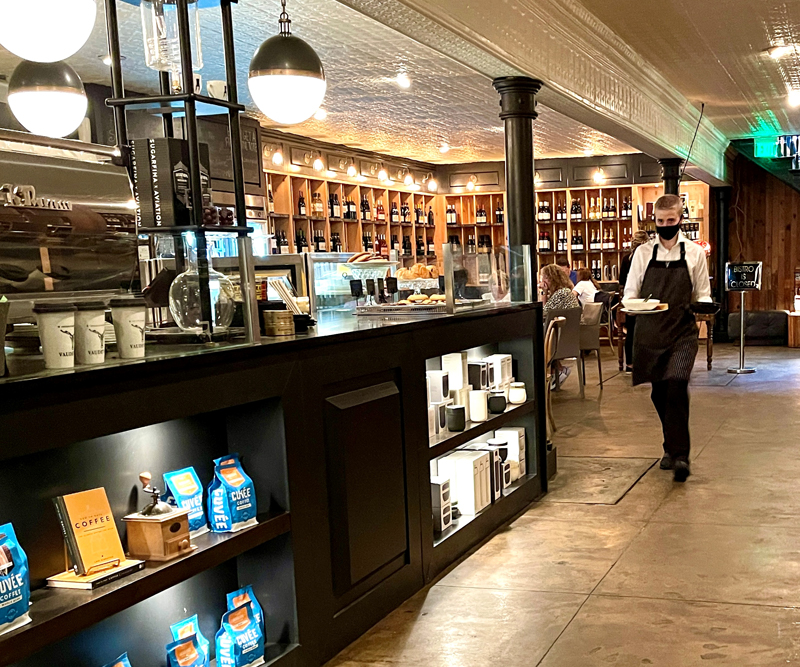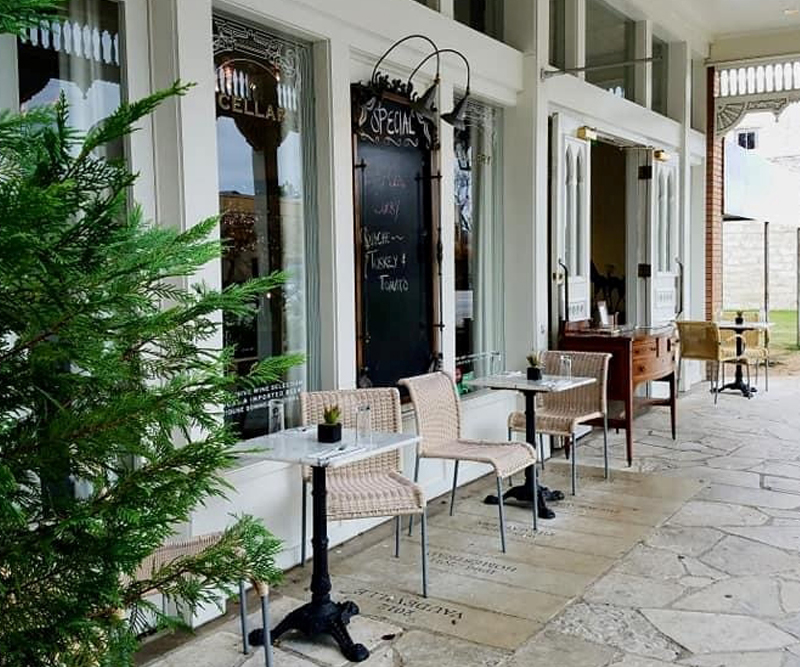 Dining Off Main Street
Emma and Ollie's is another favorite, on the outskirts of town, and is open Tuesday – Saturday for breakfast and lunch.  The Alstadt Brewery is about 6 miles out from town along the 290 Wine Corridor.  It's open Wednesday – Sunday for lunch and dinner, except Sunday dinner.  Brewery tours should resume in coming months.  Altstadt doesn't take dining reservations, but the outdoor biergarten at the grand German mansion is a great place to wait for a table, beer in hand.  Beer servings are giant.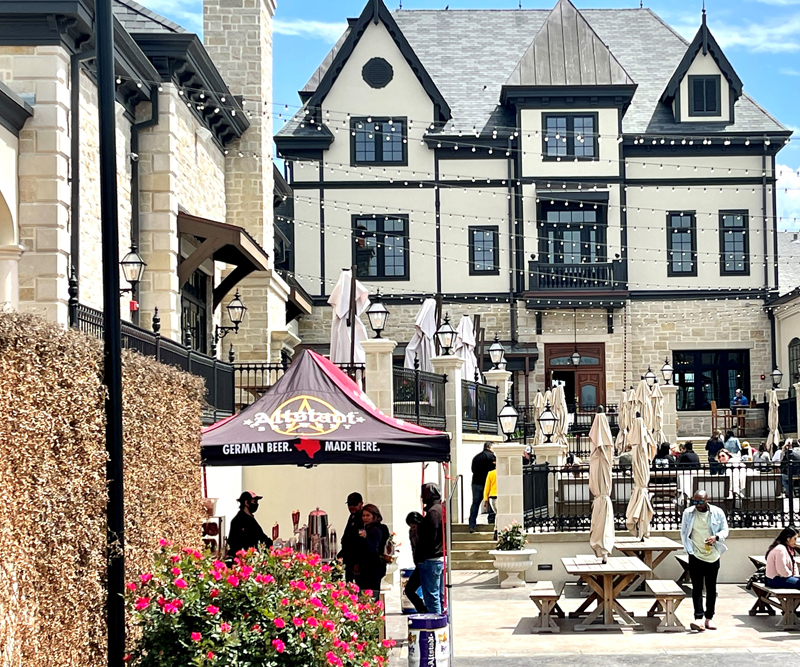 Shopping
Main Street
Main Street stores are ho hum, however make time to visit FarmHaus.  This store occupies multiple connected spaces and has everything from furniture to jewelry, baskets to clothing.  The store is good for both purchases and inspiration.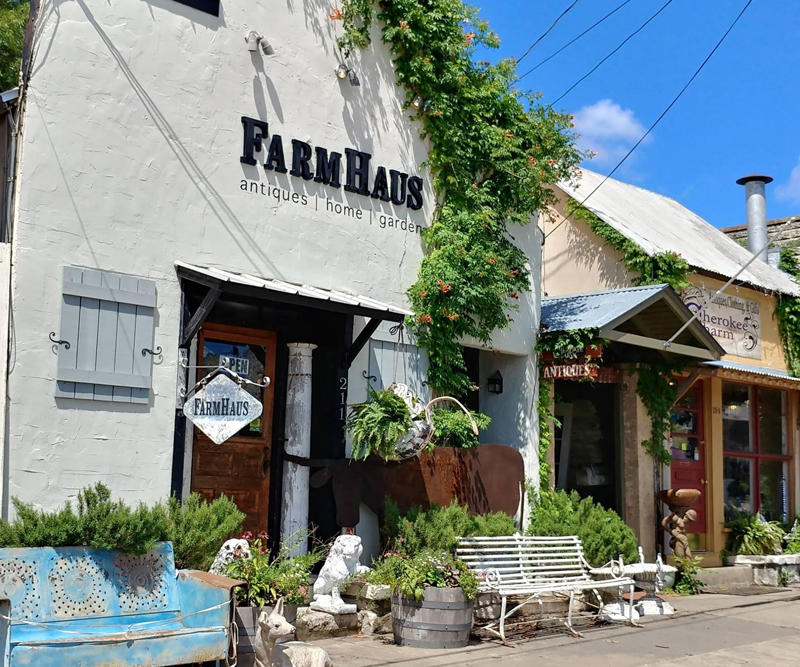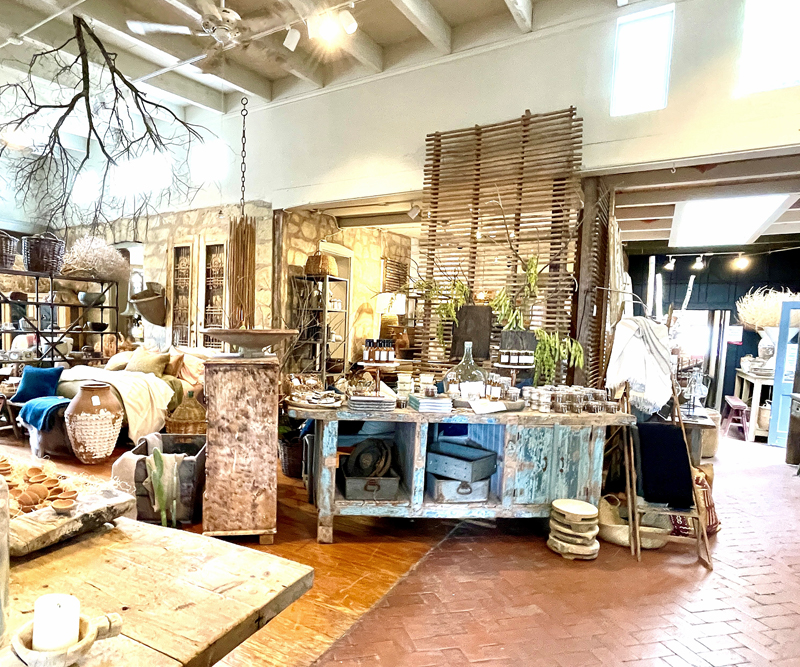 Fredericksburg Trade Days
Fredericksburg Trade Days is a flea market with over 350 vendors that takes place in 7 barns at nearby Sunday Farms on the third Saturday of the month and spans Friday-Sunday.  There's food, beverages, and music. Booths are filled with new things, old things, stuff you can wear or hang on a wall.  It's all there, and folks love it.
Day Trips 
Winery Visits
There are 41 wineries within a 30-mile distance from Fredericksburg.  A top pick for exploring the wineries is Cellar Rat Tours, a top-rated Wine Guide that provides the planning and driving, and offers a 3-stop tour that includes lunch.  The 290 Wine Shuttle provides Saturday shuttles to the local wineries for "do on your own" visits.  The Urban Wine Trail in downtown Fredericksburg offers yet another option and is limited to the Main Street district. 
Hilmy Cellars is a personal favorite.  Tasting fees are waived with a minimum purchase.  Remember, split tasting is always an option and limits consumption.  The Hilmy Cellars space is great.  The wine is great too.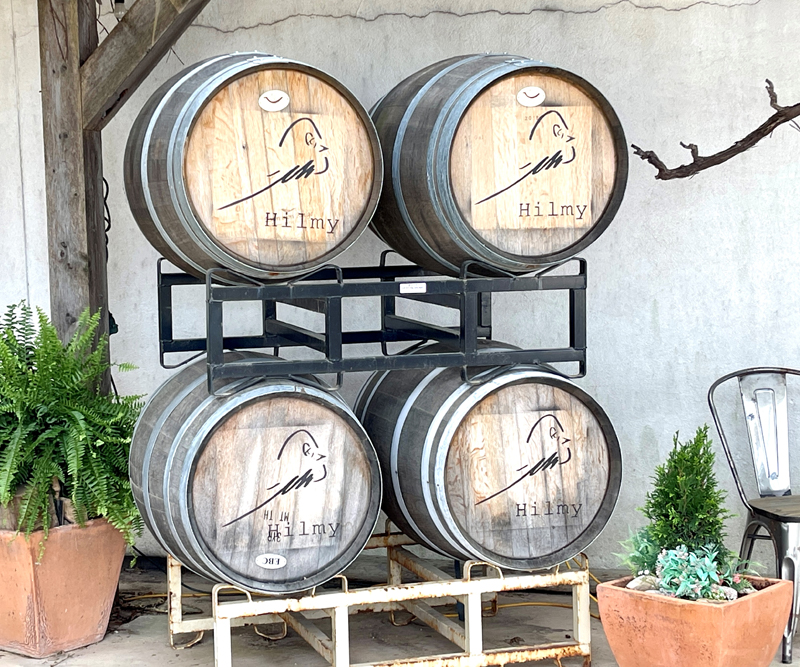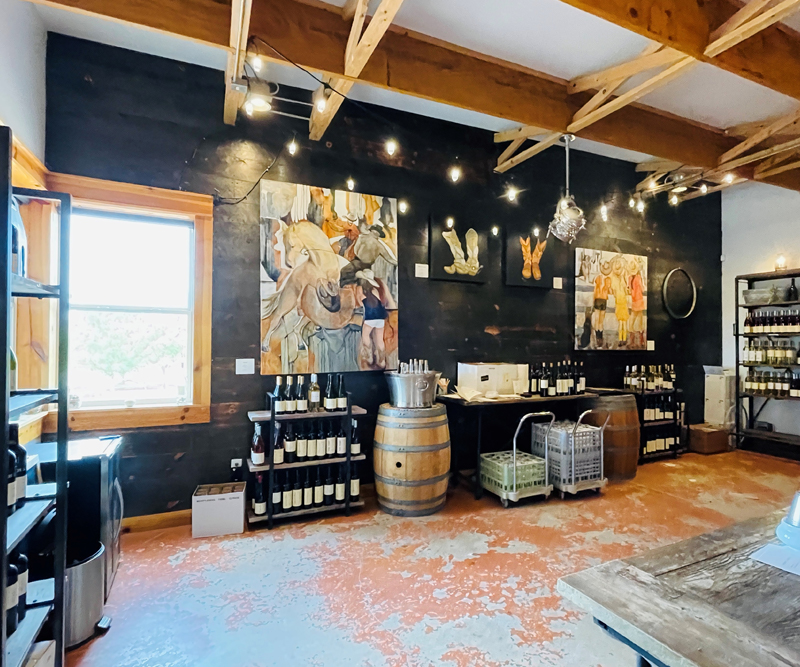 Bourbon Distillery Visit
Garrison Brothers Distillery is 22 miles east of Fredericksburg in Hye, Texas.  GB, its preferred nickname, was established in 2008 and is the first "legal" whiskey distillery in Texas.  The Garrison Brothers family, with patriarch Dan at the helm, has rocketed this Texas bourbon to staggering popularity in US and international markets.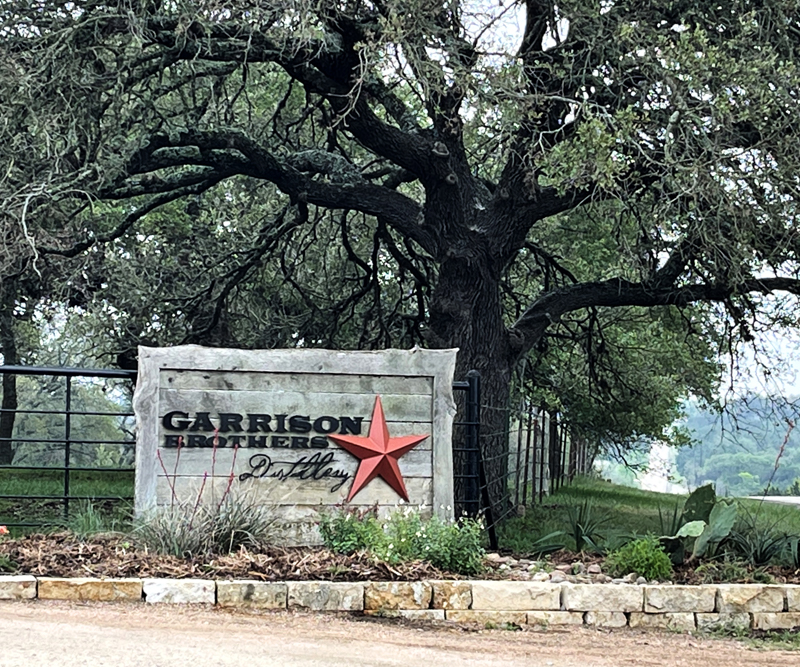 Go for a group tour that you schedule online well in advance of your visit.  They fill up fast.  Private tours are offered too. The tour starts at the GB entrance where visitors load on a trailer, like those used on hay rides, and are hauled uphill to the distillery and bottling operations.  The tour is one-part education and one-part entertainment. Below are the fermentation vats of corn, wheat, and barley covered in the education part.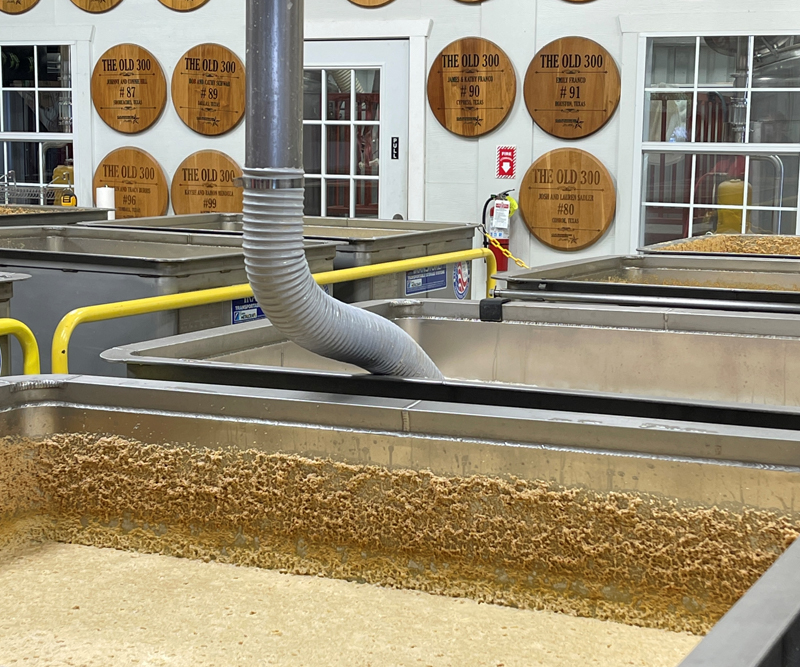 Entertainment was part two of the tour and GB had lots of it.  Family stories were shared during the bourbon tasting, including the tumultuous tale of the Junk Bull on the property that is missing his male parts.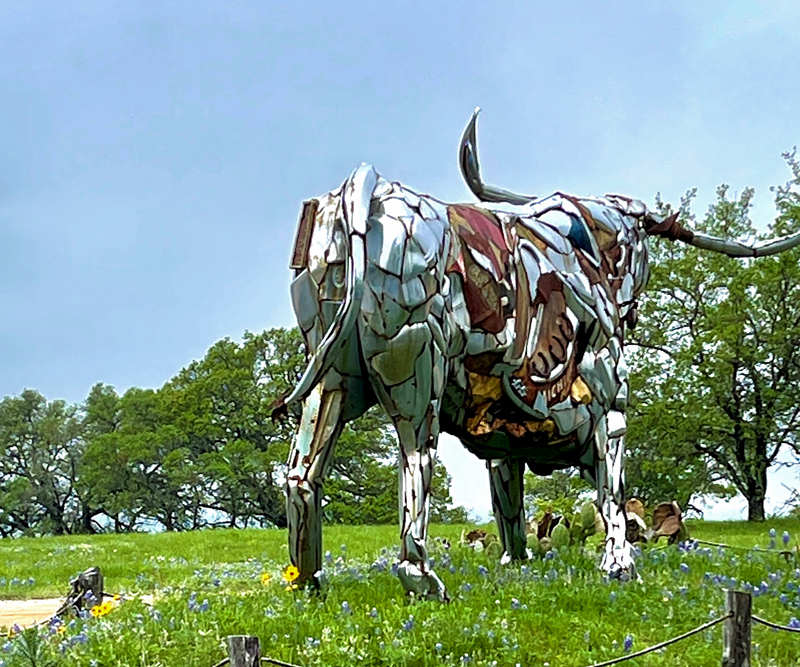 The Whiskey Shack offers food and beverages and makes for a great stop before or after a tour, or as a visit on its own.  The Gift Shop is next door.  There's a newly released bourbon called Honeydew, targeted for the female crowd.  Check hours before your visit.  Pay attention to when food is offered at GB, which is not every day.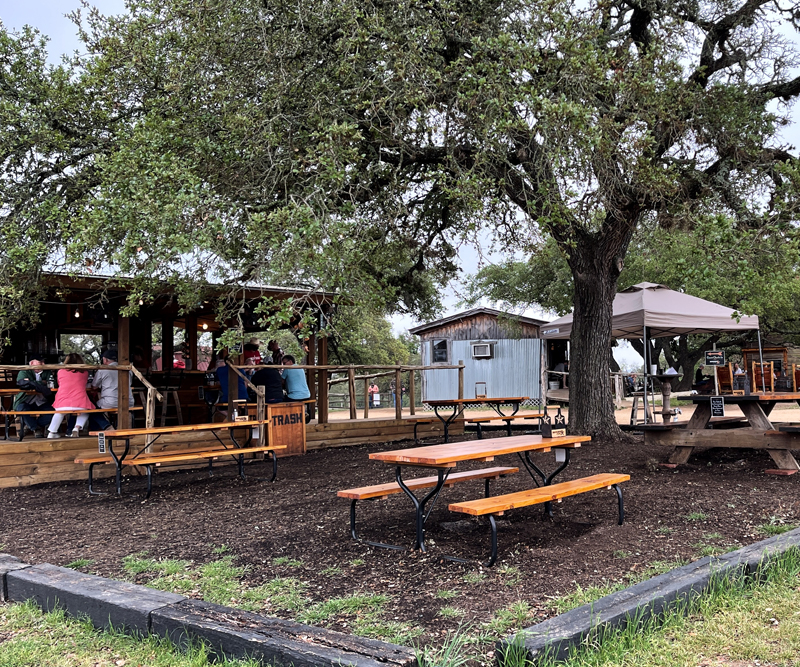 What was most evident at Garrison Brothers is the spirit of community and family, both the blood and business kind, plus down-home Texas charm.  The bourbon is great too. 
Enchanted Rock Hike
Enchanted Rock is a pink granite geological formation 18 miles from Fredericksburg.  A pass is required for certain days from Texas Parks and Wildlife.  Get one irrespective of day from Texas State Parks to guarantee admission. The Loop Trail provides a 4.6-mile hike on a wide flat surface before or after you ascend the rock. Trail maps are here.  Check out Nature Conservancy for a great read before you go.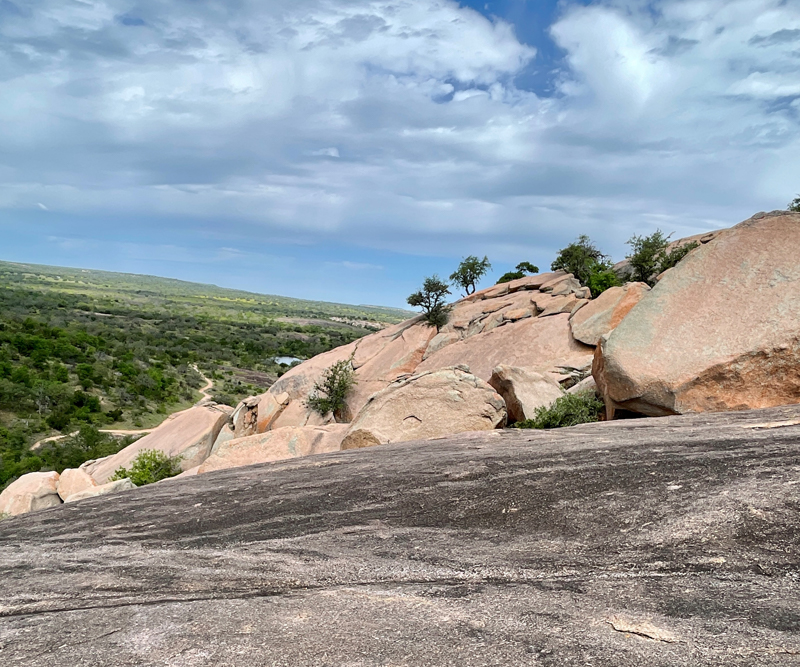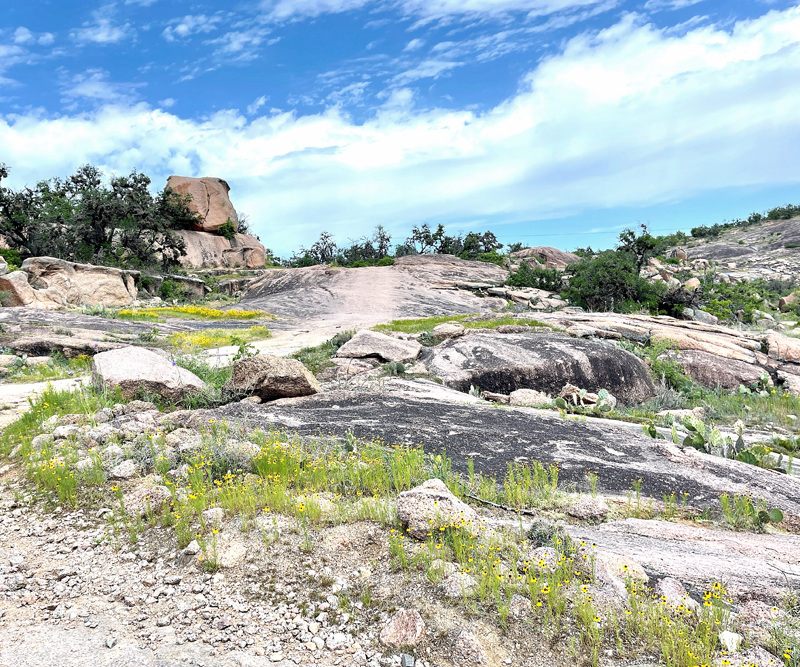 Willow City Loop Drive
The most talked about country drive in the Texas Hill Country is the Willow City Loop.  It pairs great with  a visit to Enchanted Rock due to its proximity to the rock.  Willow City Loop is private property.  Be a good guest. Take pictures of fields from a distance to avoid rattlesnakes.  Directions are next.
Take Hwy 16 North out of Fredericksburg. Proceed 13.3 miles, then turn right on RR1323.  Continue 2.79 miles to Willow City, then turn left onto Willow City Loop. Drive for 13 miles through the Texas Hill Country and reconnect with Hwy 16. Turn left on Hwy 16 and head back to Fredericksburg.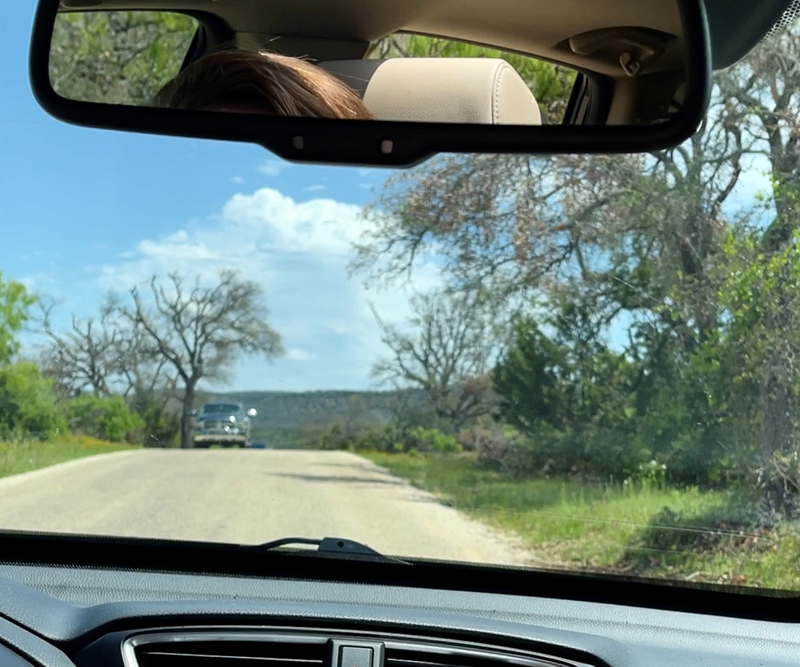 Museums
Pioneer Museum
The Pioneer Museum is for all visitors, young and old, and tells the story of Fredericksburg's German ancestors. Set aside 30 minutes to an hour. It's open every day but Sunday.
National Museum of the Pacific War
The National Museum of the Pacific War, a Smithsonian affiliate, occupies 55,000 square feet in a state-of-the-art building. Exhibits focus solely on the Pacific front in WWII. The museum honors Fleet Admiral Chester Nimitz, who was born in Fredericksburg, along with all of the other men and women who served in the Pacific. The museum got a spot in USA Today's Best History Museums in the United States. It's open Wednesday – Sunday
Stage & Theater
Check the music lineup on stage at the Rockbox Theater, a quaint small-town theater just off Main Street.  If community theater is your mojo check out the Fredericksburg Theater Company, two miles from Main Street.  Neil Simon's Sunshine Boys was displayed on the small-town marquee.  Both theaters have a loyal following and offer old-fashioned charm and fun.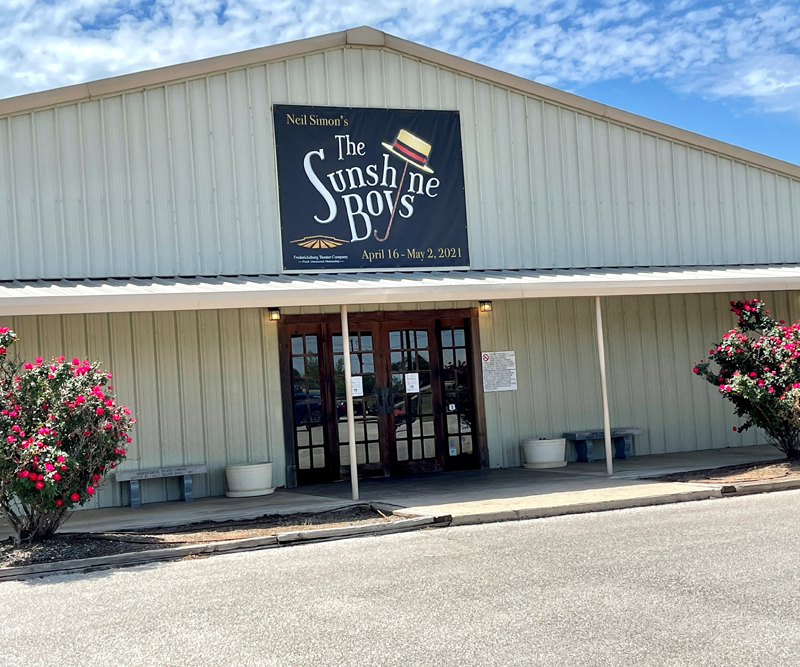 Tips on Fredericksburg
Establishments close early, and many are closed Sunday, Monday, and Tuesday. Fredericksburg is a popular place. If crowds are not your game, then plan wisely. Main Street, for example, is a dream early morning just after the stores open. Dine early to avoid the evening rush. Choose wineries with fewer crowds. Last, watch out for rattlesnakes and savor the Texas Hill Country.
Strategy Workshops for the Expert Traveler
Travel is complex. Strategy Workshops are guaranteed to ramp up your travel experience. Move to Expert Traveler status with one or more 50 minute sessions. Workshops are curated based on needs and goals. They are offered live in Austin, Tx, and by Zoom for all locations. Participants range from students, preparing for a summer abroad, to office staff, responsible for travel arrangements. Group size ranges from 1-300. Return is guaranteed for travelers who book travel independently or through a travel professional. Let's chat and get you, your group, or office staff on the road to Expert Travel. The payoff is great. Email TravelToolsTips@gmail.com.
Related Posts
Amazon Prime Packing System Prevents Travel Nightmares offers a start to finish guide for carry-on packing. Essential travel supplies are covered for all travelers, including those who check luggage.
Subscribe
If you like this, hit Subscribe for updates and other travel inspiration. Emails are infrequent, and will not wear out their inbox welcome. Follow TravelToolsTips on social media too. Visit the Blog for other great intel.