Conde Nast readers included Savannah in the Best 8 Small USA Cities list in 2021.  It's been on my watch list for a long time.  A scheduled work conference in nearby Atlanta triggered a great escape for forty-eight hours in Savannah's Historic District in the Fall of 2021.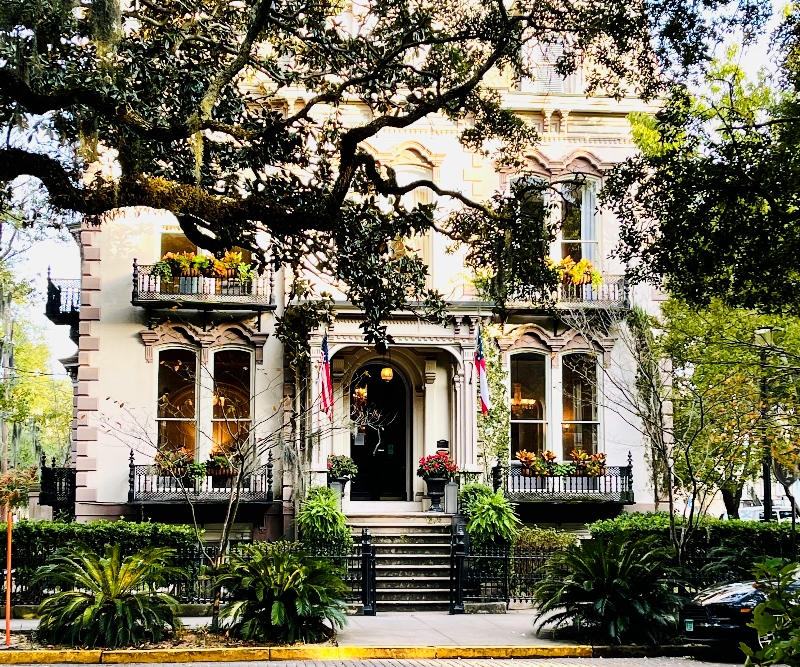 Good to Know
Savannah is a coastal town in East Georgia that sits on the South Carolina border.  It is 17 miles from the Atlantic Ocean.  Charleston, SC is 106 miles north and Atlanta, GA is 248 miles northwest, or a one-hour plane ride away.  Spring is the most popular time to visit when flowers are blooming.  Fall is great too, with cooler temperatures and cooler rates.  Winter temperatures are moderate, making this an ideal time to enjoy the town and miss the crowds.  Summers are hot and humid.  Weather-atlas.com is a great planning tool.  Smart casual is a good way to roll.  Blazers are uncommon; however, comfortable shoes are required.  Savannah City Guide has a list of annual festivals and events.  There are bunches.  The SCAD Film Festival ended just before we arrived.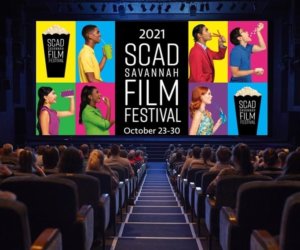 Little Known Facts
Savannah's Historic District boundaries are from River Street to Jones Street and Martin Luther King, Jr. Boulevard to West Broad Street.  Chippewa Square is one of 22 squares located in the Historic District.  Most Americans know that square from the movie Forest Gump, with Tom Hanks.  The famous bench is now at the Savannah History Museum.  Savannah has hosted many film crews.  Visit Savannah provides a good list.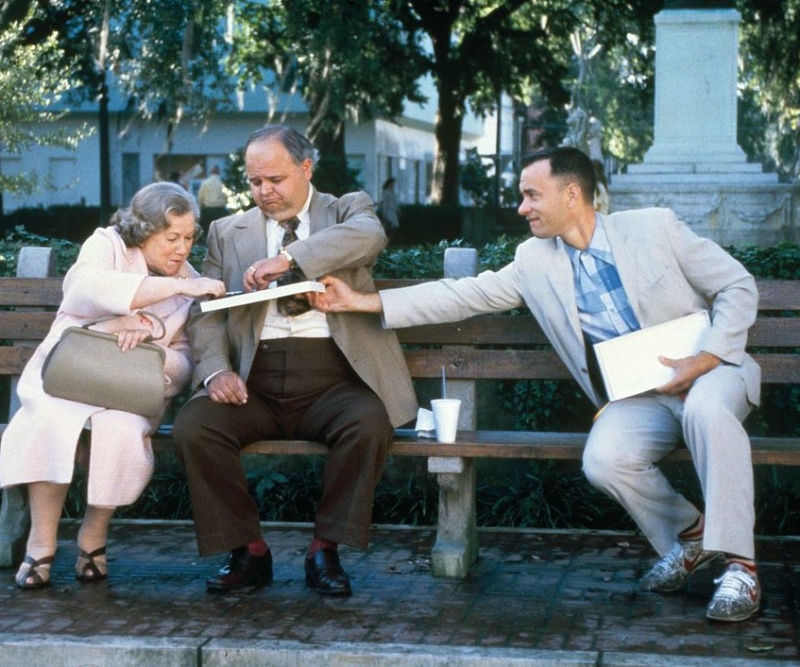 Another Little Known Fact is that John Wesley, the founder of the Methodist Church, spent time in Savannah from 1735-37.  Wesley made the journey from England at the request of Savannah's founder, John Oglethorpe.  Wesley's plan in America was to convert Native Americans to Christianity.  Instead, he ended up spending most of his time in the new colony preaching to European settlers in Savannah's Christ Church, before he returned to England for good.  Savannah memorializes John Wesley in Reynolds Square.  More on John Wesley's time in Savannah can be found in The Official Savannah Guide.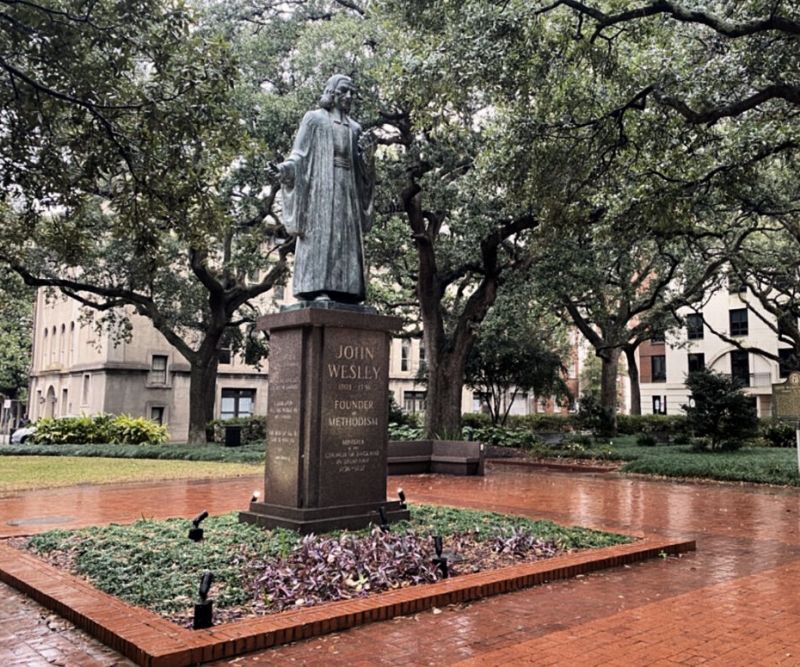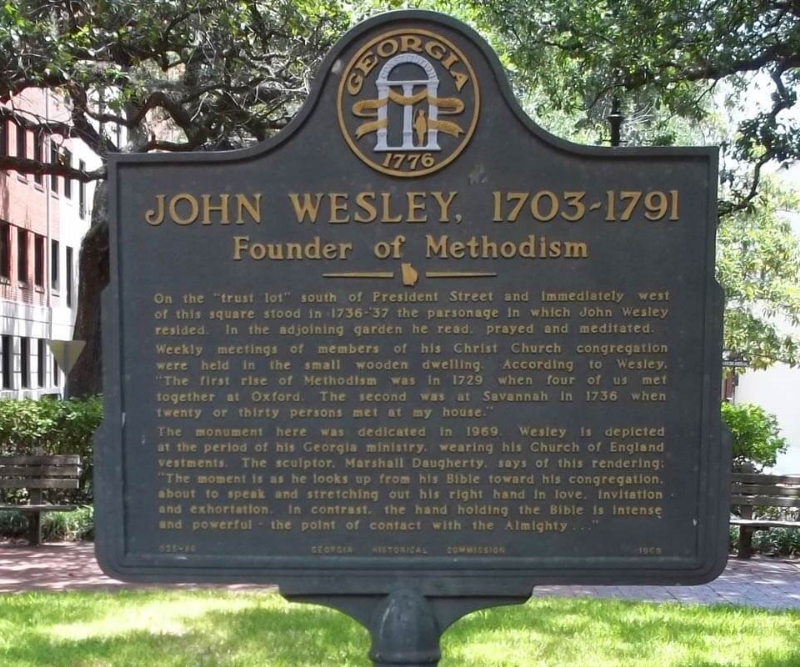 Savannah's History
Savannah was inhabited by the Yamacraw Indian Tribe when the English colonists arrived by boat in 1733.  The region was named Georgia after King George III.  Savannah was assigned Georgia's first city.  Rice and cotton farming eventually became the leading industry, made possible by legalized slavery.  Savannah was a major port for the Atlantic Slave Trade.  The Union Army burned many southern cities during the Civil War but Savannah was spared.  General Sherman, pictured below, passed on burning Savannah because its access to the Atlantic Ocean provided key transportation for food and supplies to the Union Army, who took control of Savannah during the Civil war.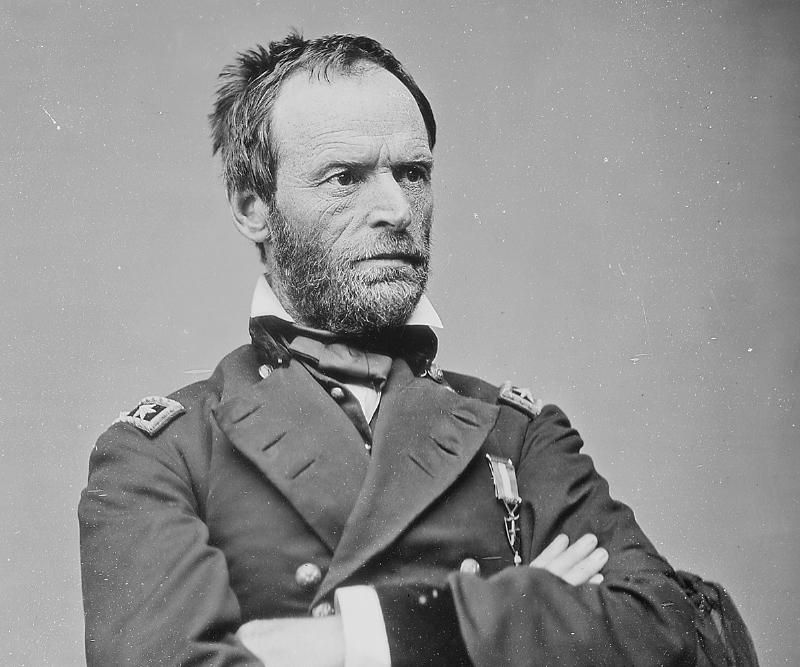 Slavery ended in Savannah in 1865, however, the wealth accrued by slaveowners and imparted to their descendants is seen everywhere, including today.  Fast forward to the mid-1950s, a group of Savannah women successfully fought to stop the demolition of the town's historic structures.  The Historic District today, which is approximately one square mile and represents Savannah's pre-Civil War boundaries, is a historical treasure of the most exceptional kind.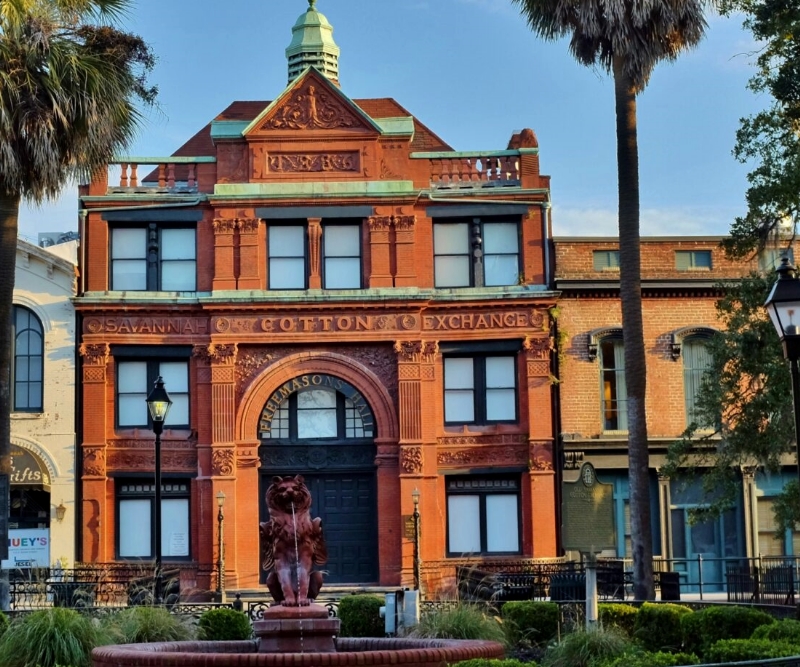 Savannah Transportation
Airline Travel
The Savannah Hilton Head International Airport (SAV) is 21 miles from Savannah, with nonstop service from 27 central and east coast destinations.  This data is from FlightsFrom.com, a favorite website covered in Strategy Workshops for the Expert Traveler.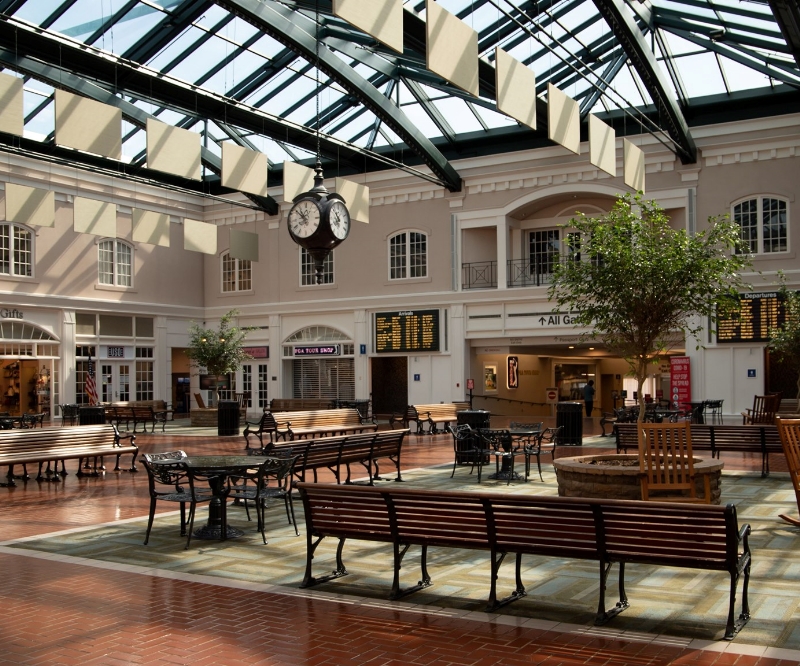 Car Rental
You don't need a car in Savannah, unless you plan to visit a nearby beach or another town. Savannah is a walking city of the best kind.  If you do rent a car, check the rental car rate a day or so before departure.  If the rate drops, rebook and cancel, in that order.  We always pass on prepaid gas, skip the counter line, and go straight to the car.  Strategy Workshops for the Expert Traveler cover topics like these guaranteed to ramp up your travel experience.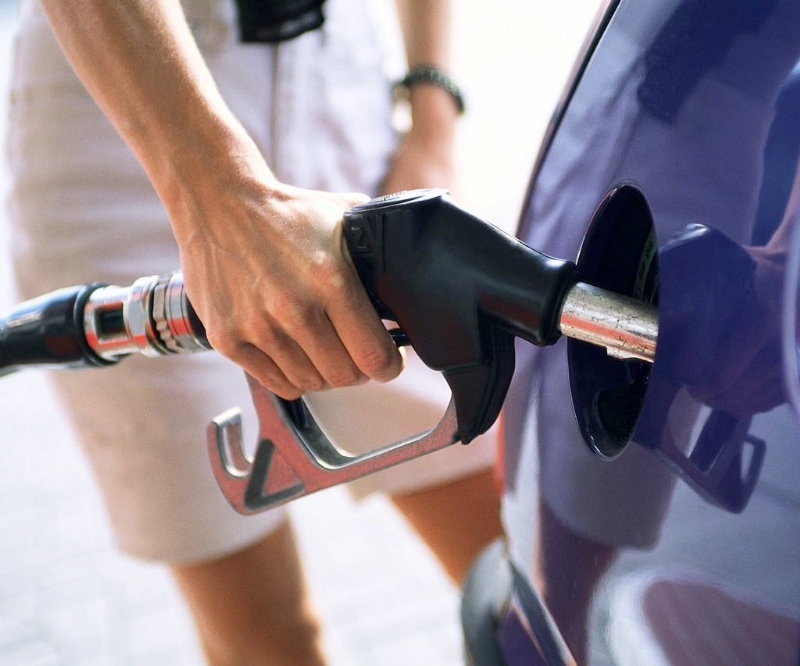 Savannah Lodging
Perry Lane Hotel
The Perry Lane Hotel is a four star Marriott Luxury Collection property that opened in 2018.  It's located in a beautiful Historic District neighborhood, north of Forsyth Park.  This place is the gold standard for your stay in Savannah.  Perry Lane has 167 rooms located in two towers, the North (main) and South.  Bubbles are served all day.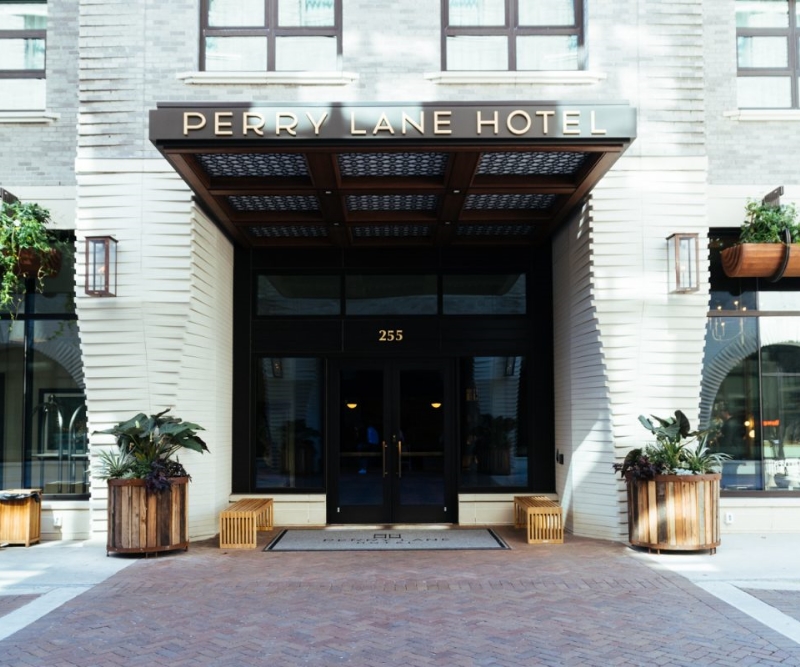 The South Tower houses the ballroom, Wayward Bar, and Andie Kully Boutique.  The North (main) Tower houses the Emporium Kitchen & Wine Market, fitness center, and a coffee/pastry bar on the ground level. On the North rooftop is Peregrin, the casual open air bar which serves lunch and dinner (hours vary by day), and the rooftop swimming pool. 
The lobby sitting area in the North (main) tower is straight from a Southern Living Magazine with natural light, nuetrals, and a cozy vibe.  The sitting area in the South Tower is avant garde with bold colors and cool art.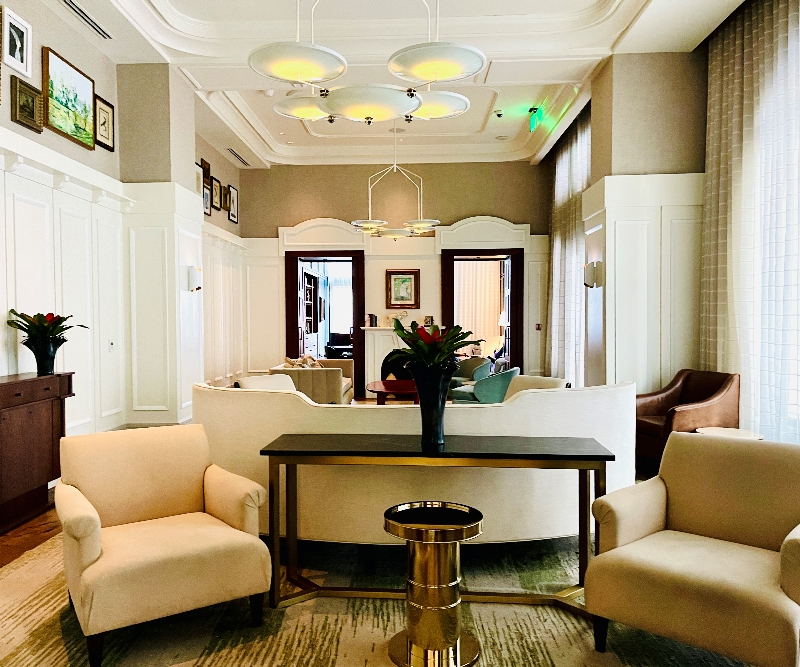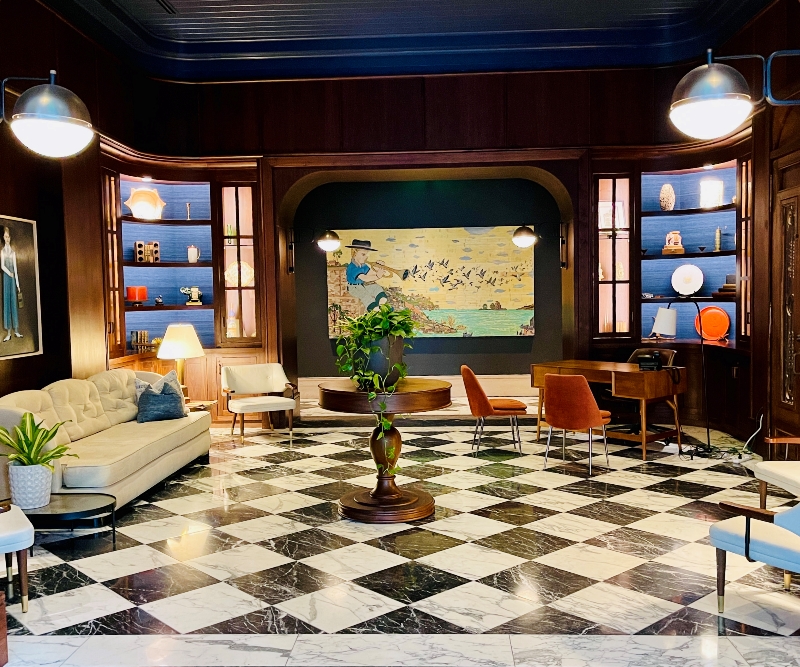 Elevators are adorned with art and wallpaper of the best kind.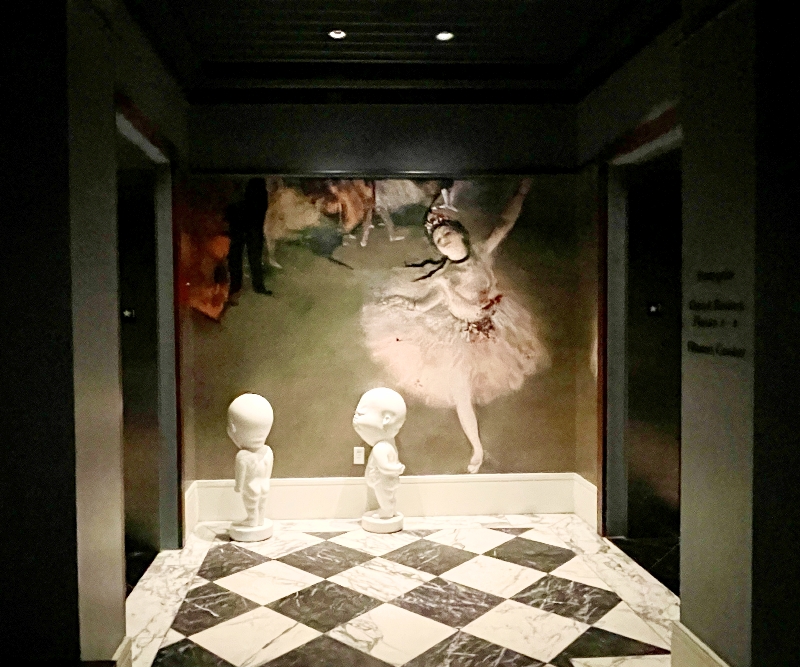 Dining in Savannah
Make your dinner reservations well in advance. Many establishments are closed on Sunday and Monday.  Carolina Eater provides a good guide.  Here are a few trophy spots to consider.  All are in the Historic District
Emporium Kitchen & Wine Market
The Emporium Kitchen & Wine Market is an upscale restaurant at the Perry Lane Hotel that serves breakfast, lunch, and dinner daily, and qualifies its menu as Georgia cuisine.  The Emporium Bar, which serves a limited food menu, is a lively polished spot and where we dined our first night in Savannah.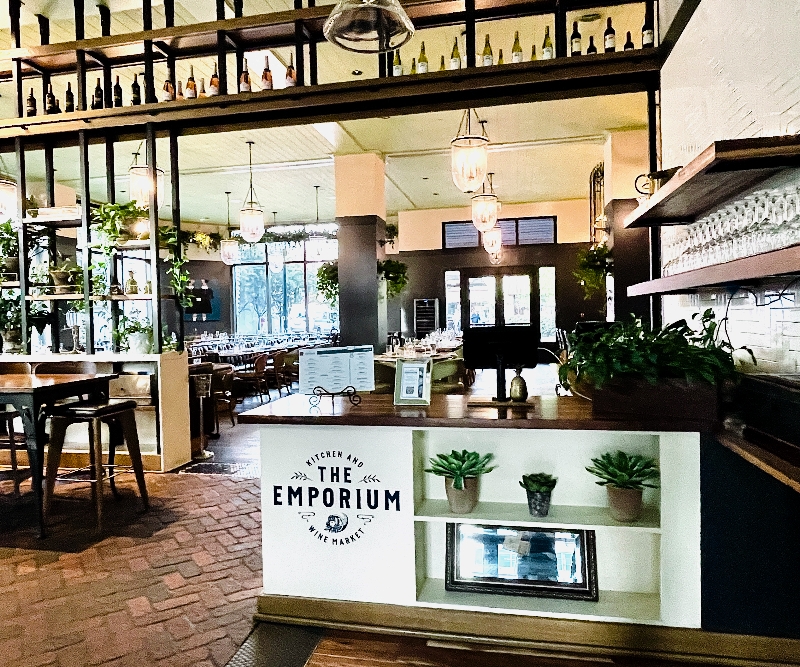 Cotton & Rye
Cotton and Rye is a foodie favorite, and serves dinner only of the upscale, Southern kind.  It's 1.3 miles from the Perry Lane Hotel, and just outside the Historic District.  An uber is best.  The outside does not have a lot of flash, but everything inside is great.  The food lives up to its reviews, and the Buttermilk Rye Cornbread is to die for.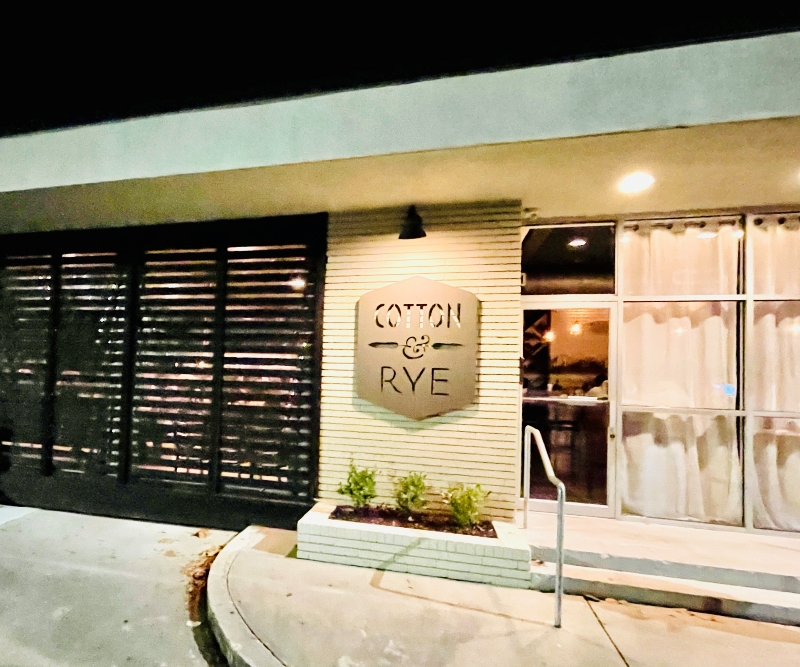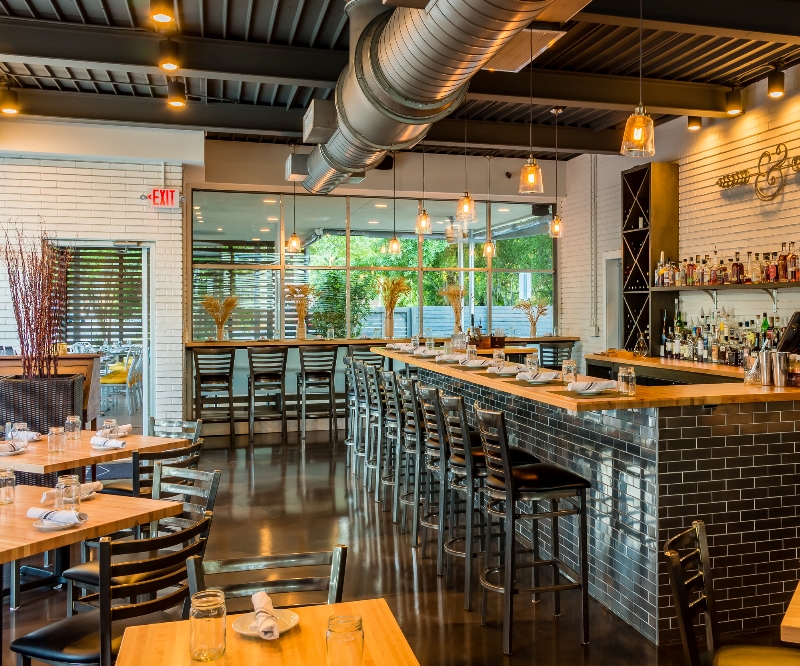 The Old Pink House
The Old Pink House, which dates back to 1789, serves lunch and dinner and is famous for its upscale Southern food.  I wasn't a fan of the vibe in the main dining space, however, there are two other seating areas in this historical abode that get my vote.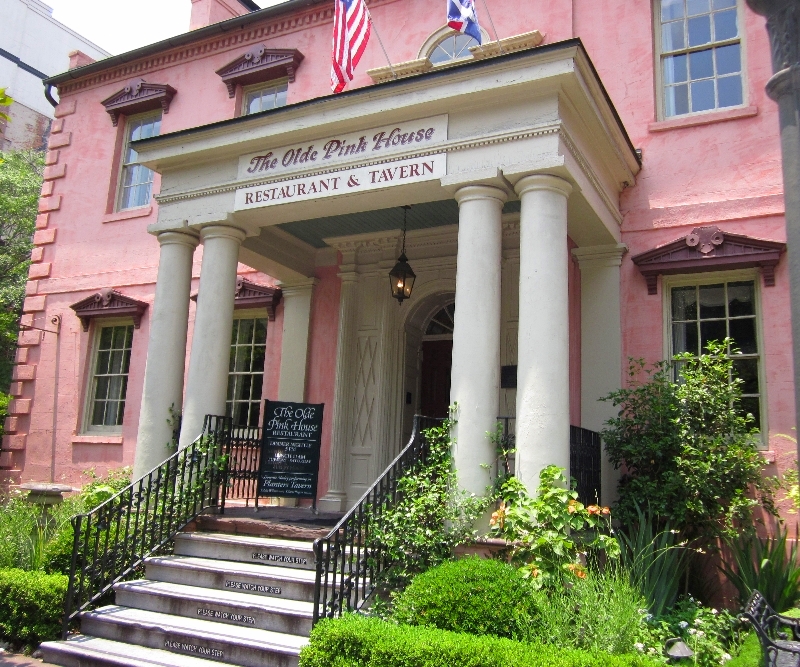 The Arches Bar, which in the back of the restaurant, and opens to the outdoors, does not take reservations, and has a separate upscale menu.  The casual space is comfortable and cool.  The second area, that is even better, is the Tavern downstairs.  The Tavern takes walk up patrons and serves the same upscale menu as the main dining room.  If you are OK with dark cozy spaces, its vibe screams 1789 and is a good one.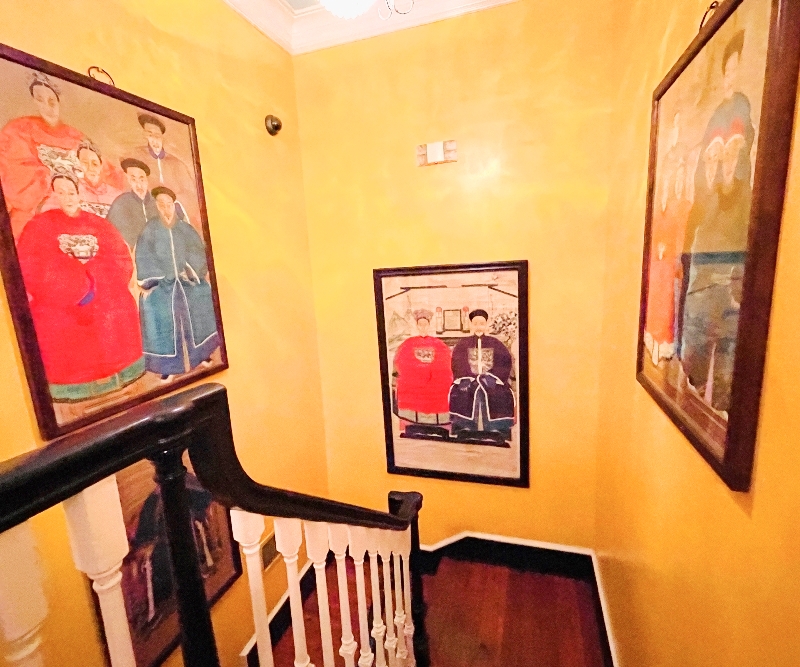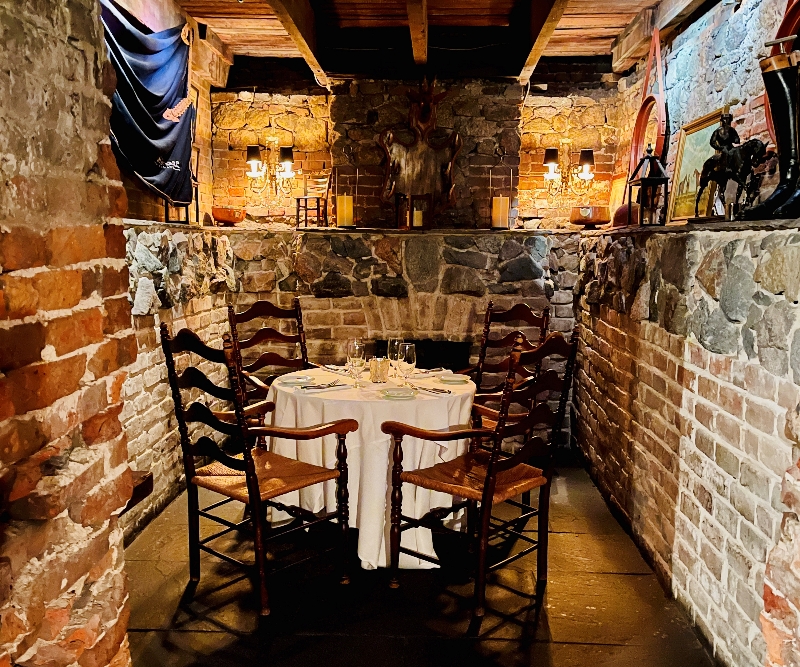 By the way, in Savannah, you can leave establishments with unfinished food and/or cocktails in "to go" containers.  You read that right.  Open container adult drinks are permitted in Savannah's Historic District, as long as they are in a plastic cup, not to exceed 16 ounces.  No bottles, mugs or flasks.   
Paris Market Café
Paris Market Café is located on Broughton Street and is a great place to duck in while visiting the popular stores in the area.  They offer a fast breakfast or lunch bite, coffee, wine, or dessert.  Seating is inside and outside.  The meal menu is limited, but covers the bases, and includes options for the kids.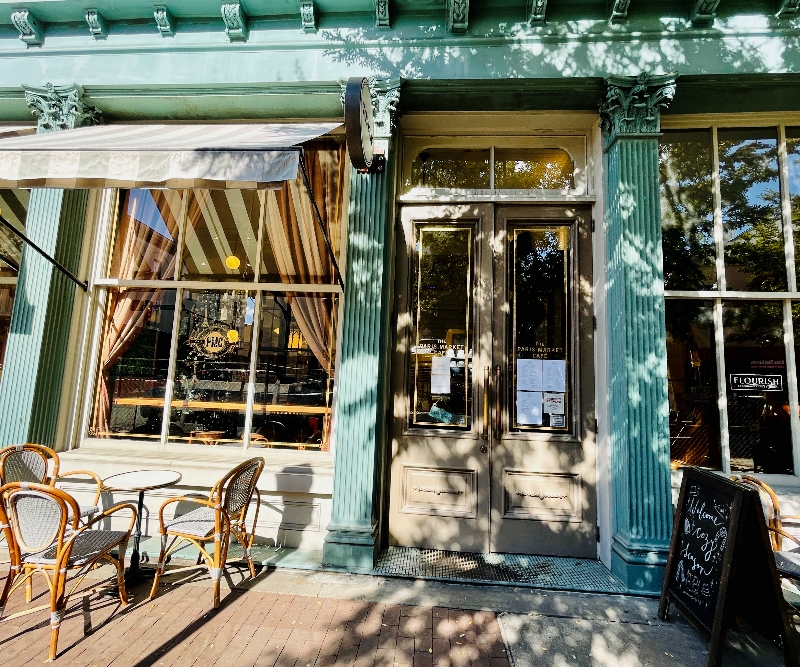 Zunzis
Zunzi's is perfect for a quick lunch or dinner bite just outside of the gray brick Perry Lane North and South Towers.  The menu is South-American inspired.  Food is delicious for casual dine in or carry-out.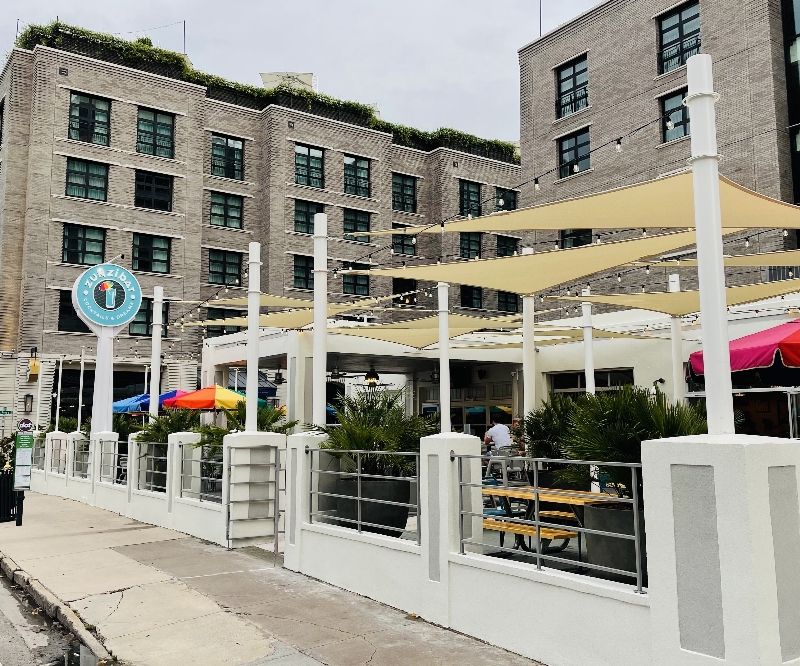 Parker's Market
Parker's Market, across the street from the Perry Lane Hotel, sells everything from gourmet meals to wine, milk, and donuts.  In case you need gas, home décor, or a fashionable wrap, they have that too.  Food orders can be submitted online.  The space is charming and not 7-11.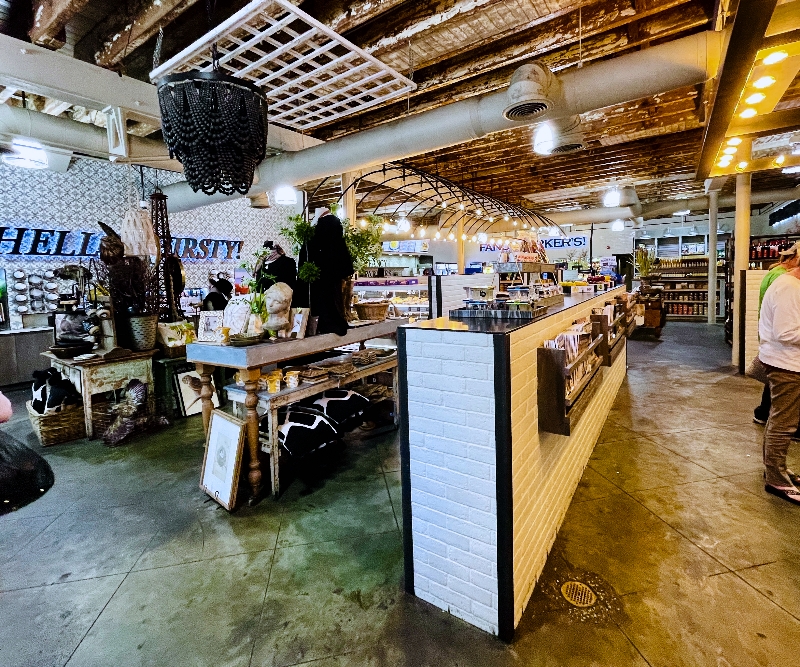 Savannah Shopping
Shopping is a thing, and Savannah's Historic District has a bunch of it.  Broughton Street has several blocks of walk up shops that are one of a kind, as well as national favorites that include Free People, Kendra Scott, Banana Republic, Anthropologie, Impeccable Pig, and many more.  The historical buildings are as charming as the goods.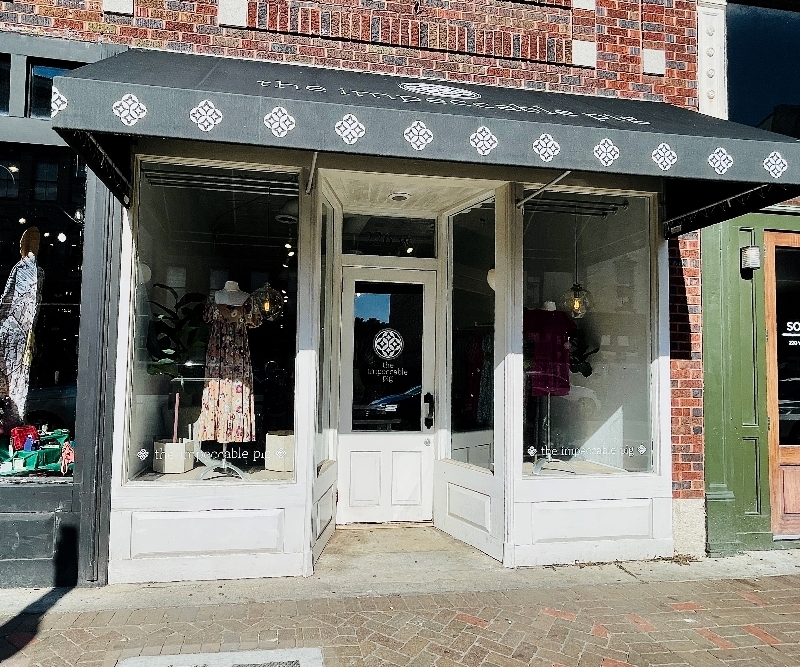 Also, check out the Andie Kully Boutique at the Perry Lane Hotel.  I was tipped off to the boutique's wares by a New Hampshire guest wearing a killer hat, purchased at the boutique.
Savannah Activities
Underground Tours of Savannah
Underground Tours of Savannah offers educational tours on the Trans-Atlantic Slave Trade. The "Slaves in the City" tour was led by Pat Gunn, a Gullah Geechee local resident and activist. Fist bump Conde Nast for the pointer.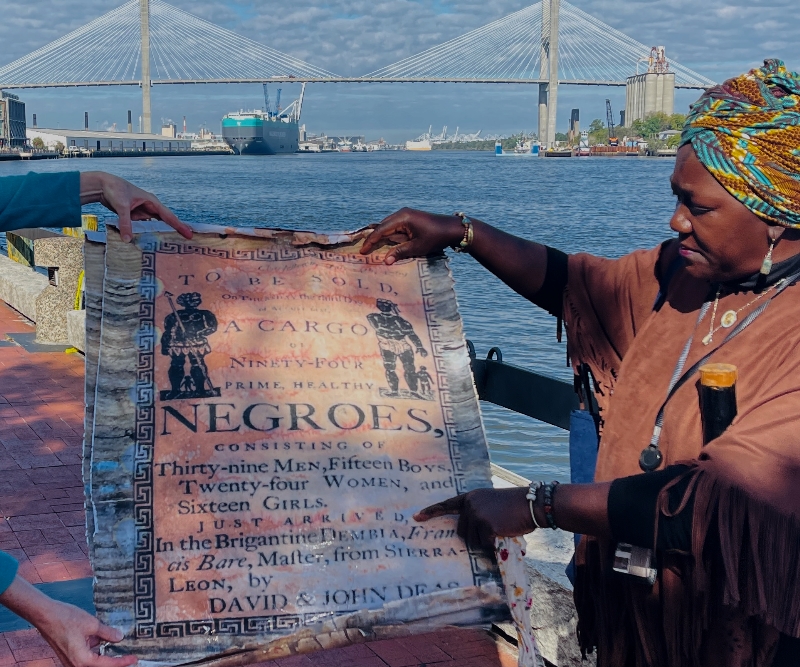 The tour starts on the Savannah Waterfront, and includes time spent at Savannah slave holding pens, auction blocks, and other key spots of historical significance.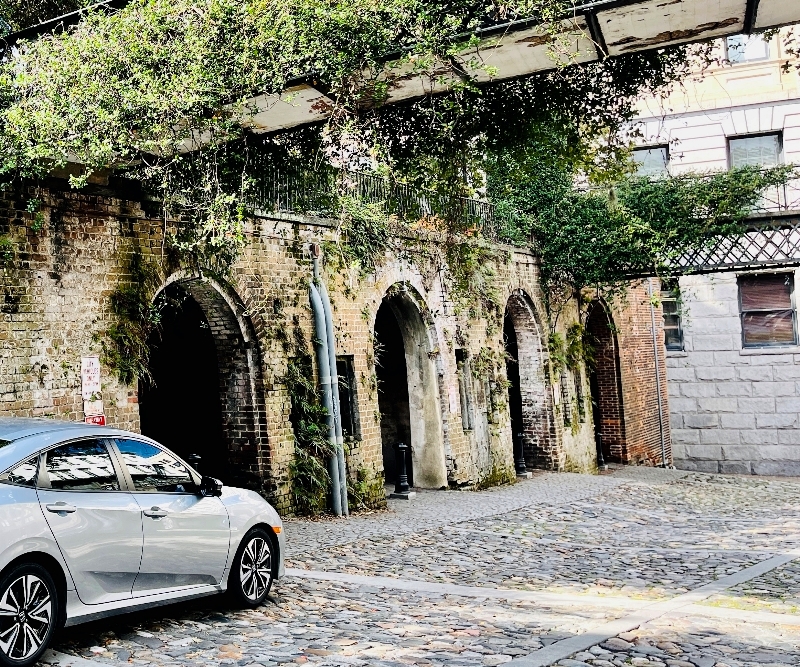 The tour ended at Johnson Square. The markers in Johnson Square pay tribute to Savannah's political founders, but there is no recognition that Johnson Square was also a former slave auction block. Pat Gunn, the activist, is steadfast in getting history recorded complete and right, to include revisions to many of Savannah's historical markers. Overdue revisions are coming soon.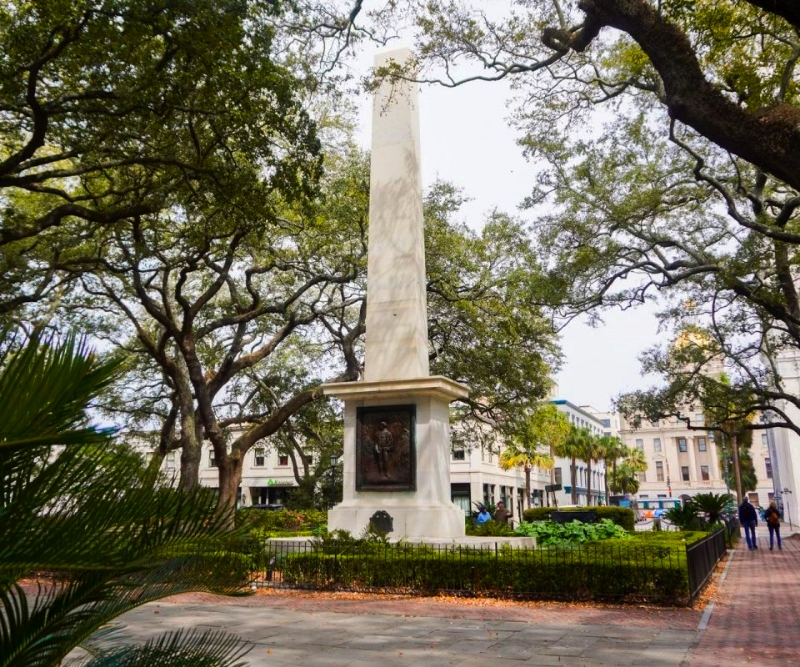 Online, the "Slaves in the City" tour states it is 1.5 hours, however, allow room for overage. Our tour ended nearly 3 hours after its start time, yet we were eager for more. Pat Gunn won't remember me, but I'll never forget her.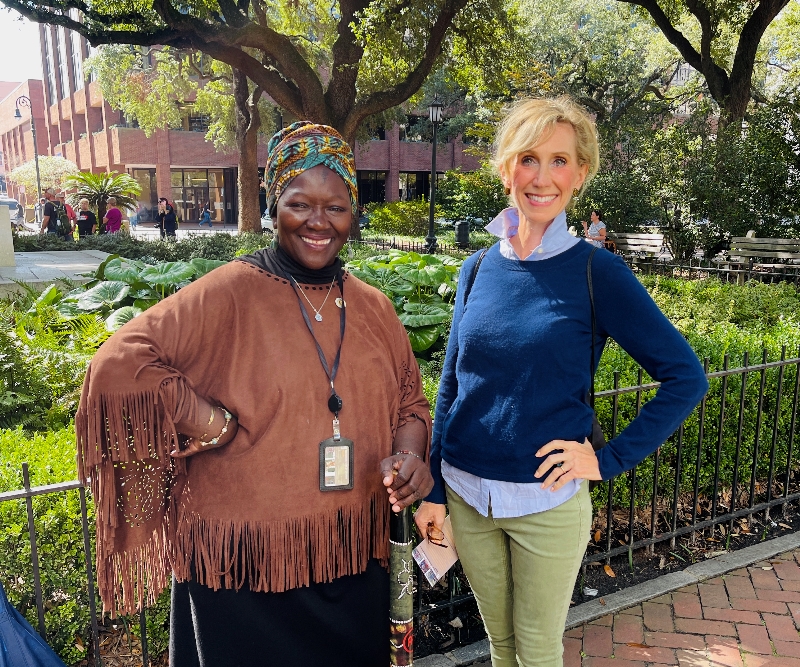 Forsyth Park & Historic District Walk
Walking and exploring Forsyth Park and the Historic District on foot tops the list of Savannah attractions. Consider GPSMyCity for a DOYO (do on your own) walking tour. This is one of many websites we cover in Strategy Workshops for the Expert Traveler. The fountain, at the North end of Forsyth Park, has been around since 1858, and is the most photographed image in Savannah. It is modeled after Place de la Concorde in Paris. You may notice other nods to the French in Savannah because early Savannah city planners were influenced by French design. By the way, Savannah is known as the first planned city in the USA.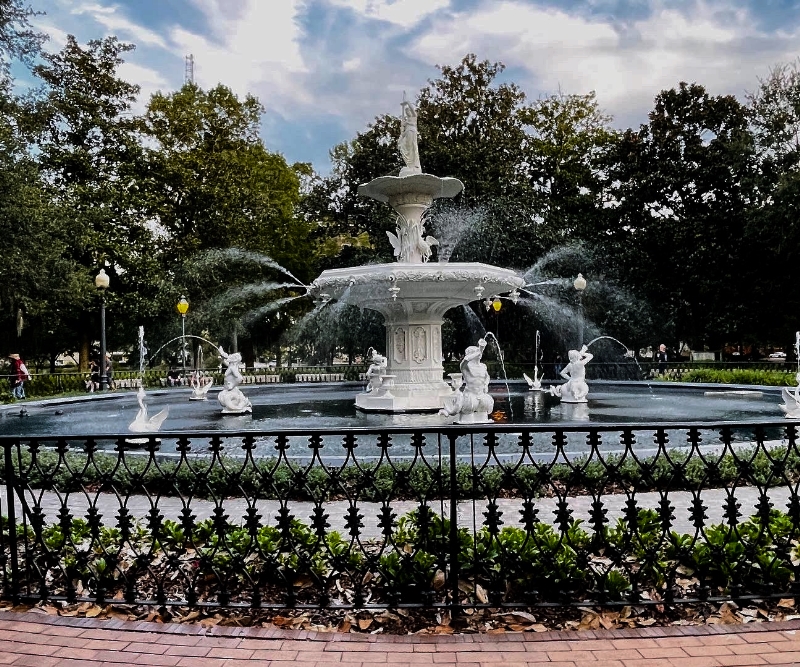 The Savannah College of Art and Design (SCAD) is located in Savannah's Historic District. You can't miss the students. Forsyth Park is a stellar spot for students doing homework assignments.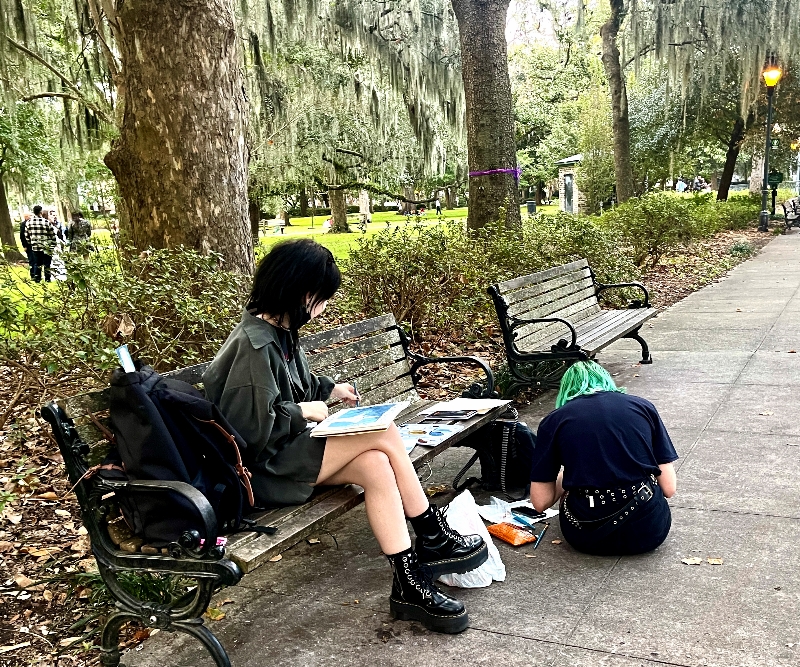 SCAD buildings are scattered around the Historic District, including this one. All are jaw dropping gorgeous.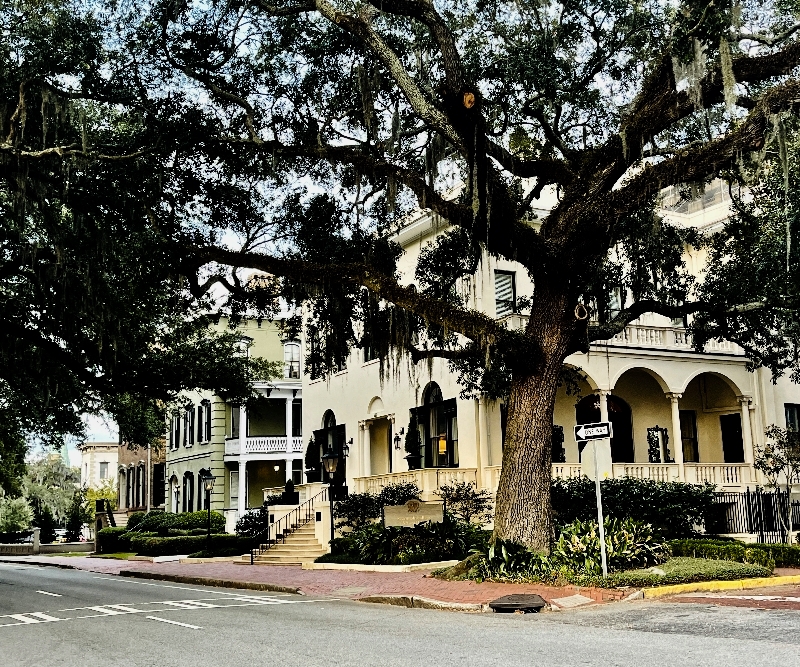 The trees in Savannah look like commissioned works of art like this one in front of the red brick Mansion on Forsyth Park, an upscale hotel that breathes like the Texas Hotel Zsa Zsa brand.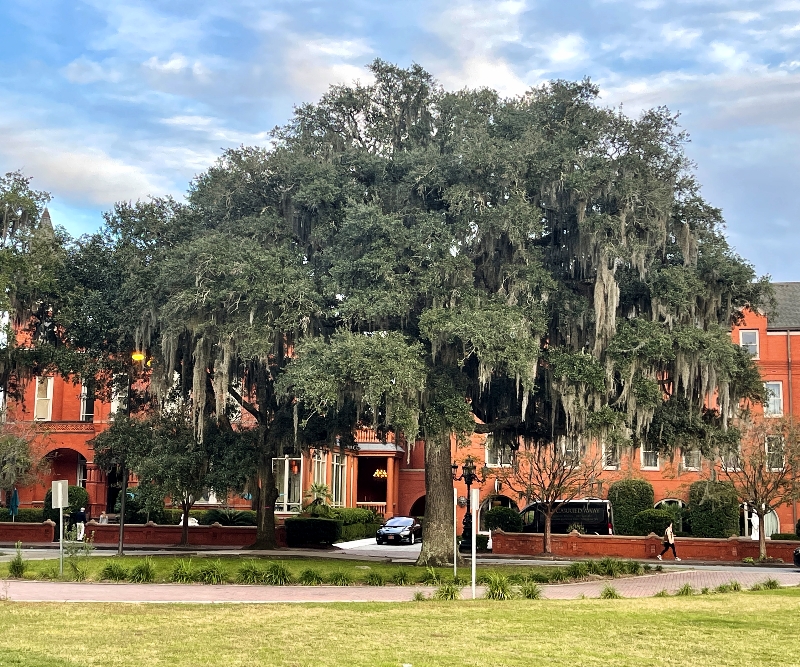 Cathedral Basilica of St John the Baptist is an attention getter too, and equates to cathederal sightings on European walks. It dates back to 1874, a baby by European standards.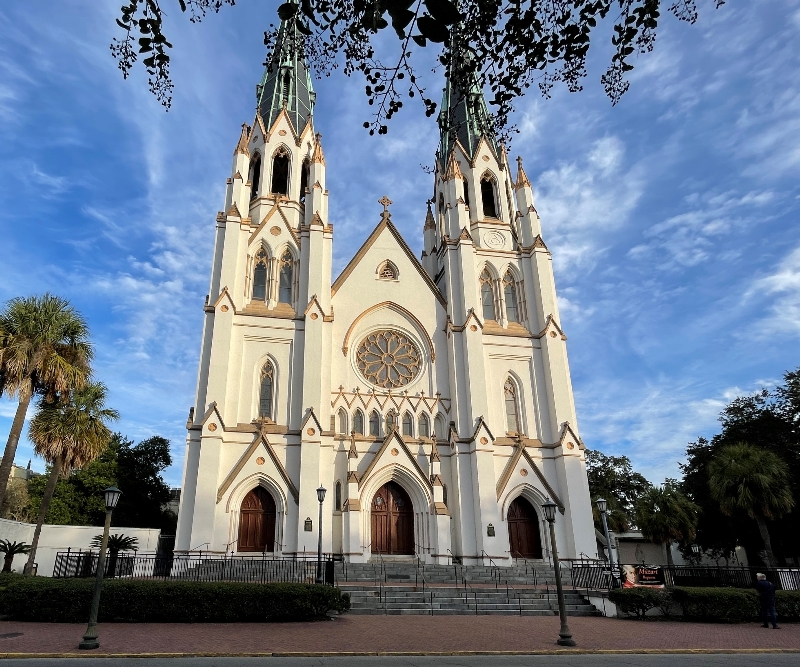 SCAD Museum of Art
SCAD Museum of Art has contemporary exhibits of the permanent and temporary kind. In 2011, a 26 million expansion wrapped up, adding 85,000 square feet to the original structure, a railroad depot. Grab a coffee or a gift at the Tad Café just inside the entrance.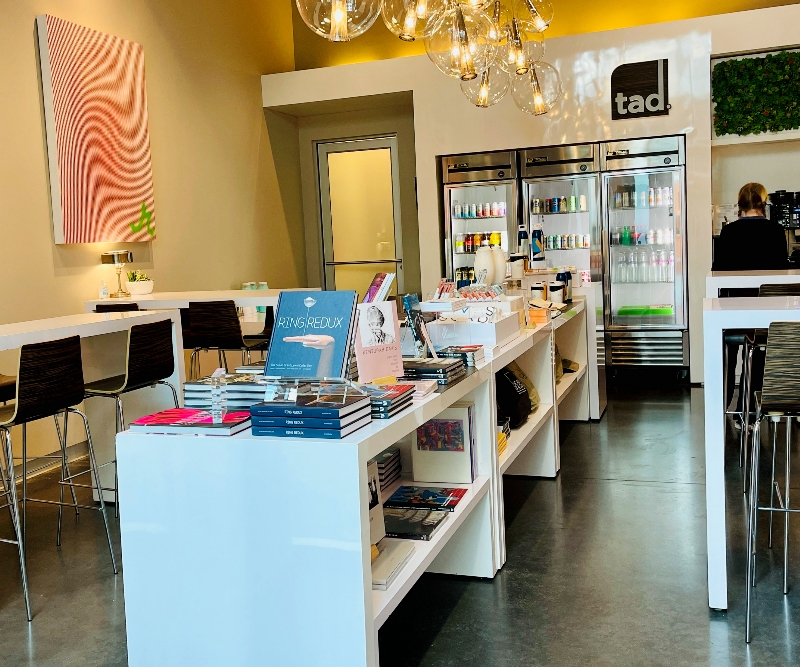 Fashion designed Christian Siriano's People to People exhibit was on display while we were there. In 2018, Christian was named by Time Magazine as one of the 100 Most Influential People of the year. His creations have been worn by the "world's biggest stars, top models, pop icons, legendary divas, LGBTQ heroes, first ladies, and more". A legend is provided naming who wore the gown.
Robert Wilson's A Boy From Texas glass exhibit was on display. You may know that name. Robert is an internationally recognized theater and opera director known for his avant-garde style.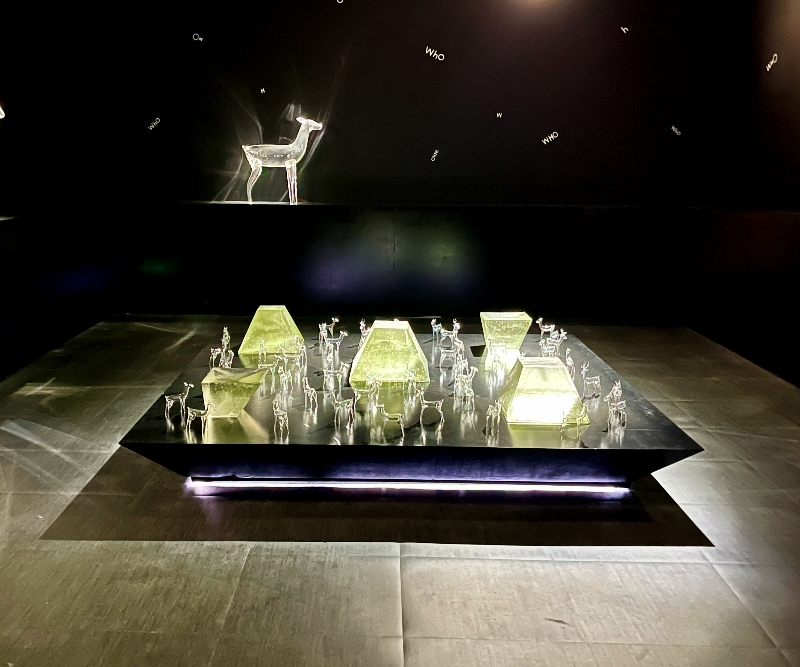 Student docents are located in every gallery and are the best of the best educators for patrons at the museum. Converse with them. Perhaps, ask about their home country or major as a start. Go from there. The variety of mediums is vast in the SCAD Museum of Art. There's a hook in this incredible museum for everyone. Thanks again for the pointer Conde Nast.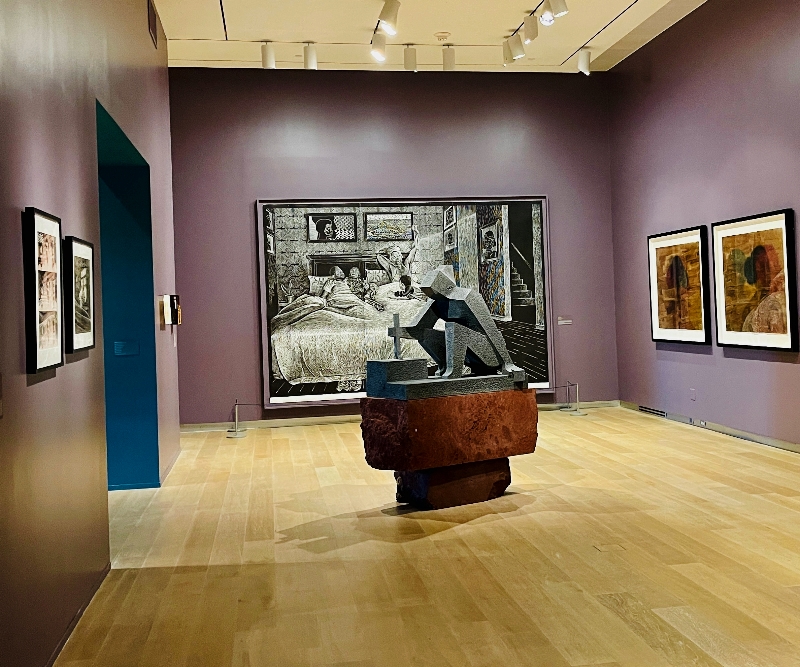 Bonaventure Cemetery
Bonaventure Cemetery, located 10 minutes from the Historic District by car, was featured throughout the book, Midnight in the Garden of Good and Evil, by John Berendt. Martini sipping was common amongst the gravestones by the real life main character. The non-fiction book was published in 1994, and was on the New York Times Best Seller List for 4 years.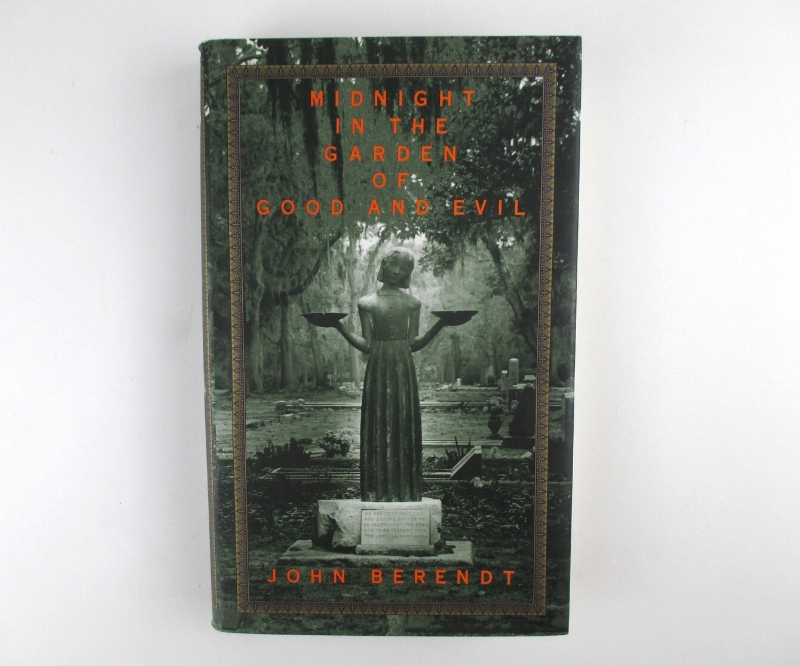 In 1997, the movie adaptation, directed by Clint Eastwood, was released. Actors included John Cusack, Jude Law, and Kevin Spacey. The book is based on real-life events in Savannah in the 1980s. The gorgeous trees and architectural elements do make for a great space to enjoy martinis.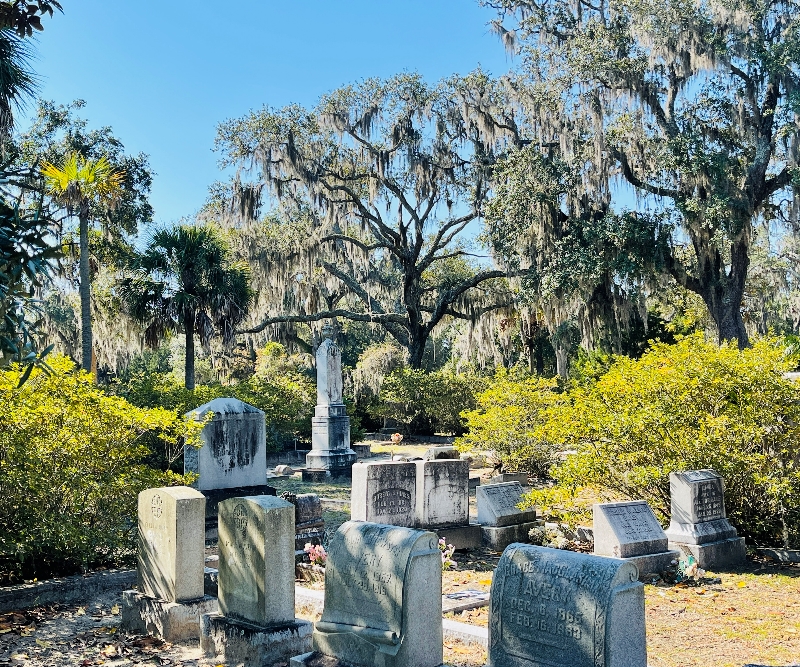 Telfair Museums
Telfair Museums is a collection of three museums, in the Historic District, covered under one ticket. They are in three different nearby locations. The Telfair Academy is a two story mansion built in 1818 and is a treasure to see. It houses 19th and 20th century art. The building is a draw, apart from the art it holds.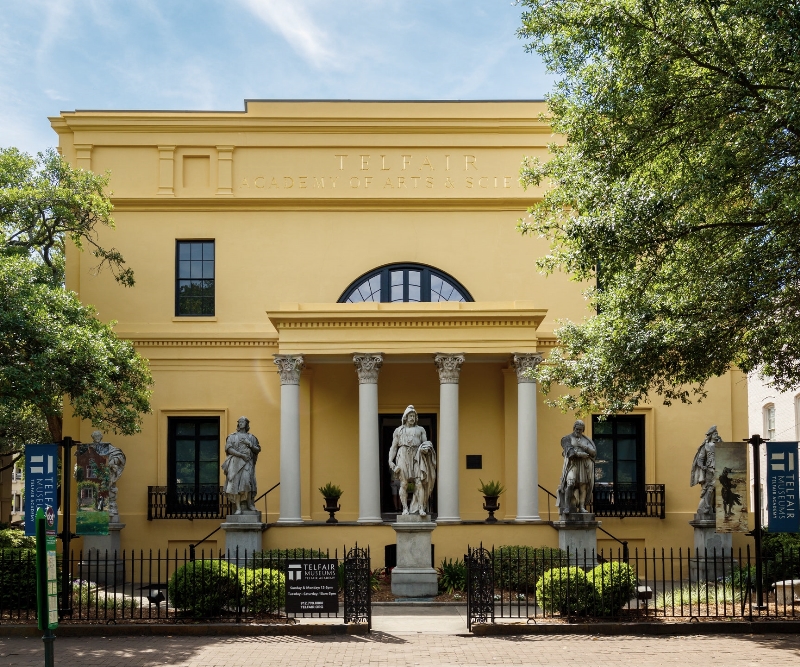 One piece of art in the museum is Bird Girl, a bronze statute that was formerly located at the Bonaventure Cemetery. A photograph of the statute was used for the cover of the book, Midnight in the Garden of Good and Evil. The volume of traffic to see the famous statue prompted its movement to the Telfair Academy.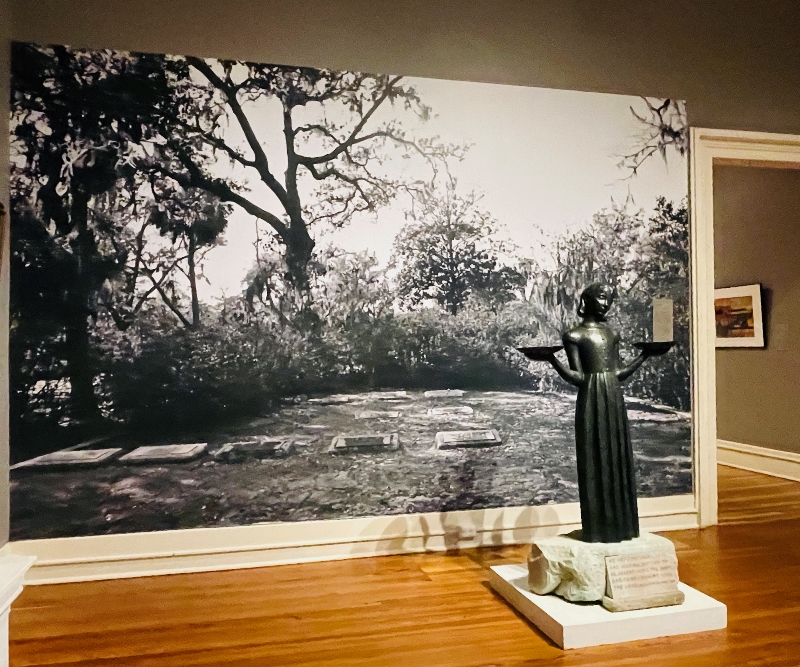 The Owens-Thomas House & Slave Quarters is informative and well designed. The space is small and can be absorbed in a fairly brief period.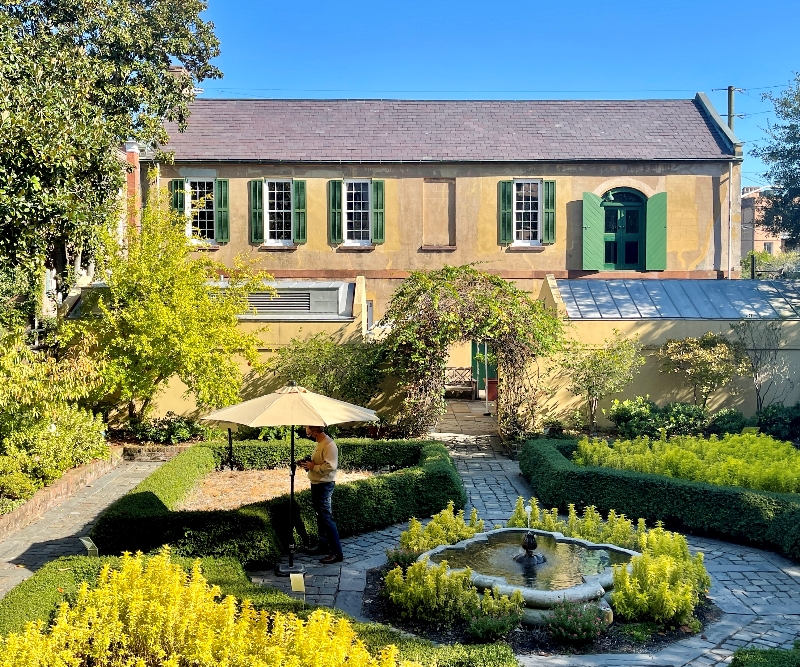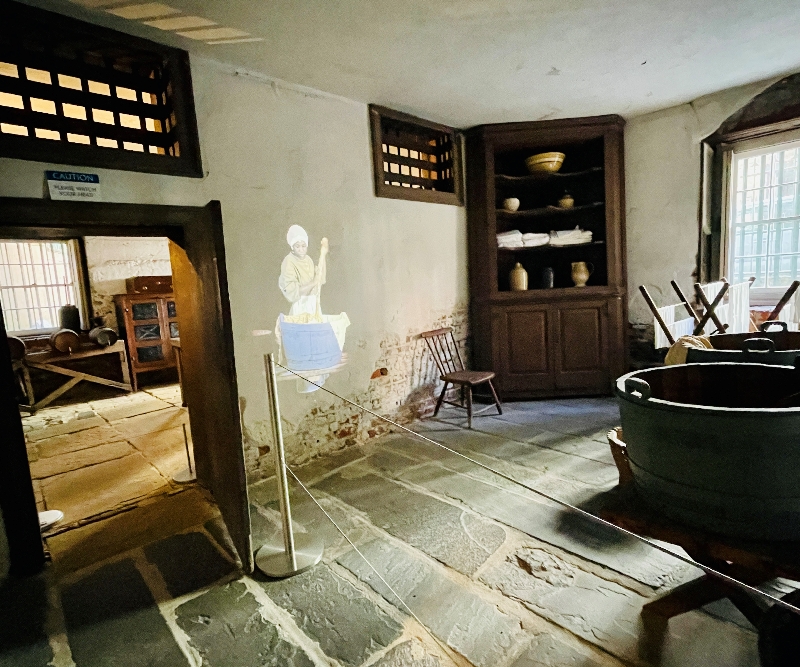 Tips on Savannah
Make dinner reservations ASAP. Think twice before taking a Riverboat Cruise or spending time on the waterfront. There are other draws in the Historic District with a better return. Avoid pairing Savannah and Charleston into one journey. These two southern cities are due their own time in the spotlight. Use travel as an opportunity to grow in new directions. The recent reset presents an ideal time to do things better, to include travel days ahead.
Strategy Workshops for the Expert Traveler
Travel is complex.  Strategy Workshops are guaranteed to ramp up your travel experience.  Move to Expert Traveler status with one or more 50 minute sessions. Workshops are curated based on needs and goals.  They are offered live in Austin, Tx, and by Zoom for all locations.  Participants range from students, preparing for a summer abroad, to office staff, responsible for travel arrangements.  Group size ranges from 1-300.  Return is guaranteed for travelers who book travel independently or through a travel professional.  Let's chat and get you, your group, or office staff on the road to Expert Travel. The payoff is great.  Email TravelToolsTips@gmail.com.
Related Posts
Amazon Prime Packing System Prevents Travel Nightmares offers a start to finish guide for carry-on packing.  Essential travel supplies are covered for all travelers, including those who check luggage.
Subscribe
If you like this, hit Subscribe for updates and other travel inspiration.  Emails are infrequent, and will not wear out their inbox welcome.  Follow TravelToolsTips on social media too.  Visit the Blog for other great destinations.