Vail's moniker "like no place on Earth" is fitting for this Colorado town.  Although it's better known as a top rated ski resort, the summer experience, in my book, beats winter by a landslide.  For that reason, we head to Vail one week or more every summer for a little piece of Rocky Mountain heaven.
Editor's note:  This article has been updated with current information (September 19, 2022).
Good to Know
Vail, CO is in the Rocky Mountains of Colorado, 97 miles from Denver. Summer unofficially starts Memorial Day and ends Labor Day.  Temperatures are cool, with average summer highs at 77 degrees.  Precipitation is lowest during the summer months; however, short rain showers are common.  Weather-and-climate.com is a great planning tool.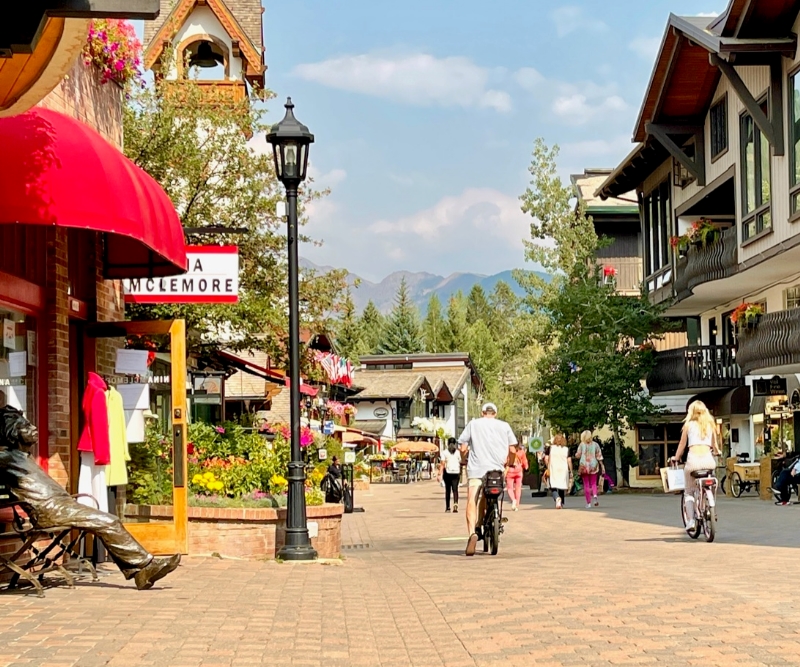 Vail is made up of four areas:  Vail Village, Golden Peak, Lionshead, and Cascades.  Vail Village was developed first and is center of the summer action.  Golden Peak is immediately to the East and Lionshead to the West.  Cascades clocks 2 miles from Vail Village.  Paved trails between the four areas are stunning along the Gore Creek.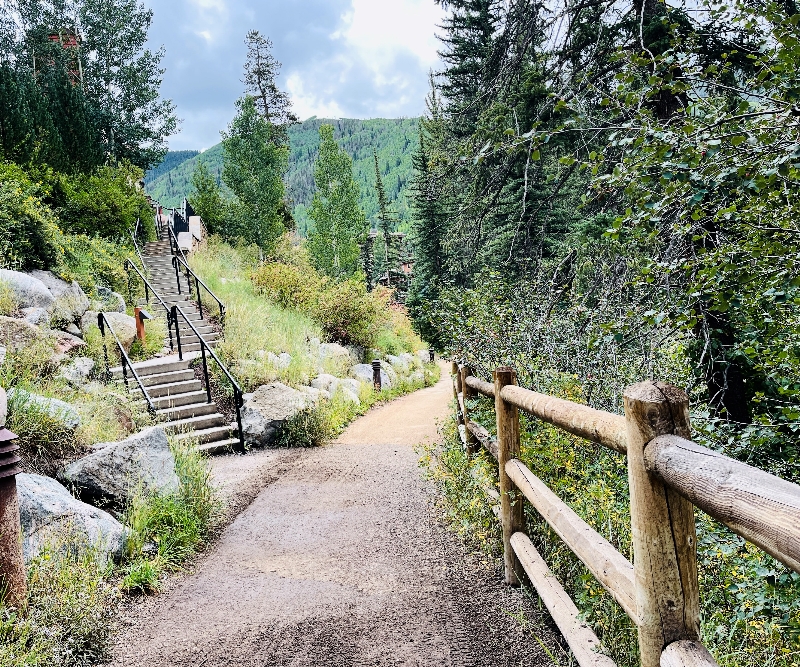 Moose sightings are rare in Vail but do happen.  Dogs, by the way, anger them.  Warnings signs scattered along the trail inform visitors, if charged by a moose, to "run as fast as you can and get behind a large object."  As reported by the Vail Daily, a young Vail moose was relocated July 2021 after becoming a regular in the Lionshead Parking Garage.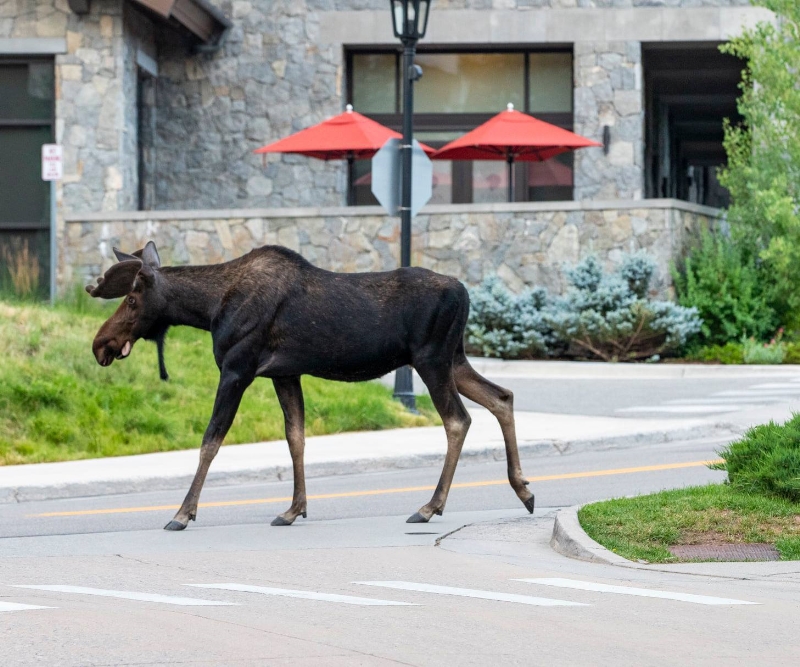 Little Known Facts
Migrating hummingbirds like summer in Vail too.  They arrive mid-to-late April and depart between July and early September.  Watch for them buzzing around bright colored flowers.  The flying celebrities may be seen solo or in calvaries.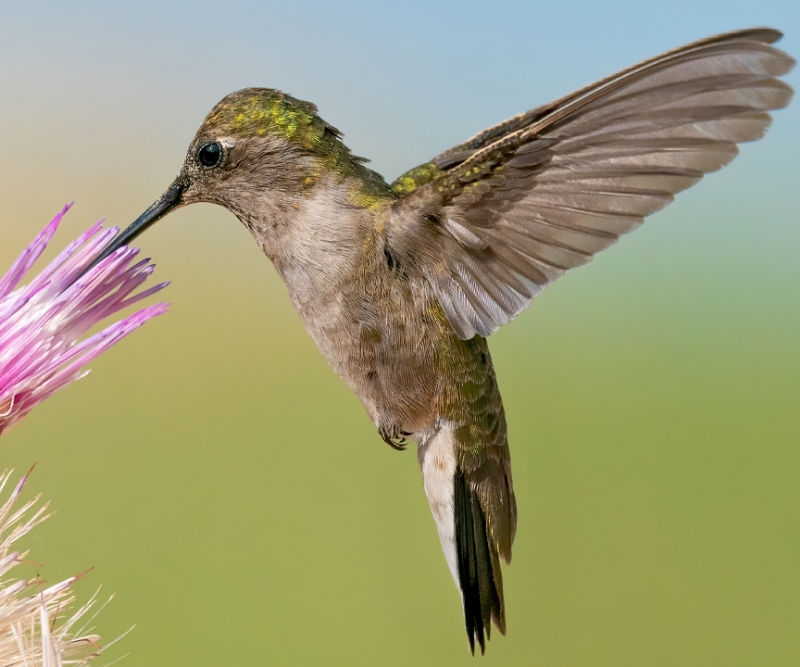 Another celebrity, President Gerald Ford (1913-2006), was one of Vail's first skiers.  Ford family visits while he was President from 1974-77 were so frequent that Vail was called the "Western White House".  In 1981, President Ford was one of the founding members of the Vail Valley Foundation, whose primary purpose is to foster and showcase arts, athletics, and education programs in the area.  The Vail Daily article, Jerry and Betty Focused the World on Vail is a great read.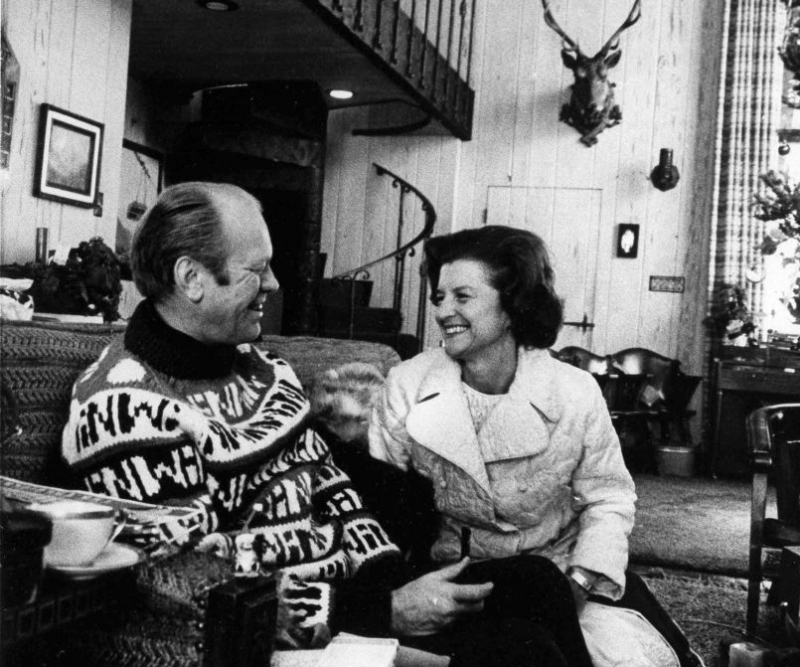 Vail's History
Vail opened for business in 1962, and is modeled after Austrian Ski Villages including the world famous San Anton resort in the Arlberg region of Austria.  Vail's architecture oozes Bavarian charm.  You will see it at stores, lodging, and restaurants.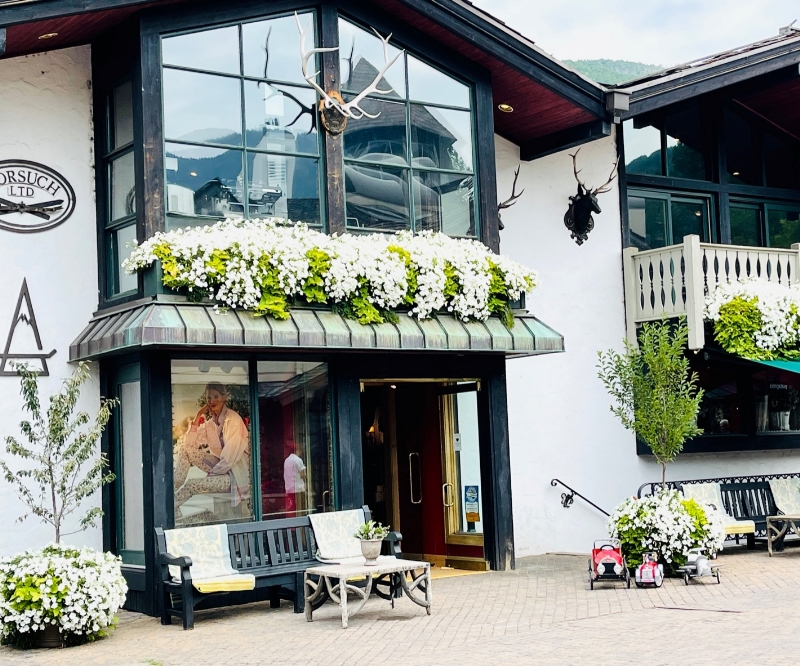 Soldiers from the US Army's 10th Mountain Division were instrumental in Vail's development and remain a major part of Vail's heritage and culture.  The 10th Mountain Division was an elite unit, formed during WWII, that trained at nearby Camp Hale, 14 miles from Vail.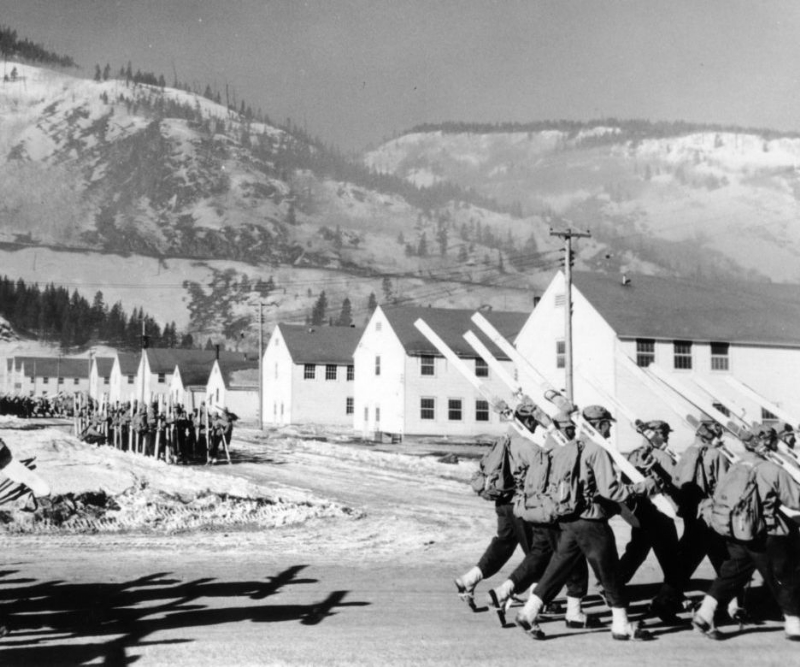 The job for the 10th was to defend the Allies against the Germans in Italy. They succeeded, and the Germans surrendered in Italy on May 2, 1945.  The war ended six days later when the Germans surrendered to the western Allies on all fronts.  Camp Hale is a National Historic site.  Today it is an open field with scattered historical remnants.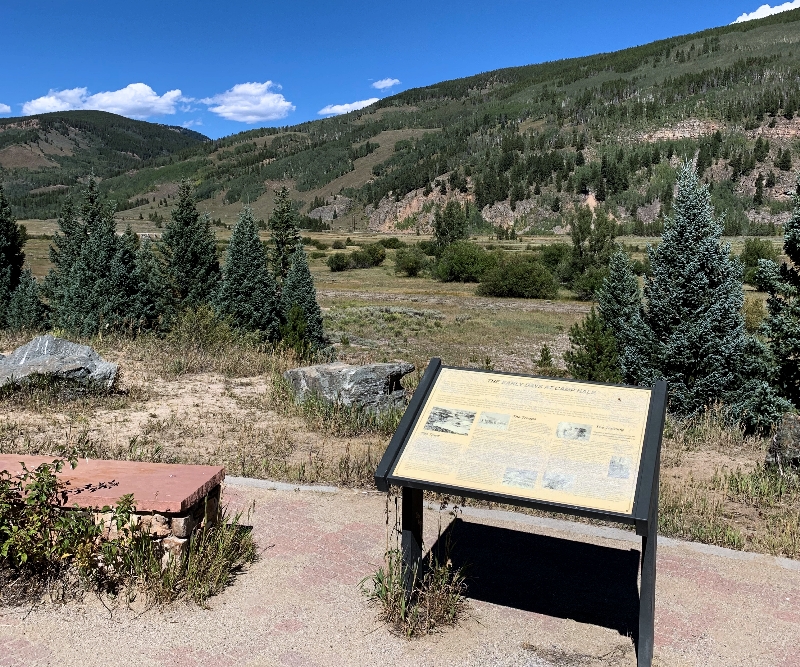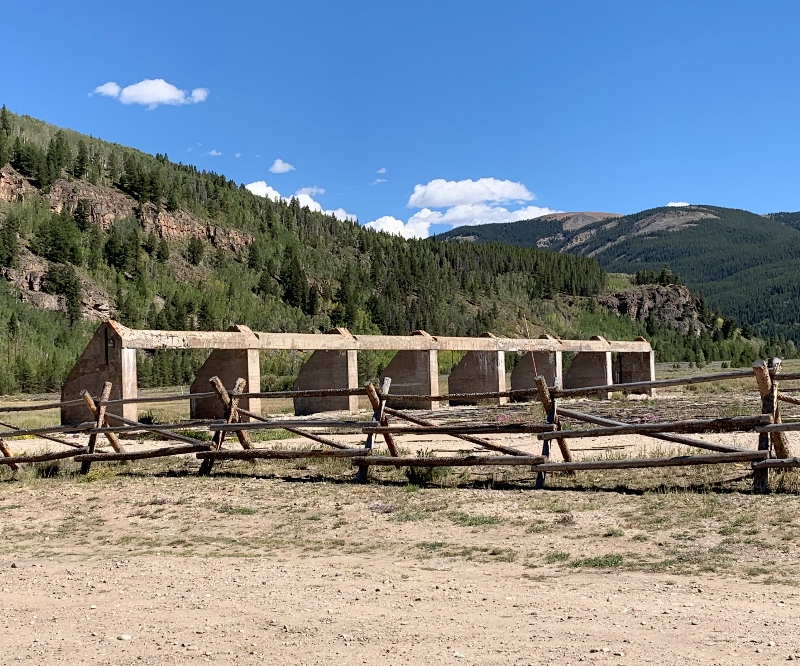 When WWII ended, many soldiers had grown attached to mountain life and established new roots in Colorado and other mountain states.  Soldiers from the 10th Mountain Division pioneered 62 ski resorts, including Vail.  The statue on Bridge Street pays tribute to Vail's legendary 10th Mountain veterans.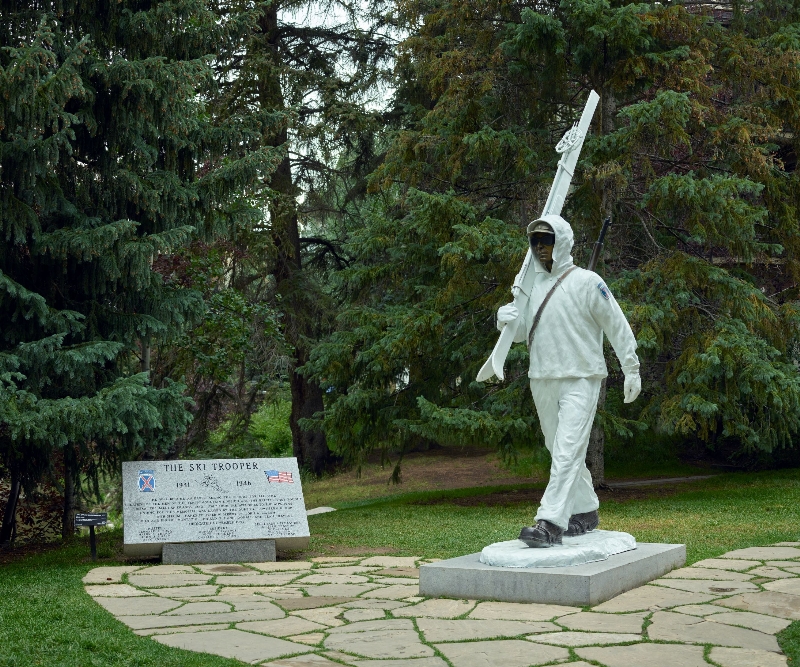 Just past the monument is the Covered Bridge.  Cross the bridge and watch for the 10th Mountain Whiskey & Spirit Co. also named for the group.  The space sells whiskey, has a cool tasting room, and has nice apparel and gifts too.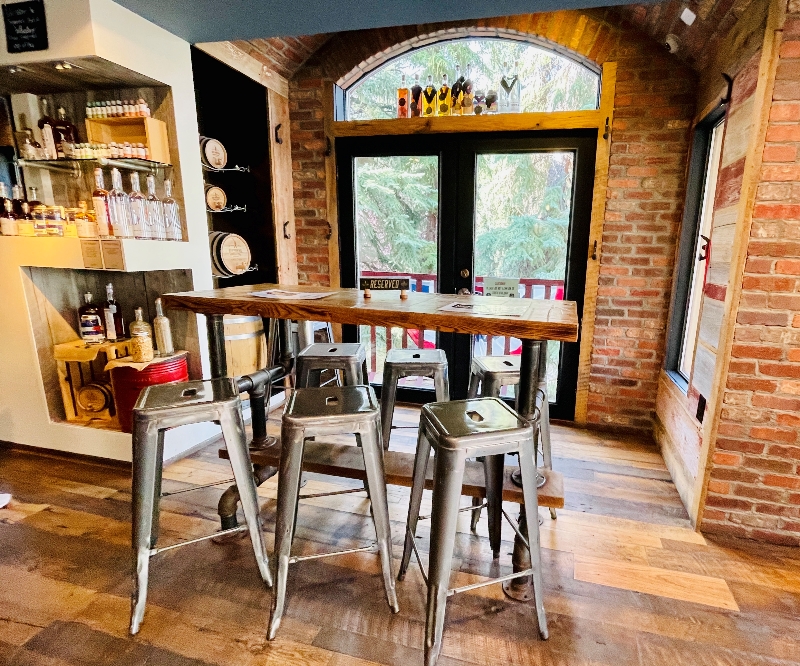 The Battle at Riva Ridge was a famous battle won by the 10th Mountain Division and resulted in the German's surrender in Italy.  Riva Ridge is one of the original ski trails in Vail, for expert skiers.  Riva Ridge, below, was also a famous racehorse that won the Kentucky Derby and Belmont Stakes in 1972.  He was named by John Tweedy, a 10th Mountain Division veteran and Vail founder.  John's first wife owned Riva Ridge, and another famous horse, Secretariat.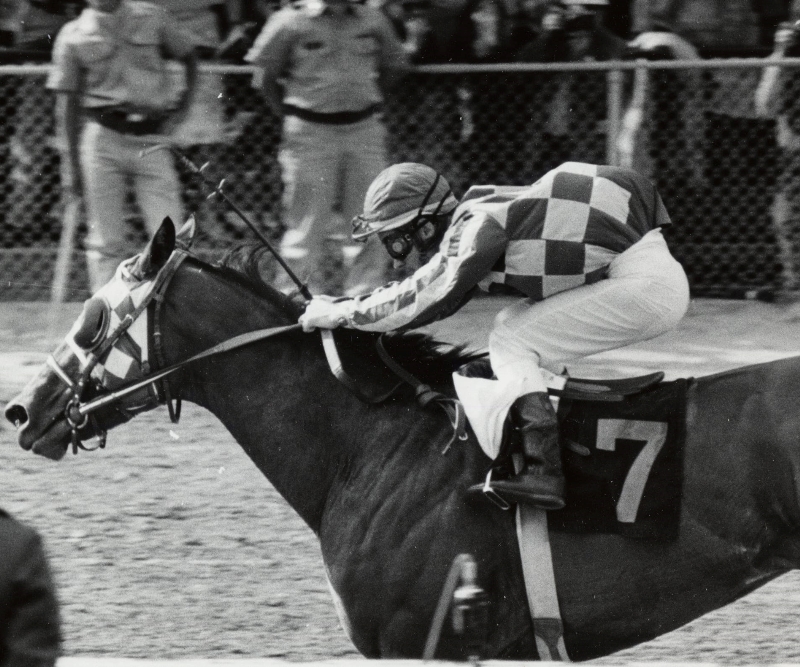 In addition to the Riva Ridge ski run, there are eight other Vail runs that pay tribute to the 10th Mountain Division.  If you are skiing Vail in the winter, make the guided Vail Historical Tours  to discover the others,  
The 10th Mountain Division Today
Today the 10th Mountain Division is headquartered in Ft. Drum, New York, 85 miles north of Syracuse.  The 10th has been the most deployed US Military unit since 2001.  Operations triggered by 9/11 events include Operations Iraqi Freedom and Enduring Freedom.  The 10th secured the Kabul Airport, and were the last ones to leave Afghanistan on August 31, 2021.  If you see this patch on a soldier's uniform, he or she is part of the 10th Mountain Division.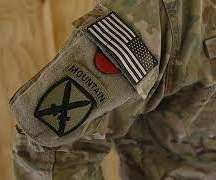 Vail Transportation
Airline Travel
Eagle Country Regional Airport (EGE) is 36 miles from Vail, with nonstop service from 13 destinations.  If you can get a nonstop to EGE that is the way to go.  This data is from FlightsFrom.com, a favorite website covered in Strategy Workshops for the Expert Traveler.  Check it out.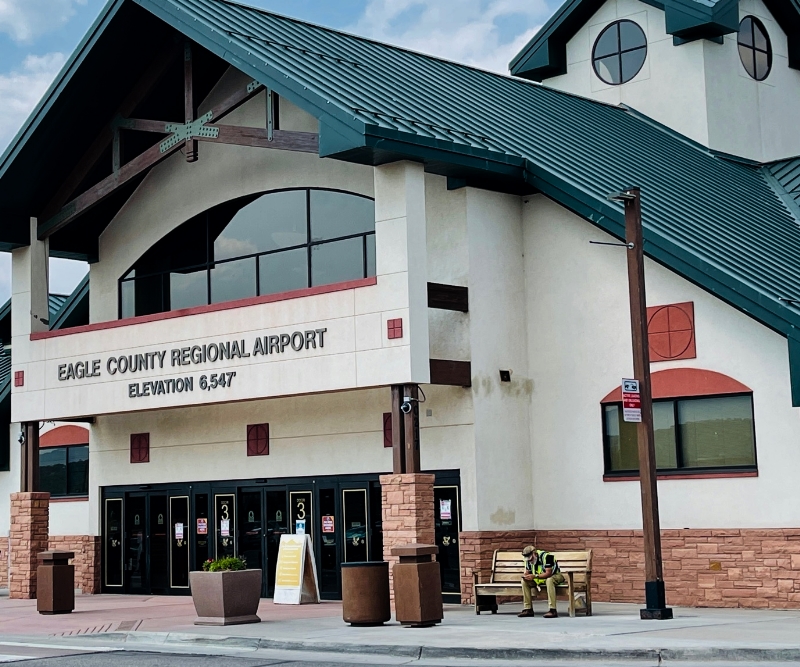 The Denver International Airport (DEN) is 119 miles from Vail, and has nonstop service from 200 plus destinations,.  This was North security on the day we left Val, and is the norm for DEN.  Plan accordingly and allow triple time getting to your gate.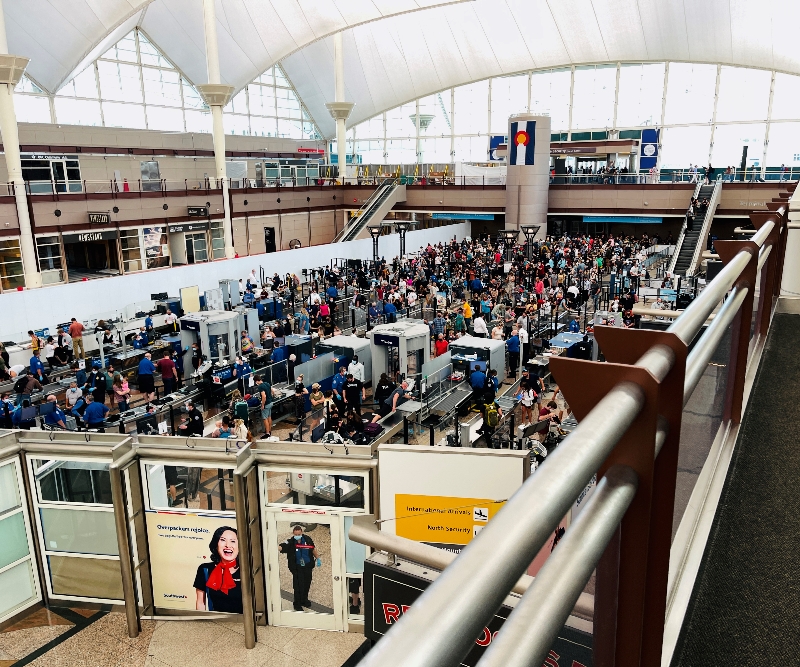 Car Rental
You do NOT need a car in Vail, but you may want one for hiking outside of Vail, or to visit nearby Minturn or Beaver Creek.  I check my rental car rate a day or so before departure.  Check rental car rates before booking flights to be sure cars are available and book cars ASAP.   Strategy Workshops for the Expert Traveler cover topics guaranteed to ramp up your travel experience.  Note the tips above, and register for the workshops.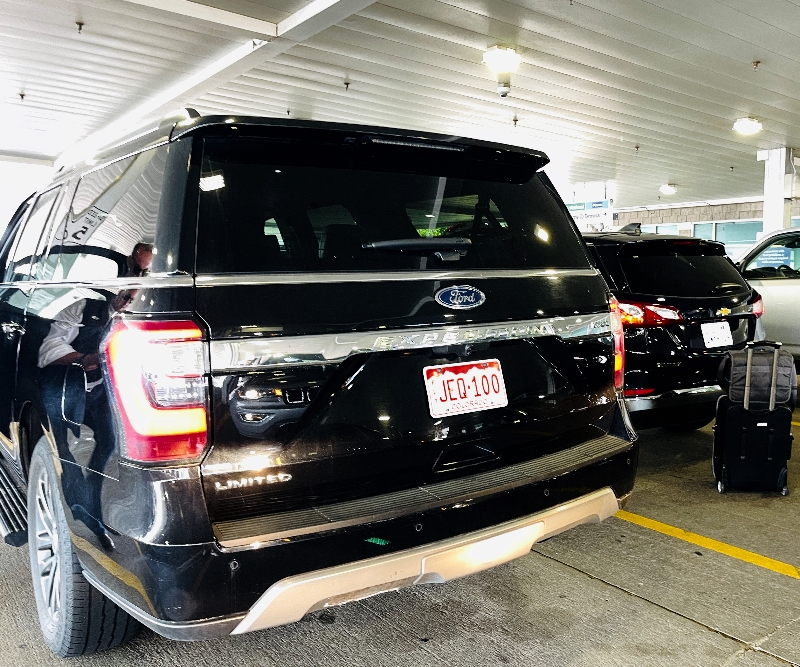 Airport Transfers
If you skip a rental car, Epic Mountain Express provides transfer to Vail from EGE and DEN.  Book in advance.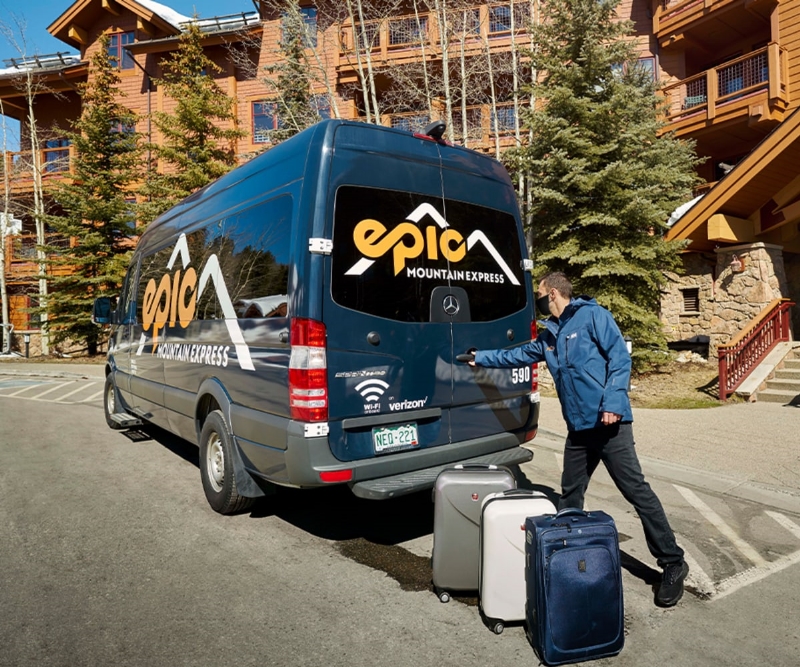 Vail Bus System
The free Vail Bus System provides transportation throughout Vail's four primary areas, as well as to stops beyond in East and West Vail.  These buses are the good kind.  They run on time and often.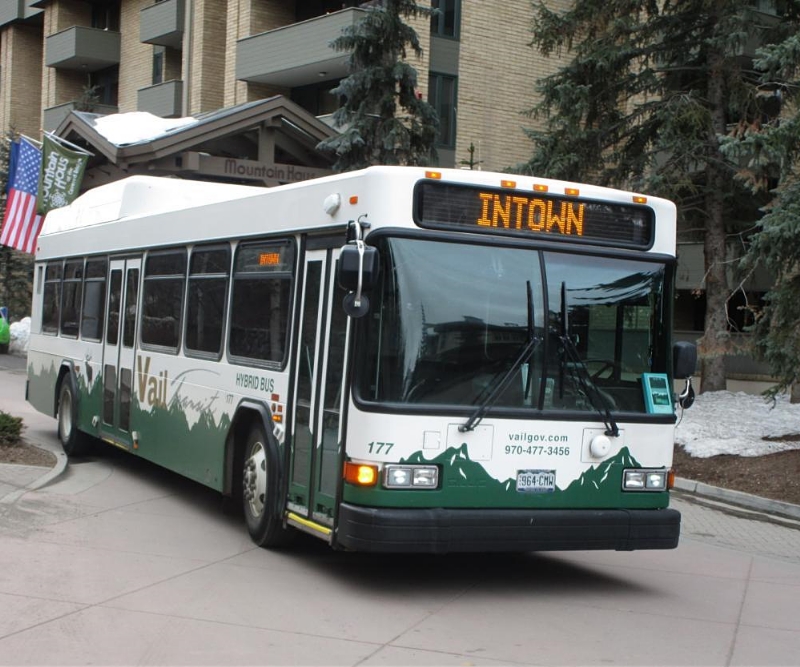 Parking
Convenient covered parking structures are plentiful in Vail.  Vail.gov is the go-to spot to get parking information.  Check summer rates, which were free in 2021 at certain locations.  
Tours, Festivals & Events
Walking Tours
Art Walk
The free one hour Art Walk is offered once weekly in the summer and showcases public art installations throughout Vail.  There are a bunch, and new ones are added every year. Register in advance.  If you can't make the tour, reach out to the group and try for a private tour.  The private one won't be free but the donation is for a worthwhile cause.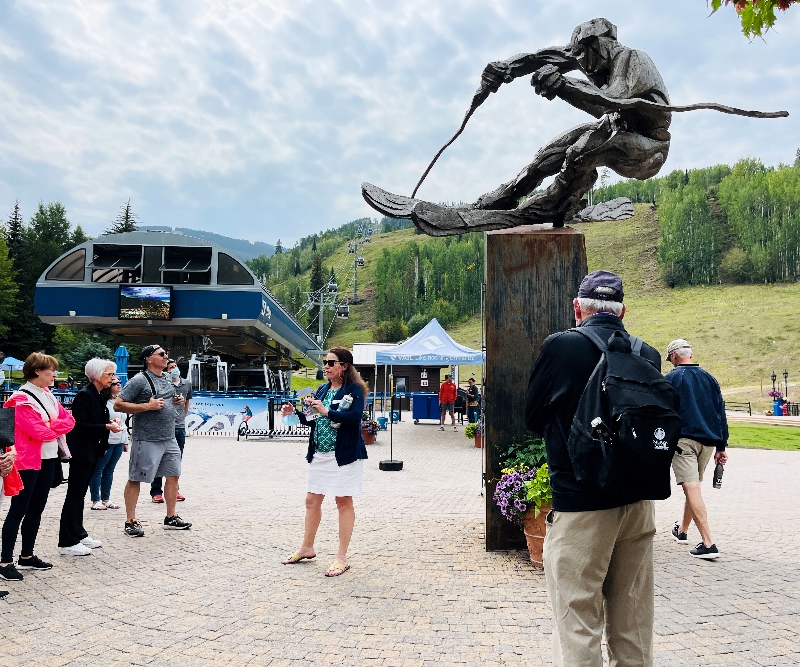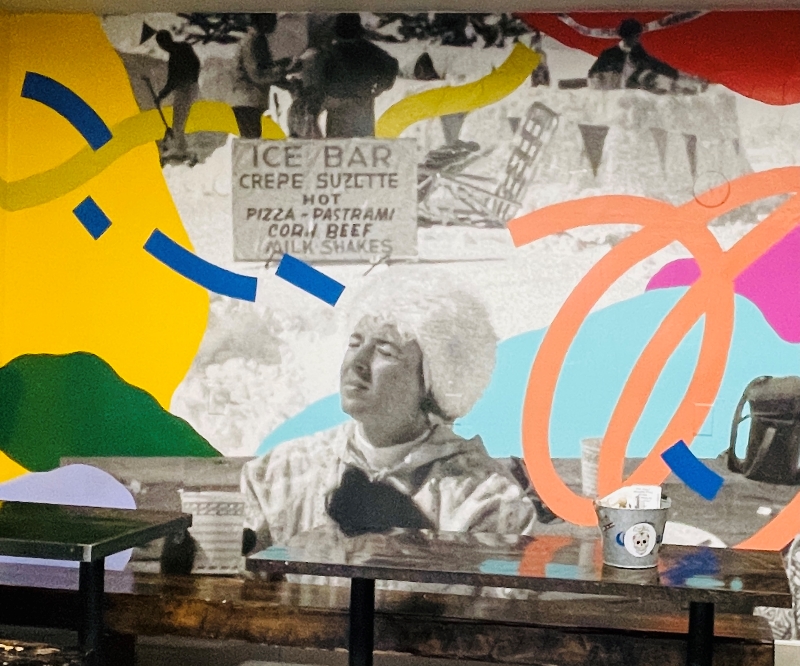 History Tour
The free Historic Vail Village Walking Tour is offered several times weekly by the Colorado Snowsports Museum. Register in advance.  The museum is the starting/ending point and is located at the Vail Transportation Center.  Try for a private if times are not a fit.  A 45-minute film, "Climb to Glory", chronicles the history of the 10th Mountain Division and plays on a constant reel at the museum.  Allow 3 hours for tour, museum visit (also free), and film.  You can rent or purchase "Climb to Glory" here.  The museum is a jewel.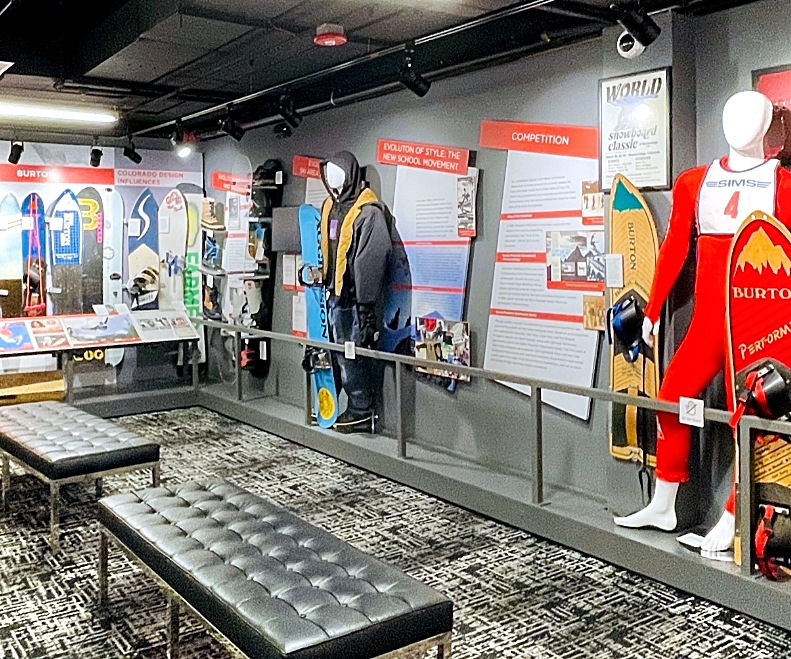 Festivals
There's a bunch going on in Vail over the summer.  The calendar at DiscoverVail.com is good for planning.  The Vail Daily is the daily newspaper that you can pick up in town or online.  See the Vail Daily calendar for daily happenings, like Yoga On the Lawn, and other summer events.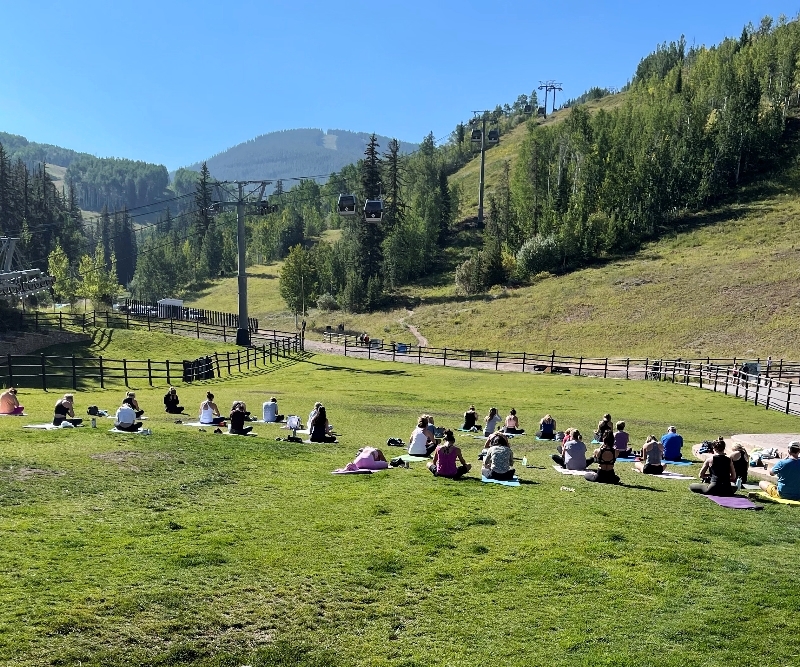 Gourmet on Gore was going on over my Labor Day week in Vail and offered up a foodie's paradise with street vendors and ticketed events.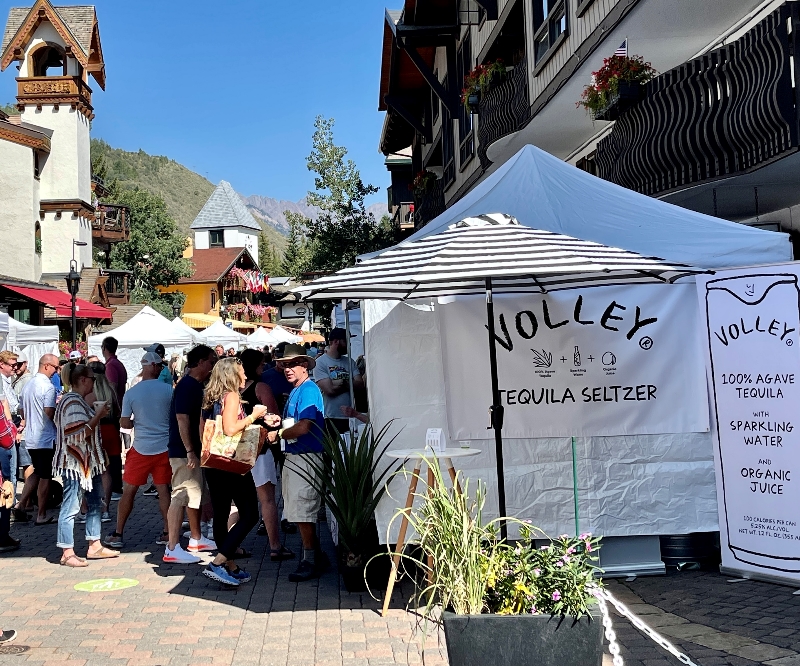 The Vail Jazz Festival was going on, too, in Lionshead.  Performances are in outside tents and bump up to some outdoor restaurant patios.  If you don't get an advance ticket, consider dining outdoors, close enough to hear the music.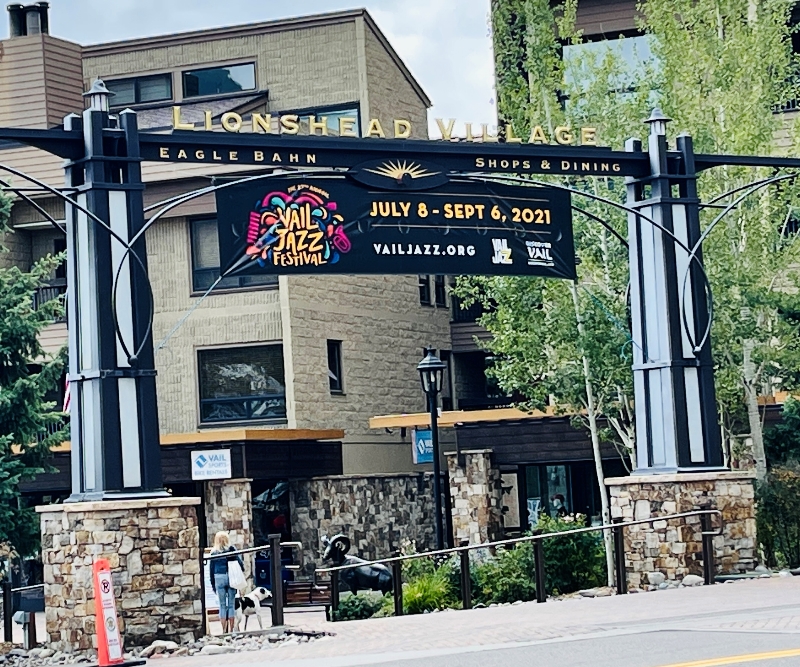 Weekly Events
Hot Summer Nights
Hot Summer Nights are free concerts on Tuesdays throughout the summer at the Gerald R. Ford Amphitheater.  See the amphitheater website for other performances, outside of the free one.  Check time and policies before you go.  There are strict rules for the venue.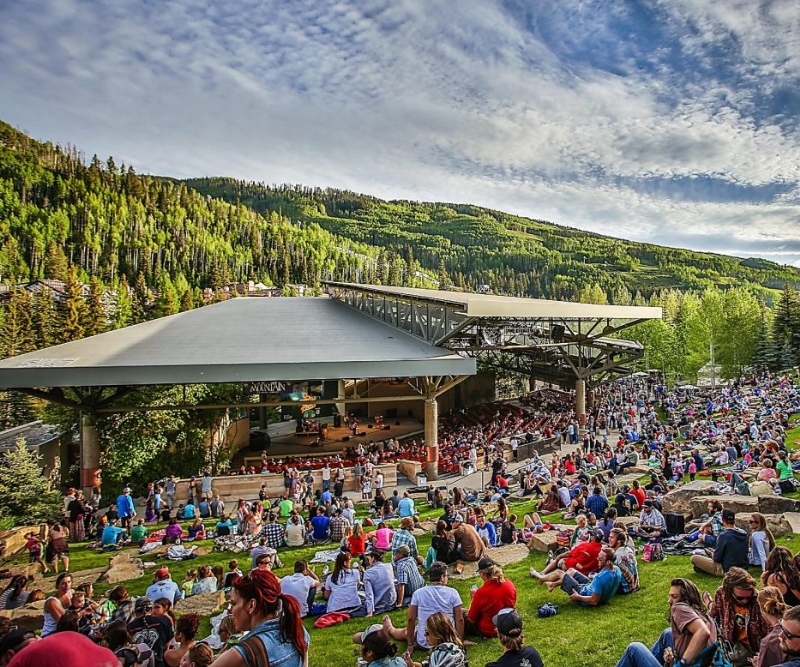 Minturn Market
Minturn is a charming town 7 miles away that was originally established as a railroad and mining town.  It hosts the Minturn Market weekly on Saturdays.  Honey, jam, baskets, and music are plentiful.  Check times and policies before you go.  This visit is one of my all-stars.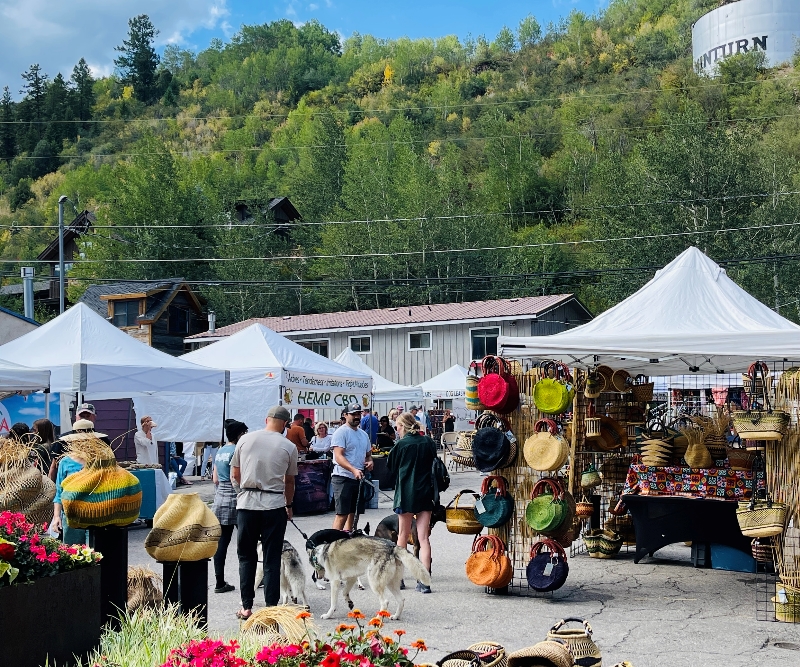 Grab a coffee.  Poke around fishing and antique stores before or after the Market.  Soak up this small town vibe that is off the charts great.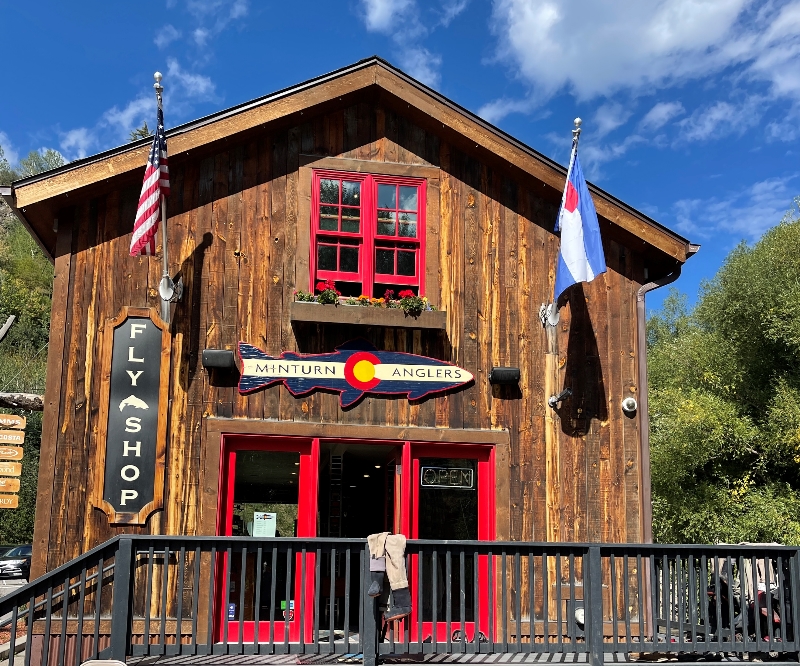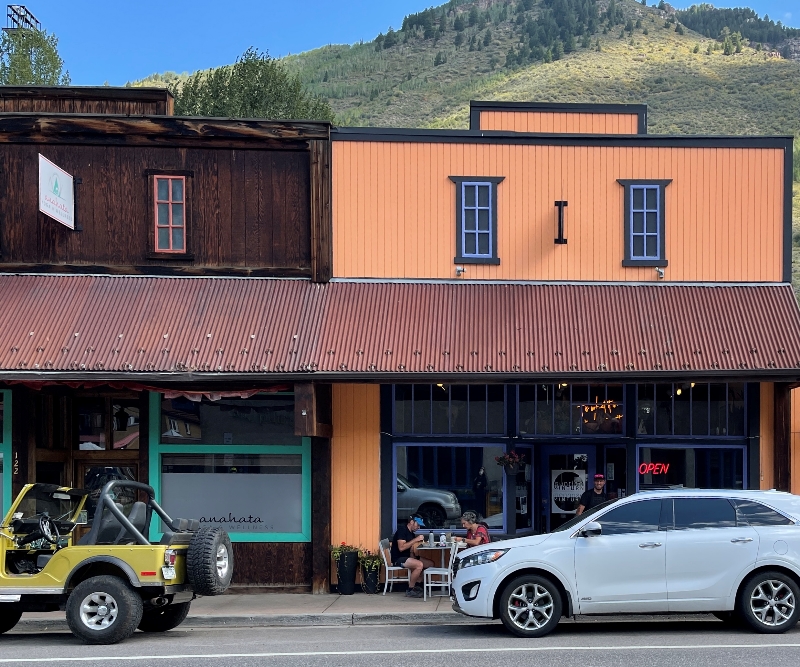 The Sunrise Minturn offers up a great breakfast and lunch.  
Vail Market
The Vail Farmers Market and Art Show happens weekly during summer on Sundays, and continues past Labor Day.  Food and merchandise vendors are abundant.  Large breed dogs are too, like this Newfoundland, named Maple.  Check times and policies before you go.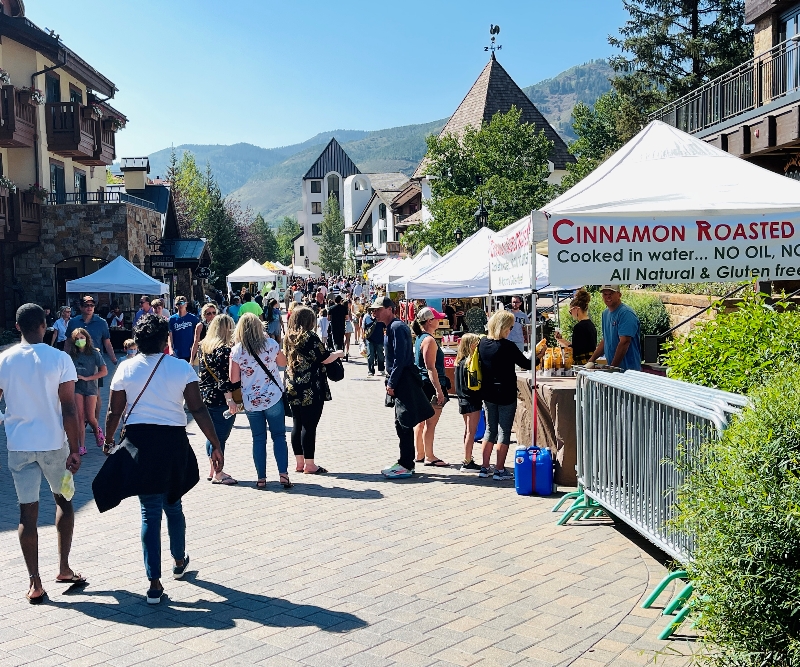 Lodging
The Willows is the Golden Egg for summer lodging in Vail, and provides the trifecta for location, luxury, and value in its 2 and 3 bedroom units.  Art and furnishings are the same for all units.  Willows units are on third party rental sites including VRBO and AirBnB.  I use VRBO to find properties, and for unbiased reviews, but I book directly with the property manager.  Strategy Workshops for the Expert Traveler discuss third-party lodging, and how to save up to 20% or more by booking direct.  
I go for The Willows walk out units and have rented Units 101 and 102.  Unit 101 is on the left of the The Willows covered entrance, and unit 102 is on the right.   The living spaces are lovely with table seating for eight, plus barstools.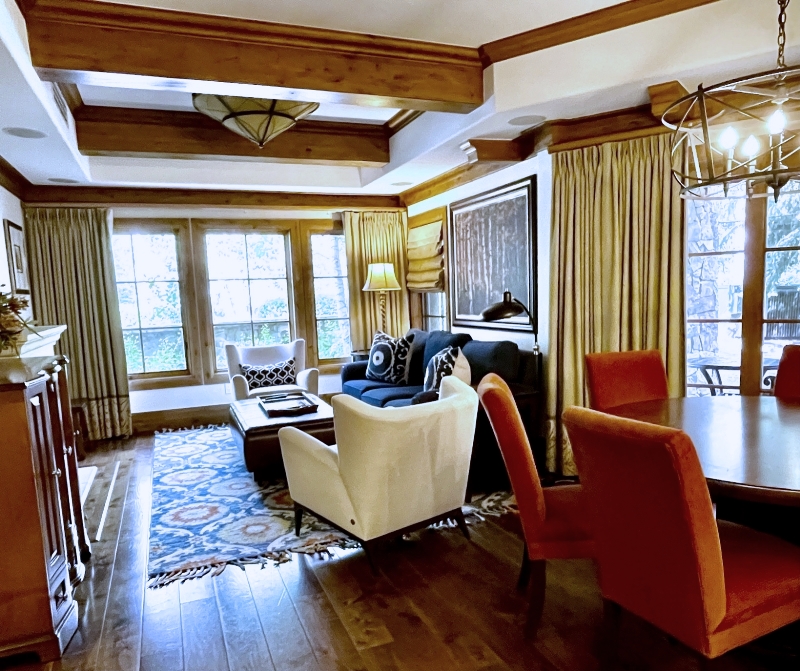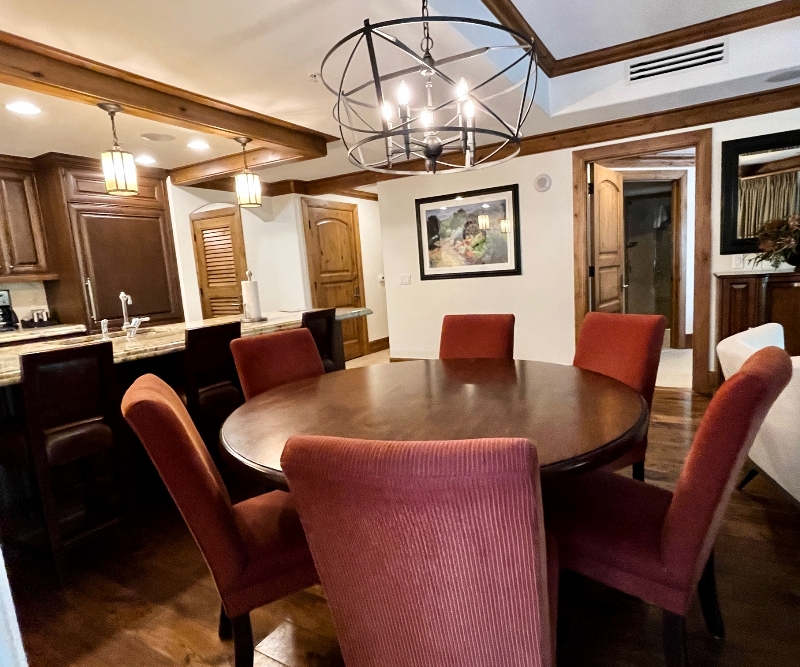 Linens and bathrooms are the good kind, along with every other item on the lodging punch list.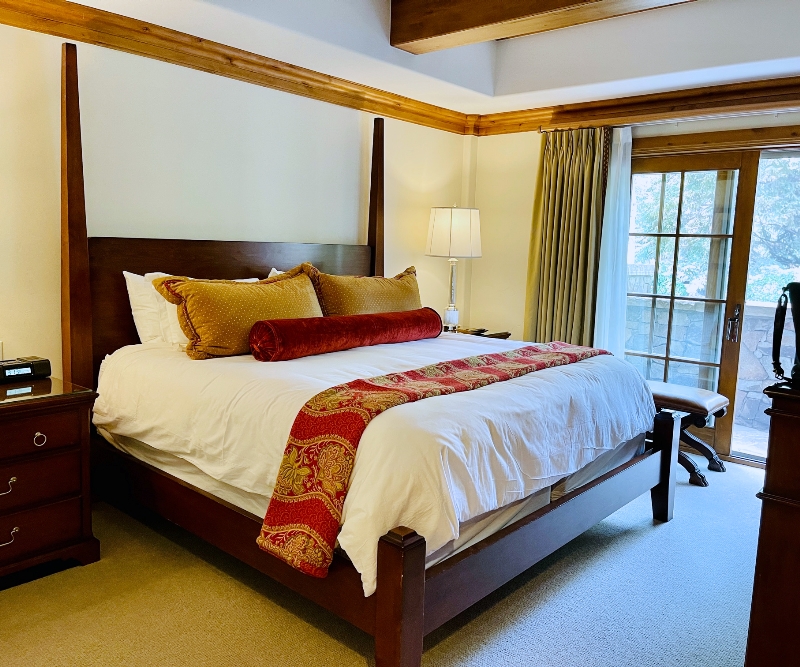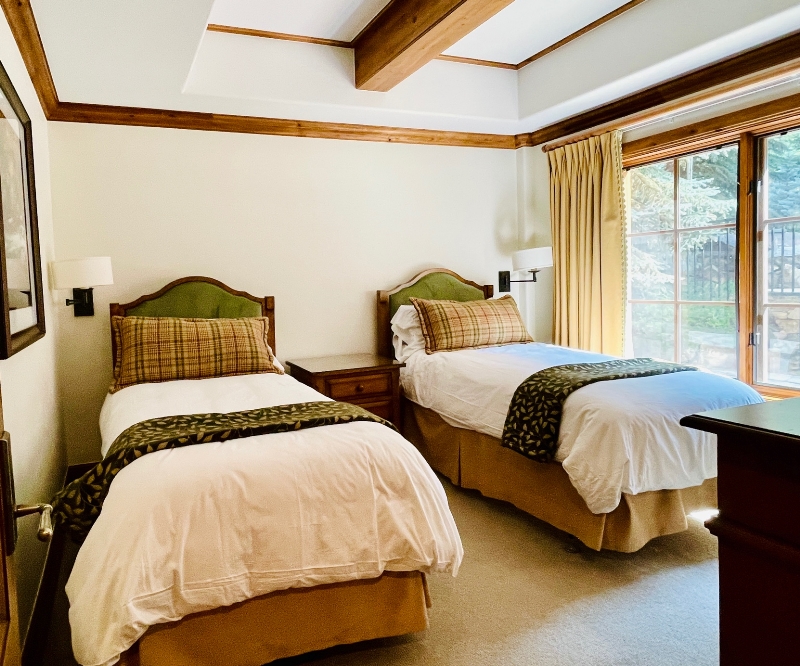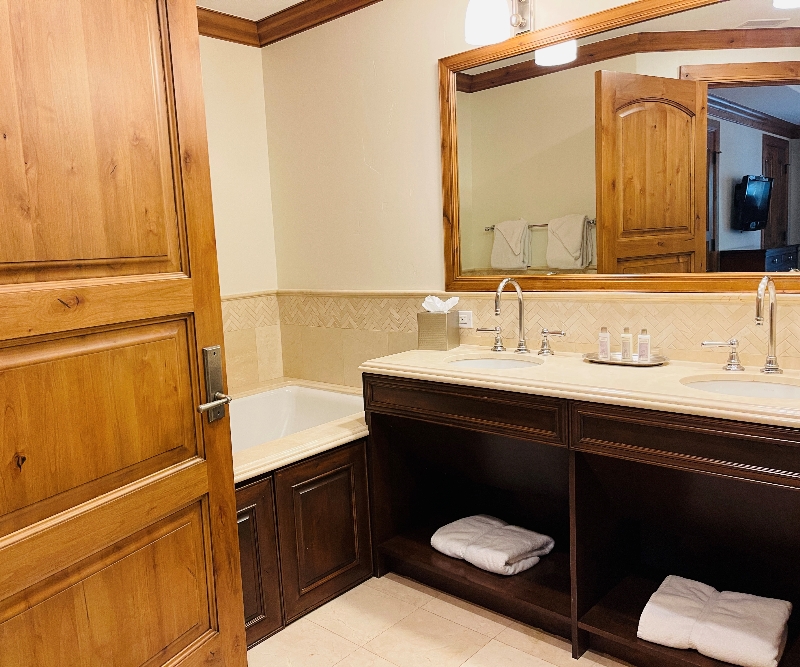 The pool is heated.  There are ample cushioned chairs at the pool, plus a fancy grill.  Unit 101 allows immediate around-the-corner access to the heated swimming pool and grill from its side patio.  Unit 102 is a little larger, but requires a walk through the lobby to access the pool and grill.  Bikes are available for Willows guests too.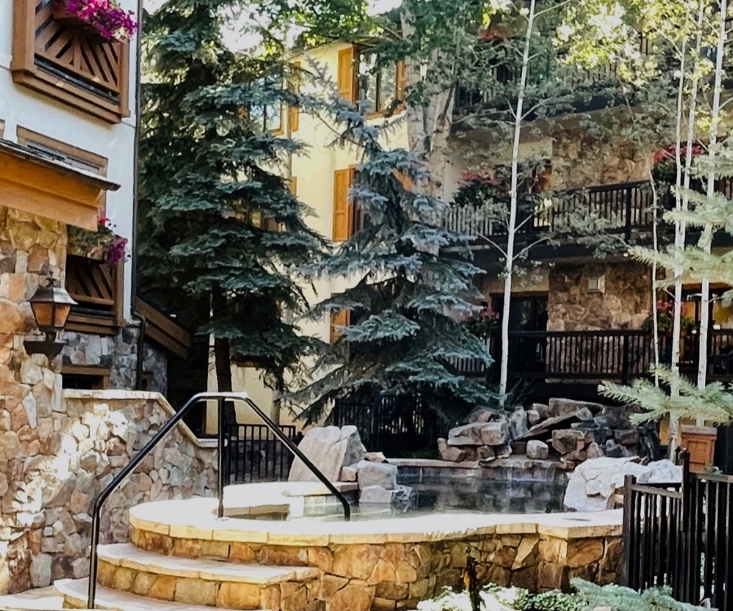 Shopping & Groceries
Shopping
Vail shopping is the upscale kind.  National brands are here such as The North Face, and Luluemon.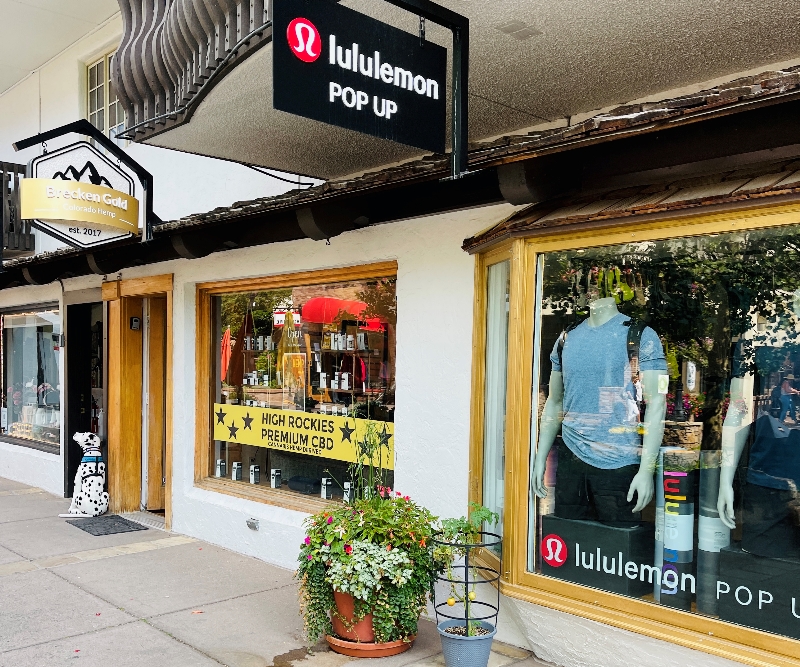 Boutiques are abundant, and are primarily concentrated in Vail Village.  Perch is a favorite for upscale women's apparel that is contemporary and on-point for a broad range of styles and ages.  Think 5th Avenue in the mountains with an extra shot of cool.  Inventory moves fast.  It's that good.  The location is just across from the Solaris ice rink which converts to a green space in the summer.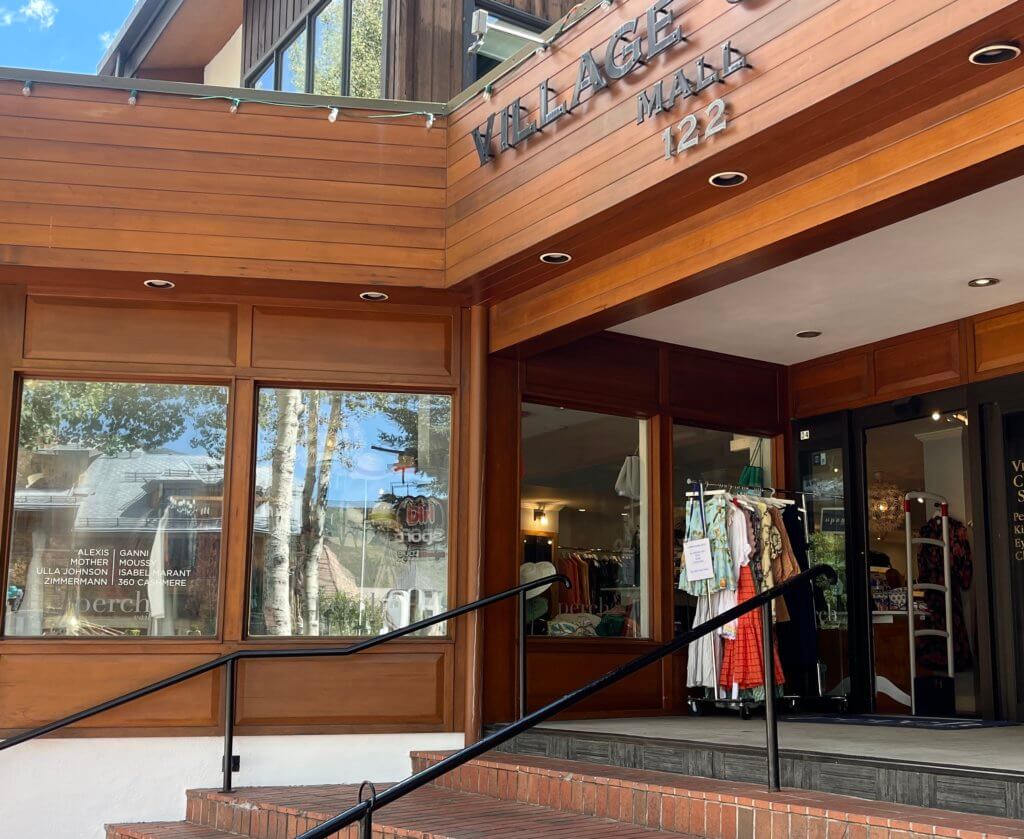 Another shop that arrived in 2021, Res Ipsa, has globally-designed one-of-a-kind products made from vintage and repurposed materials.  Its original storefront was in Nantucket (one of my other favorite USA spots).  I grabbed a Vail baseball cap for a collector when checking out the new store.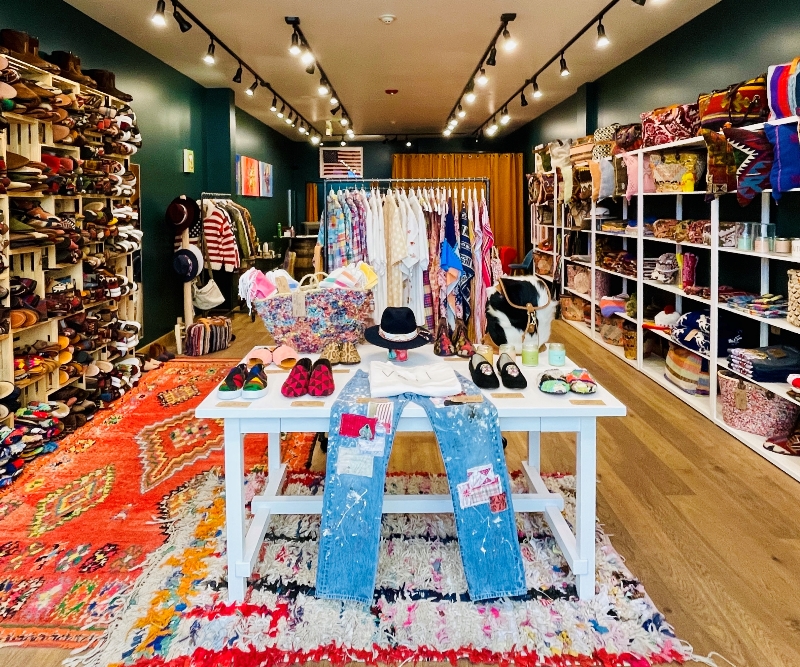 Groceries
City Market and Safeway are 3 miles away from Vail Village, off Highway 70. Both stores deliver.  City Market sells beer, wine, and spirits.  West Vail Liquor Mart is next door to Safeway.  My favorite Vail grocery store is the smaller size Market at Vail.  It's in  Lionshead, accessible by foot or bus, plus a parking garage is nearby.  Hit Deli Zioso to grab a few basic items in Vail Village.  They also have gelato, soups, and sandwiches.  Grappa is next door and provides beer, wine, and spirits.  This is the petite Deli Zioso.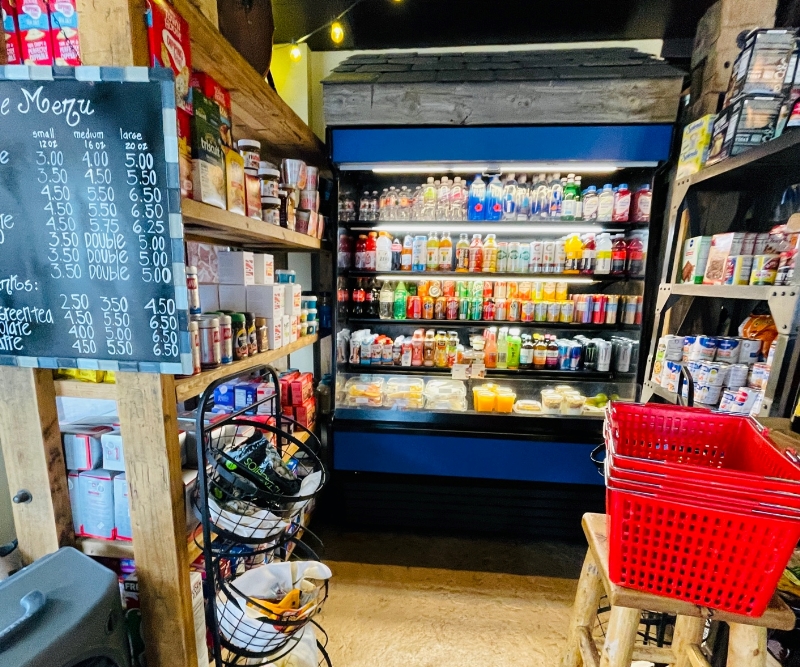 Dining in Vail Village
Vail Village is where most of the summer action happens and is where I prefer to dine.  Consider these spots. I go for outdoor dining every time.
Very Casual
Big Bear Bistro
Big Bear Bistro serves up a fantastic American breakfast and lunch fare.  A kid's menu is offered.  Its outdoor patio is generous and oozes charm.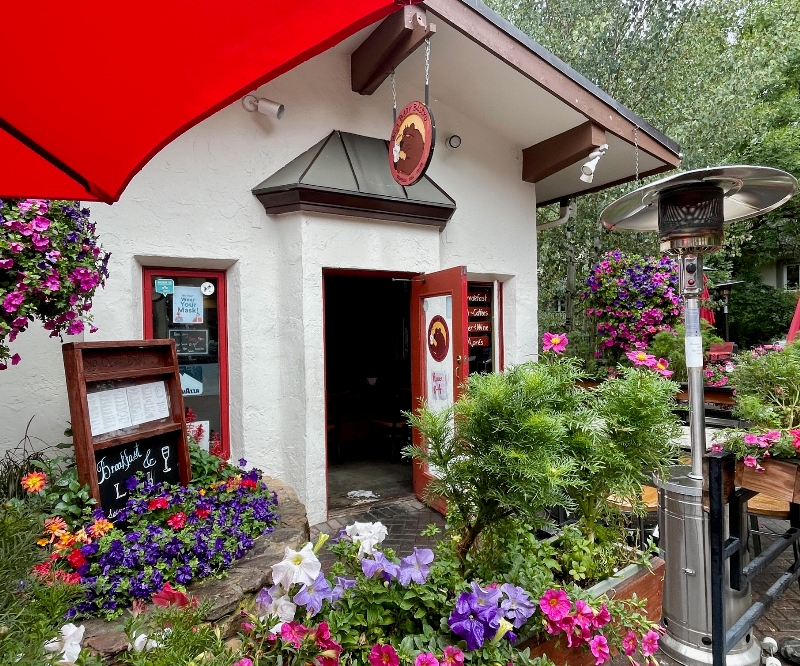 Blu Cow
Blu Cow, next door to Big Bear Bistro, is known for its Swiss hot dogs, but the charming outdoor patio gets my attention along with $5 beer and wine on happy hour.  It's open late too.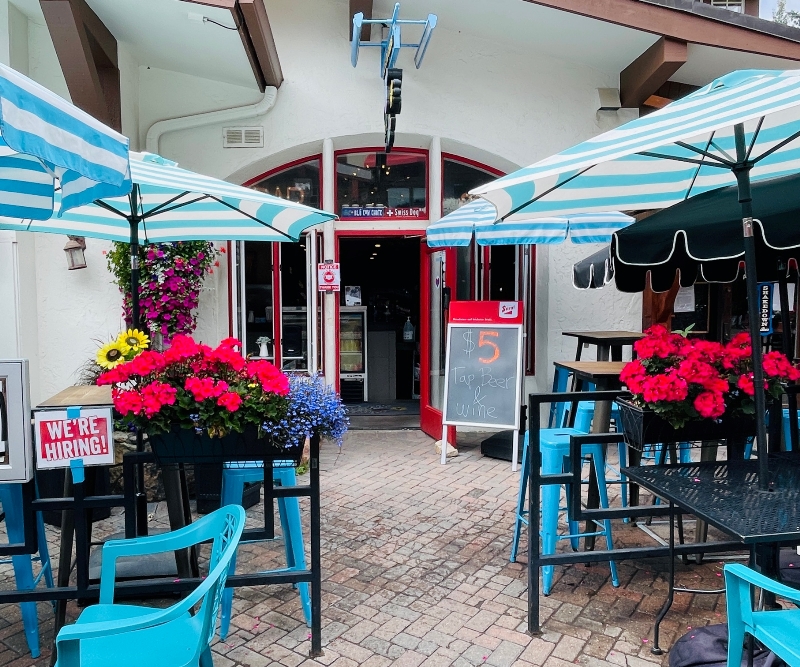 Joe's Deli
The no-frills below ground level Joe's Deli is popular for sandwiches, soups, and salads.  It also serves up ice cream in lots of flavors.  This is a great grab-n-go spot for hiking or a picnic.  It's open late too.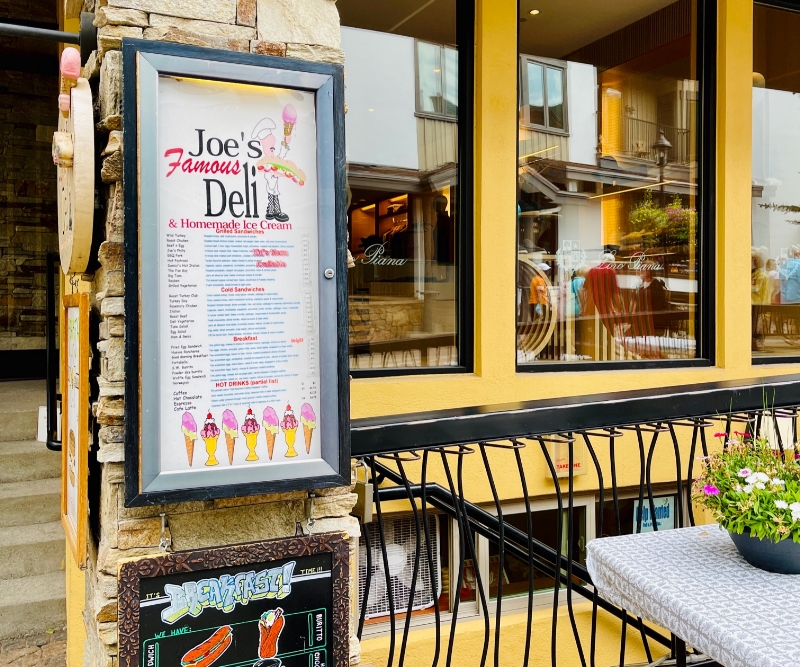 La Cantina
La Cantina is inside the Vail Transportation Center. This is another great option for a grab-n-go or a fast bite.  
Casual
Los Amigos
Los Amigos will satisfy your margarita and Mexican food fixe.  They take reservations.  A kid's menu is offered.  The patio faces Vail Mountain and Gondola One, and is a good place to watch the summer mountain bikers ending their runs.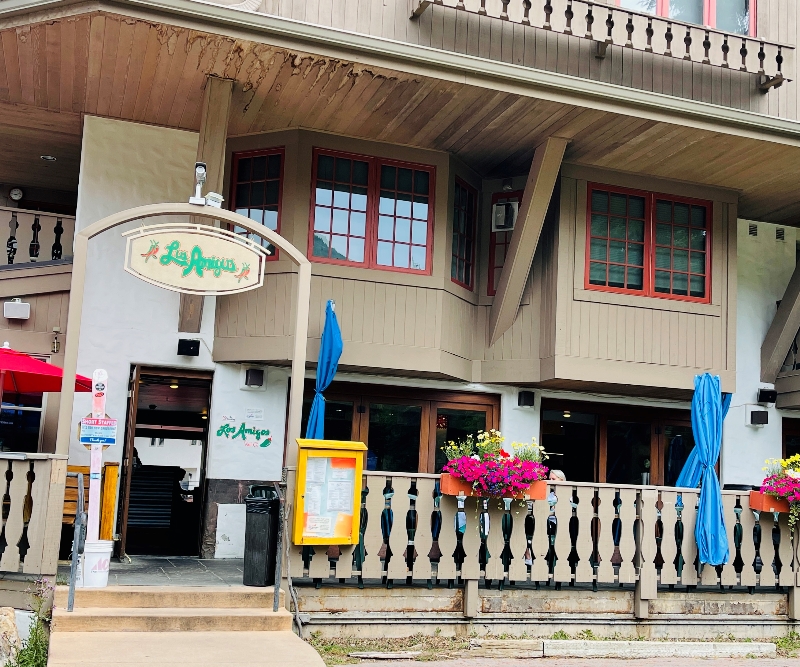 Vendettas
Vendettas is a no frills spot, famous for its pizza and Italian dishes.  A kid's menu is offered.  They take reservations, but usually you don't need one in the summer. 
Mid & Upscale
La Nonna 
Hit La Nonna for upscale Italian, exceptional service, and a jaw-dropping view of Vail Mountain.  If you dine on the patio for an early reservation be sure to wear your sunglasses. 

Sweet Basil
Sweet Basil takes reservations and serves up American fare..  There is a stunning back patio that overlooks the Gore Creek.  Request one of those tables.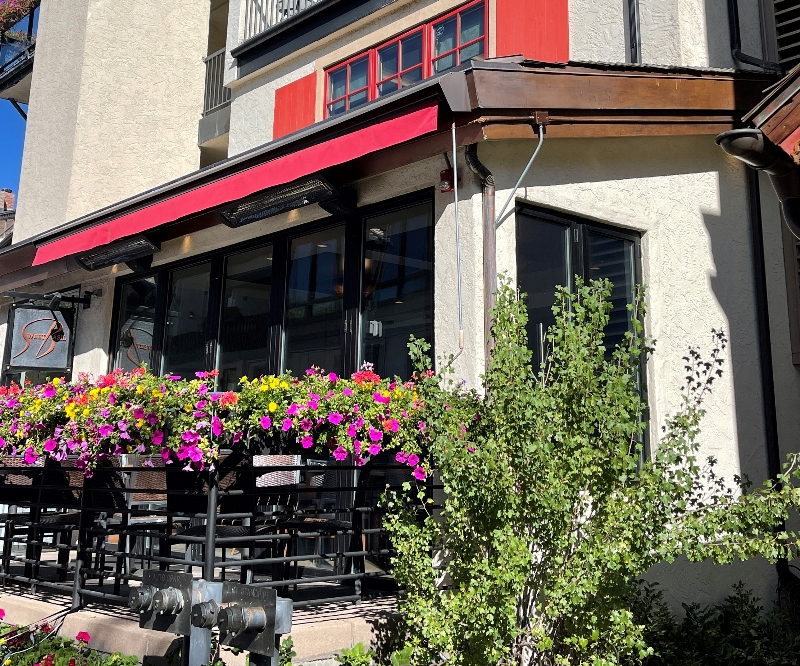 Bully Ranch
Bully Ranch serves up American fare and takes reservations.  Go for the outdoor space.  The indoor space is unattractive.  Its patio faces the Vail Interfaith Chapel, which is idyllic in every way.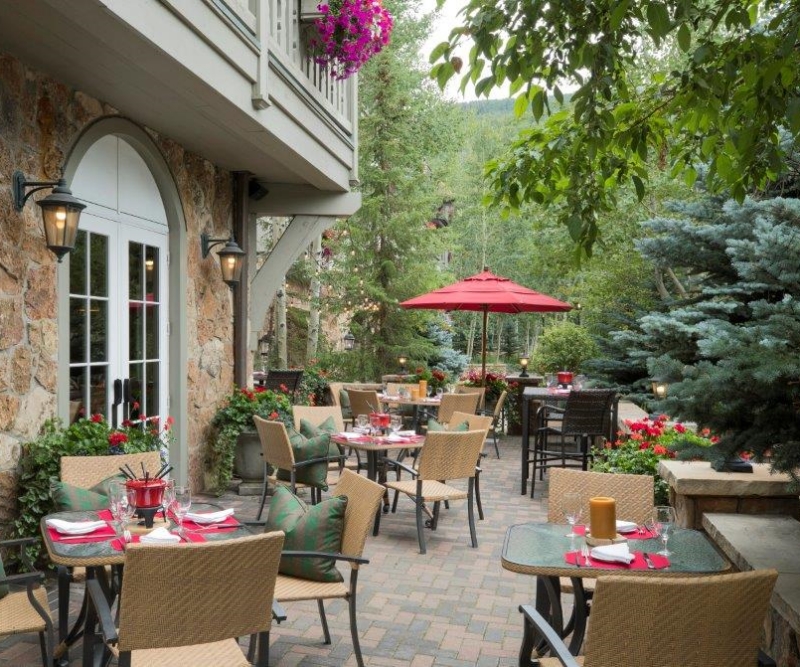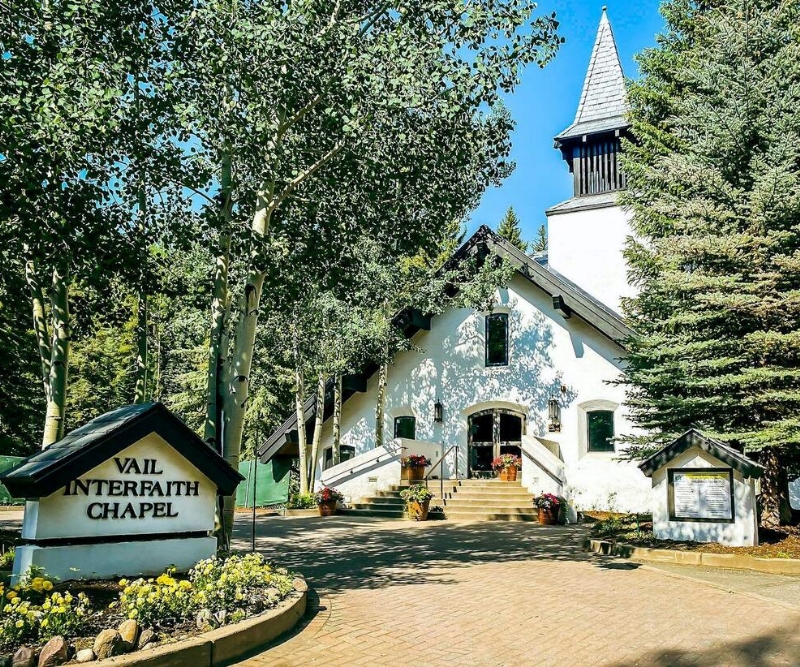 La Bottega
La Bottega serves Italian fare and takes reservations.  It is a longstanding member of the Vail dining scene for a good reason.  It's good!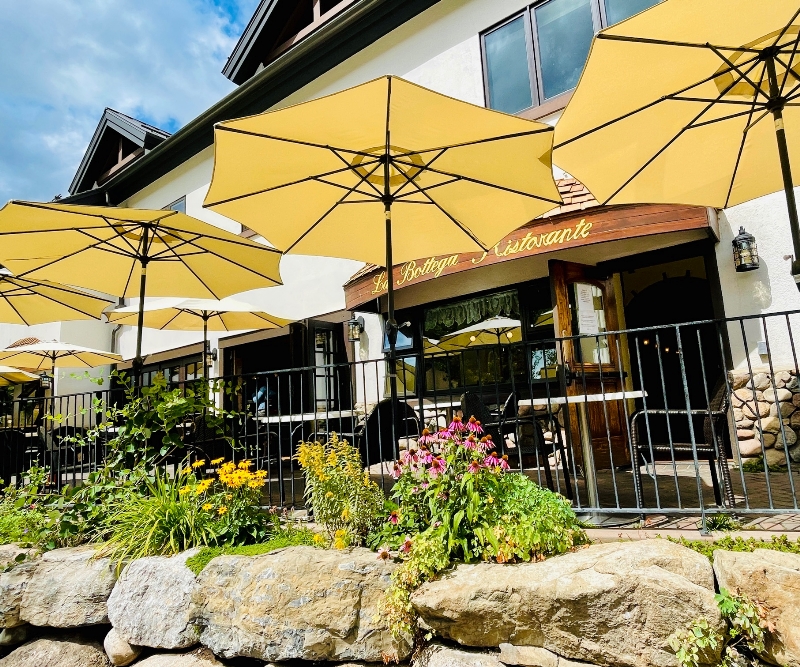 Pepi's
Pepi's Bar, Deck & Covered Patio serves up Austrian fare, takes reservations, and is located inside Hotel Gramshammer.  The deck is my preference, but the covered patio offers a great back-up if rain is a thing.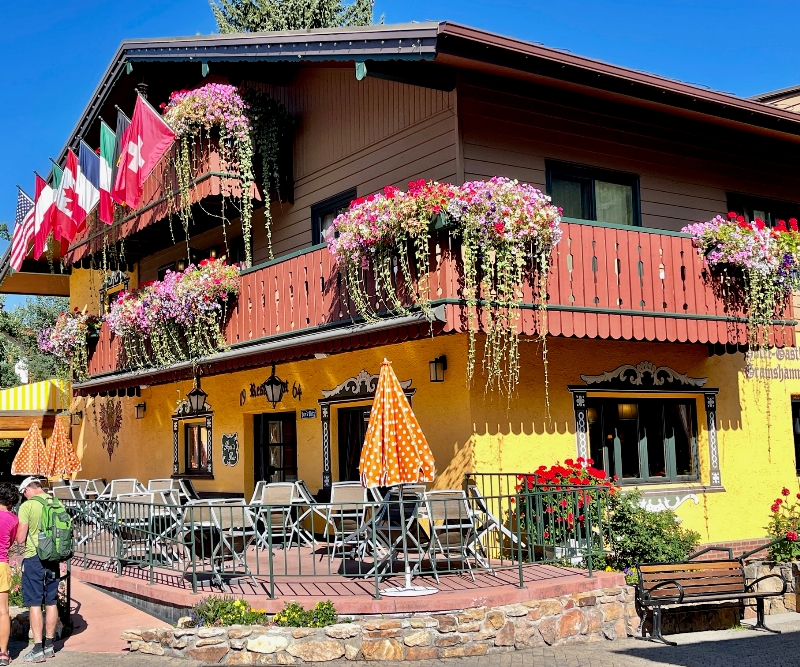 Consider hitting the bar before or after dinner for a drink, and to enjoy the live music.  The bar space offers a time capsule for Vail's cool history.  Next is more on Vail's most loved resident, Pepi Gramshammer.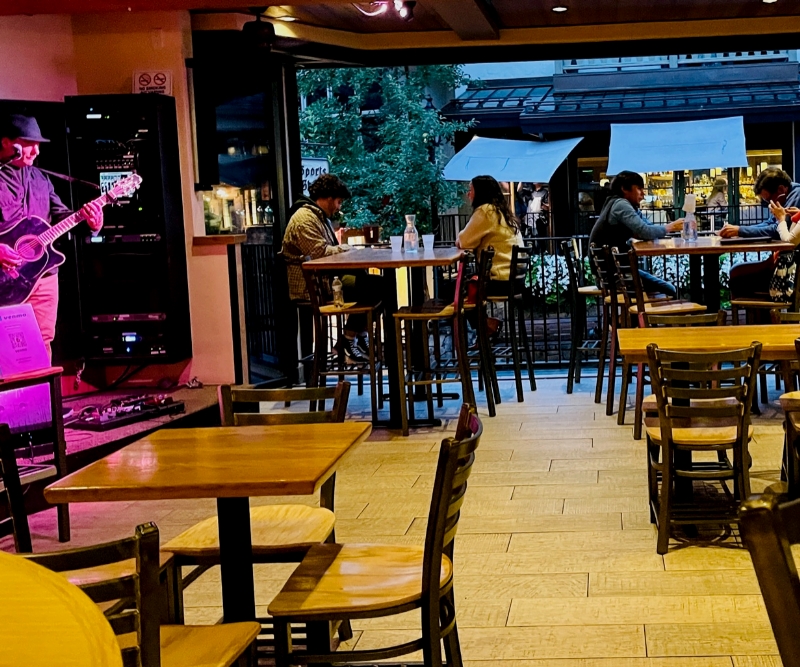 Pepi Gramshammer (1932-2019) was on the Austrian national ski team.  In 1962, Vail founders convinced Pepi to relocate to Vail to give legitimacy to their new resort.  The plan worked.  Vail's status was elevated to black diamond status pronto.  Pepi, who passed in 2019, and his wife Sheika have operated prized dining, hotel, and retail institutions in Vail Village starting in 1964, two years after Vail opened.  Pepi and Sheika are considered Vail royalty with a neighborly twist.  The photo walls and trophy cabinet in Pepi's bar tell it all.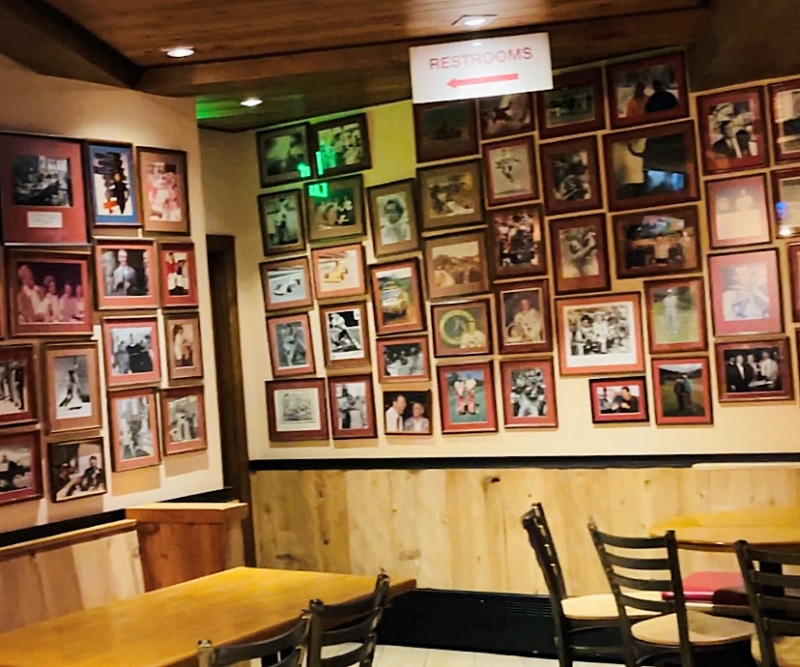 Matsuhisa
Matsuhisa will satisfy your sushi and Japanese fixe and takes reservations.  This spot is very upscale and is located in the Solaris development in Vail Village, also the location for the winter outdoor ice skating rink.    
Dining in Lionshead
Lionshead is more on the quiet side during the summer. If you are there, perhaps using the Eagle Bahn gondola, conisder these favorites.
Moe's BBQ
Moe's BBQ is a favorite spot for take out or casual dining.  Be prepared for a modest tab, a rarity in Vail.  If meat isn't how you roll, Moe's has ample sides too.
El Sabor
El Sabor is a great spot that offers up cheap Mexian dishes and big servings.  There's a kids menu and a bar, just inside the door, populated with visitors and locals alike.
Garfinkel's
Garfinkel's is a no-frills spot that serves up pub fare. It's very popular, and has TVs throughout the space.  Remember Garfinkel's if you need to catch a game during your Vail stay.  
Activities
Hiking
Hiking is the best kind in Vail.  There's lots of options.  Here's my top three.
Vail Mountain
Hiking on Vail Mountain requires a ticket on the Vail gondolas, Eagle Bahn in Lionshead and/or Gondola One in Vail Village.  A daily rate is charged unless you are a season pass holder.  Once at the top of Eagle Bahn, consider the Fireweed Hike, which is mostly a short flat hike between Eagle Bahn Gondola and Gondola One.  This hike can be reversed.  For a longer hike, use the Eagle Bahn Gondola and catch the Ptarmigan Loop for a 1.2 mile hike.  Add on the Ridge Route when you get to Wildwood, which makes this hike 4 miles, and takes, 2.5 to 3 hours.  Berry Picker is the 3 mile hike that takes you from Vail Mountain to the bottom.  Avoid Berry Picker.  It is steep and not scenic.  This is the Fireweed Hike.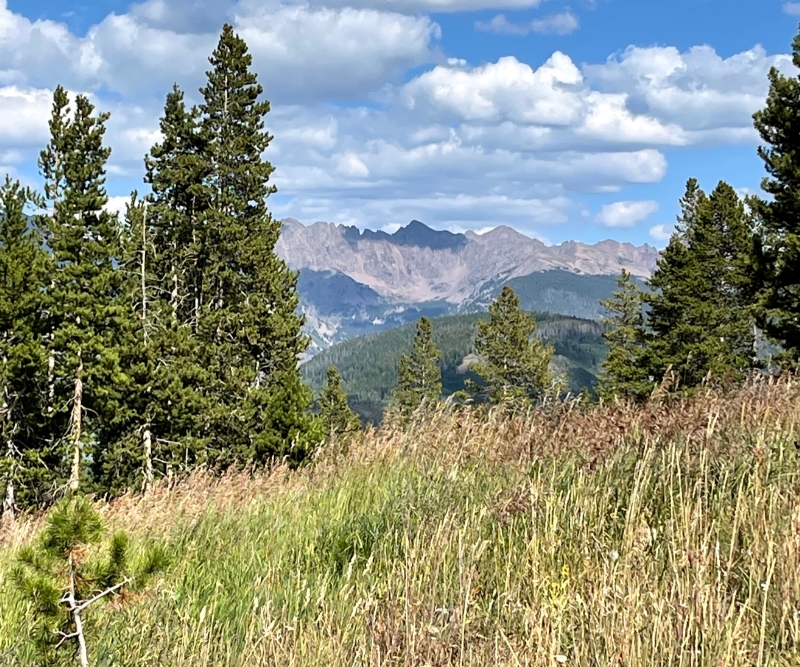 Booth Falls
The Booth Falls trail head is 3.5 miles from Vail Village.  It is a popular 4.2 mile out and back trail that is rated moderate and is heavy on spectacular views. We stop and eat before the end and turn around.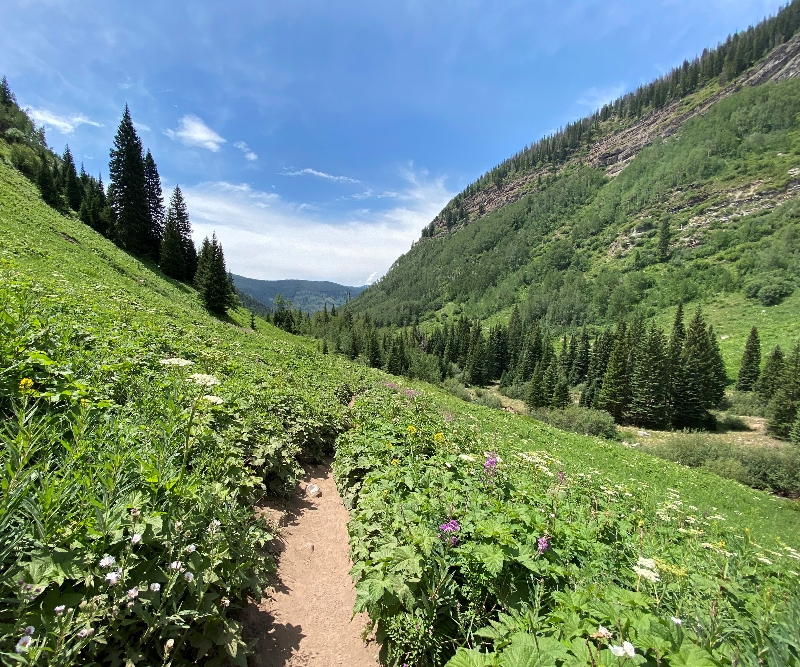 Bighorn Creek Trail
The Bighorn Creek Trail is 5 miles from Vail Village.  It's a 6.9 out and back trail that is rated hard and is heavy on aspen trees.  We ate lunch at 1.7 miles and turned around.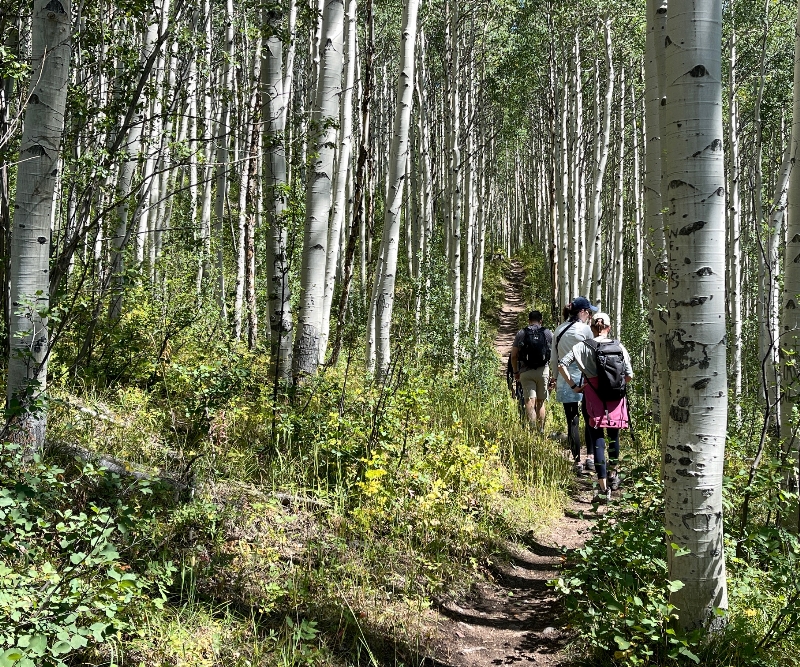 Upper Piney Rivers Falls Trail  
The Upper Piney Rivers Falls Trail is 13 miles from Vail Village.  It's a moderate 5.9 mile out and back trail that gets notable mention.  It's pinch yourself gorgeous, but the drive to the trailhead is a nail biter.  A vehicle with all wheel drive (AWD) is strongly encouraged.
Biking
Vail mountain biking is the serious kind, and the mountain is full of experienced bikers on expert biking trails.  Hikers stay off those trails.  Vail Village and the Gore Creek offers a cruiser's paradise.  More experienced road bikers will find their nirvana here too.  I've rented from Vail Bike Hub in the Village.  Bike rentals are plentiful, and many stores offer ebikes.  The Willows, my lodging trifecta, has limited cruiser bikes for guests.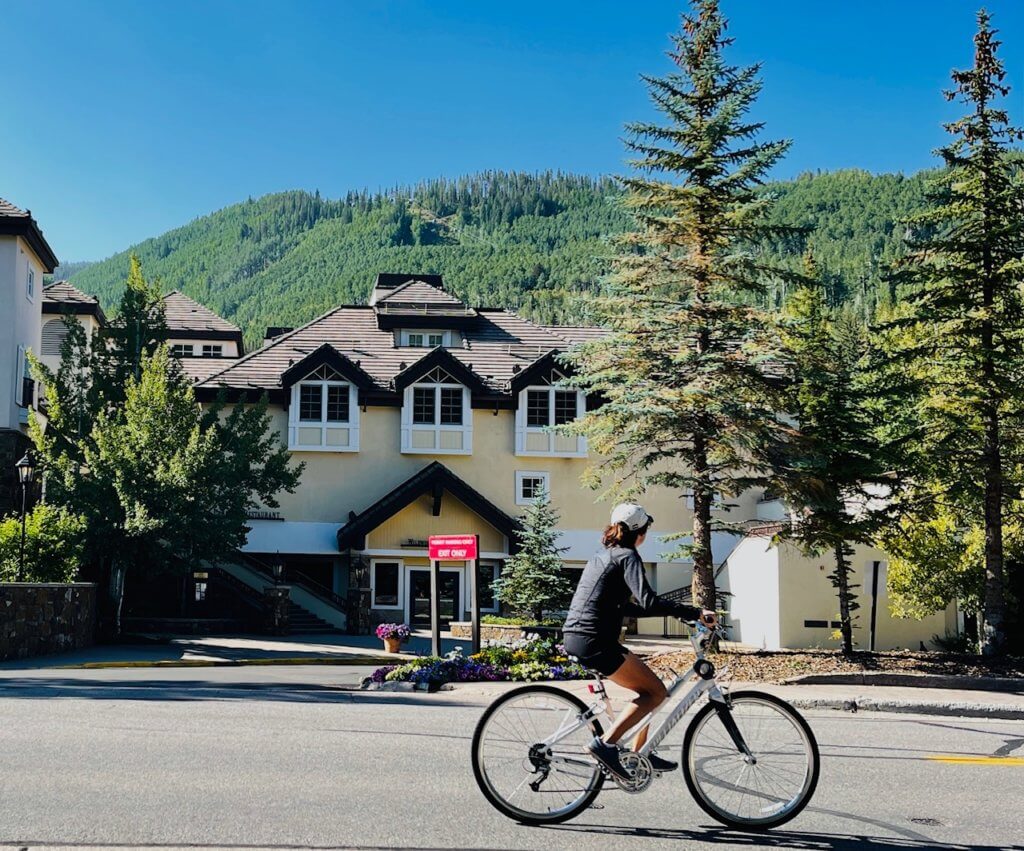 Pickleball
The Golden Peak Pickleball Center has 6 dedicated courts.  Reserve courts in advance of arrival.  I scheduled a private instructor for every day our group of four was in Vail. Drop in play is also offered.  Vail pickleball is the black diamond kind, made up of experts.  For that reason our beginner foursome stuck together for drop in play.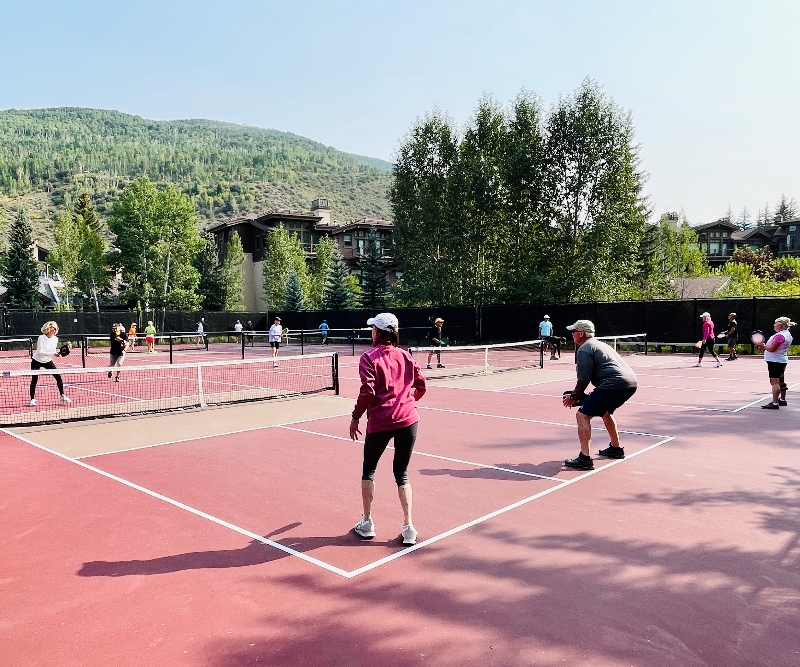 Tennis
The Bill Wright Tennis Center has eight courts and is located about one mile from the Village and just north of Golden Peak.
Golf
The Vail Golf Club is an 18 hole golf course that offers a driving range, an onsite restaurant, and much much more.  It is located in Golden Peak.
Betty Ford Garden
The Betty Ford Garden is free to the public and is another gem, between Vail Village and Golden Peak.  Make time to visit.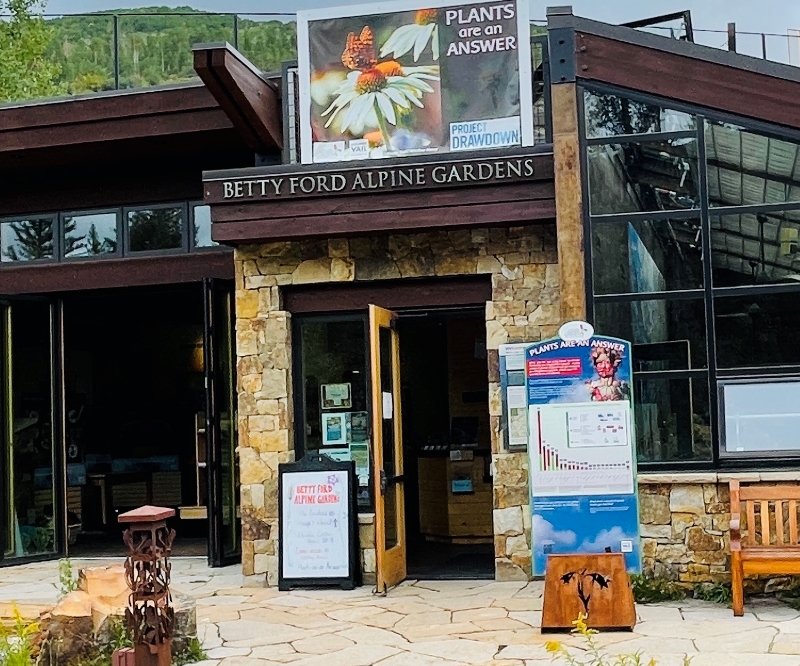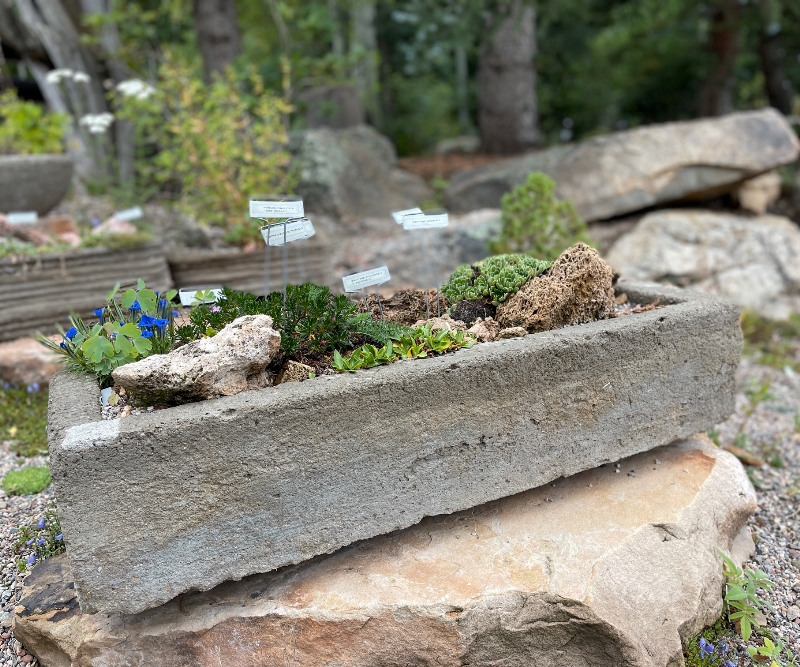 Playgrounds at the Betty Ford Gardens are the best of the best.  There are plenty of tables and benches for picnics too.  Food is not sold there.  Pack it before you go.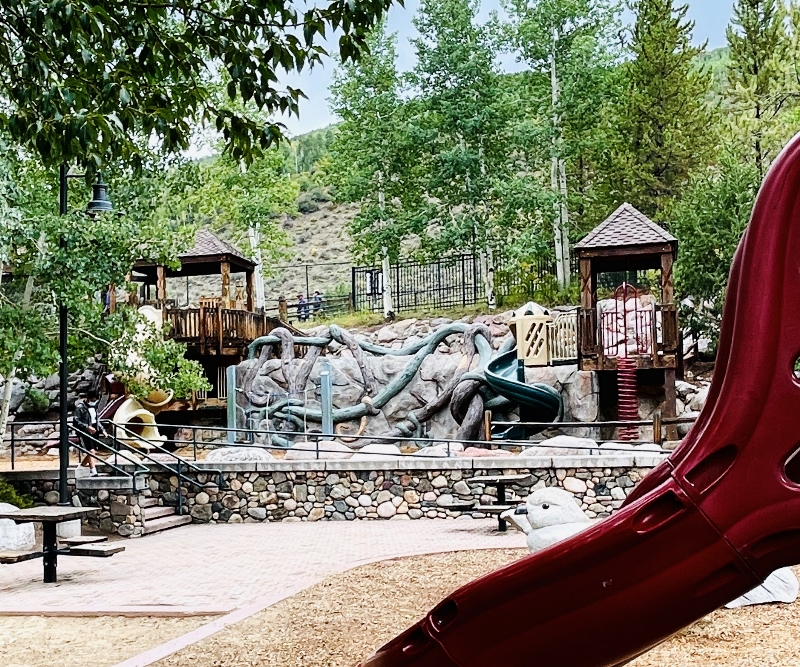 Gondola Ride & Vail Mountain Adventures
Vail Mountain is on fire in the summer with hiking, biking, bungee jumping, zipline, trampoline, climbing wall, and mini golf.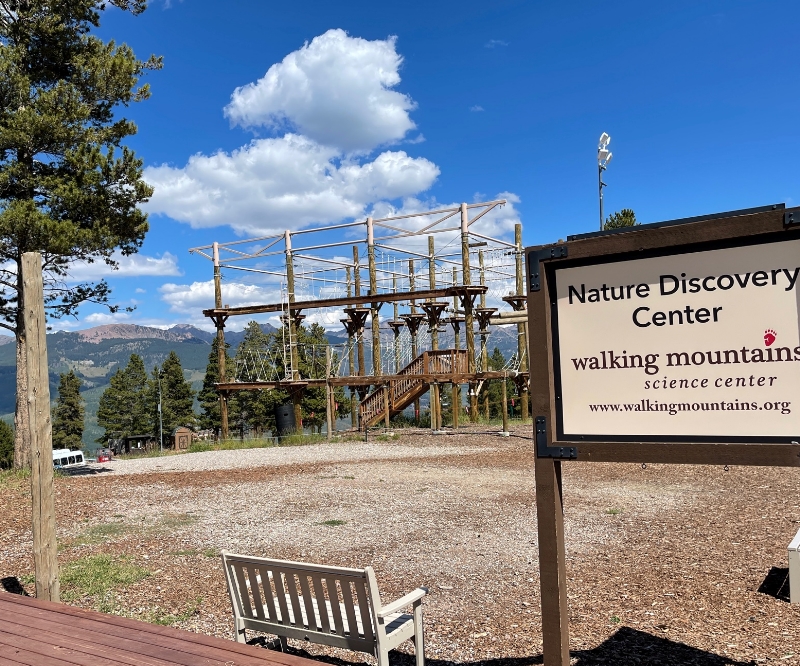 The Nature Discovery Center, located at the top of the Eagle Bahn Gondola, offers periodic one hour hikes with a Naturalist.  Registration is required.  Plan on riding the gondola to the bottom.  Be alert and know the time for the last ride down.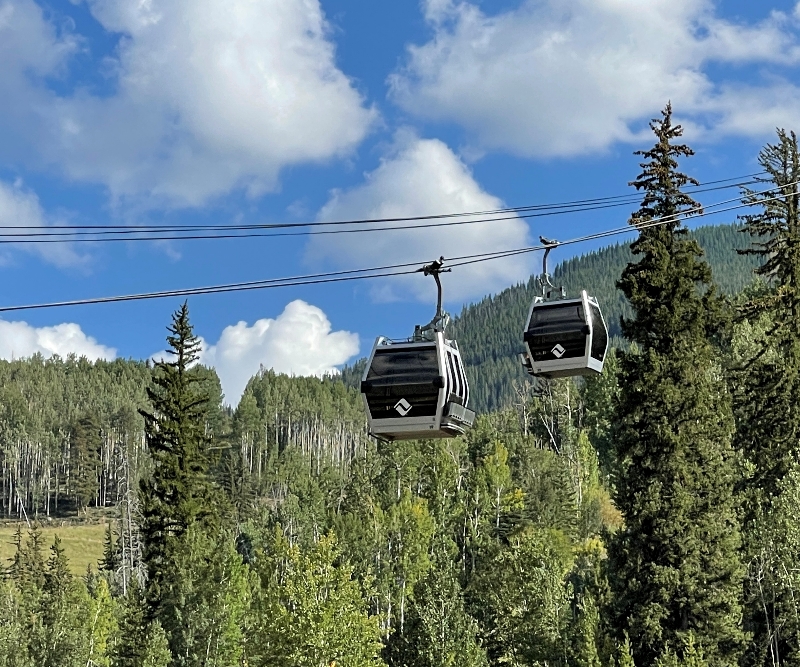 Horseback Riding
Vail Stables is located just one mile from Vail Village, and offers a variety of options for all types of riders.  Don't walk because the road to get there is not safe for pedestrians.  Peek in on the friendly goats before or after your ride.  Sage Outdoor Adventures, 6 miles away, is popular and offers horseback riding and other activities.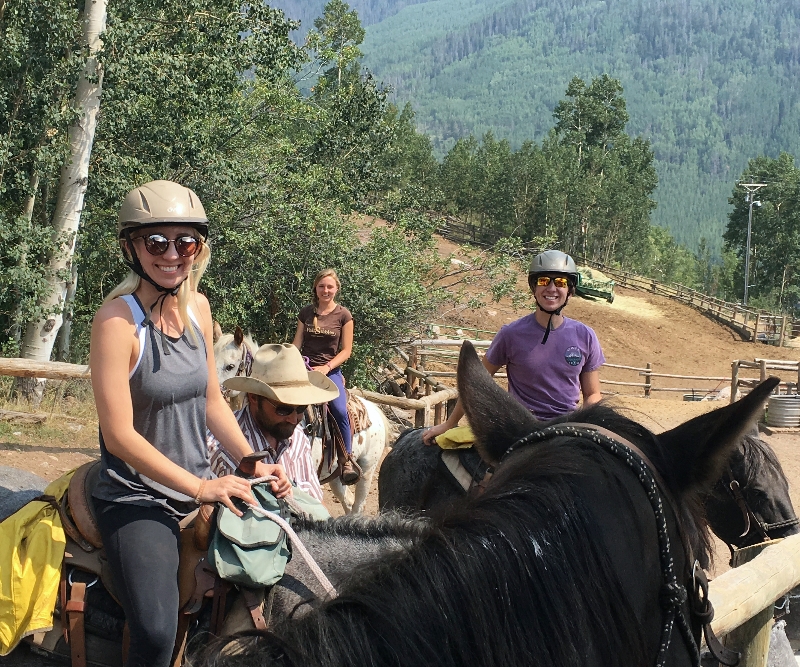 Tips on Vail
Plan in advance for dinner reservations, and for all activities.  You will likely be using the Denver International Airport, which requires triple your normal time allocation especially for departures.  The good news is that a Centurion Lounge showed up at DEN at the top of the escalator by Southwest gates.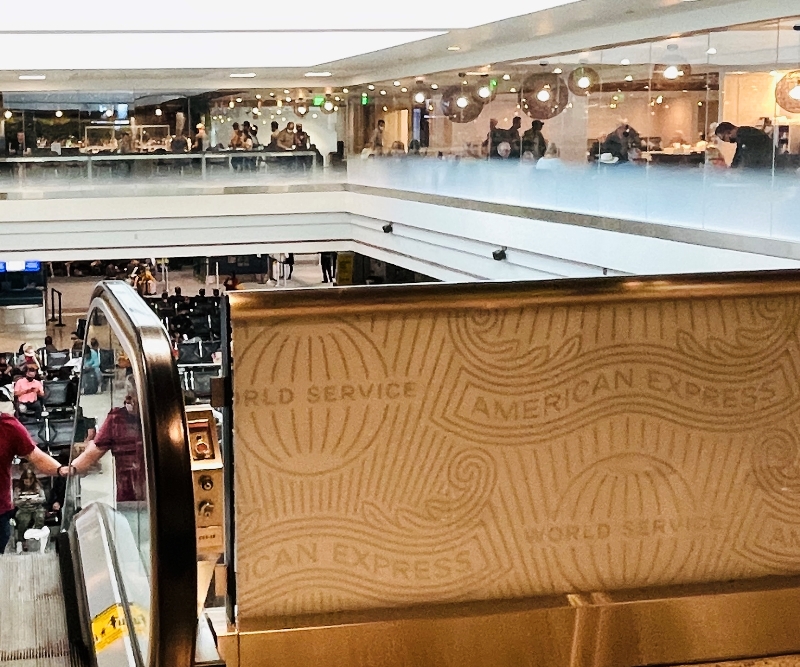 Lounge access, and how you get it, is covered in Strategy Workshops for the Expert Traveler. Reset your expectations when traveling now, to include your stay in Vail.  Service staff is in short supply everywhere.  Be patient and forgiving.  I hope your Vail summer experience is "like no place on Earth".
Strategy Workshops for the Expert Traveler
Travel is complex.  Strategy Workshops are guaranteed to ramp up the travel experience.  Move to Expert Traveler status with one or more 50 minute sessions. Workshops are curated based on needs and goals.  They are offered live in Austin, Tx, and by Zoom for all locations.  Participants range from students, preparing for a summer abroad, to office staff, responsible for travel arrangements.  Group size ranges from 1-300.  Return is guaranteed for those who book on their own or through a professional.  Let's chat and get you, your group, or office staff on the road to Expert Travel. The payoff is great.  Email TravelToolsTips@gmail.com.
Related Posts
Amazon Prime Packing System Prevents Travel Nightmares offers a start to finish guide for carry-on packing.  Essential travel supplies are covered for all travelers, including those who check luggage.
Subscribe
If you like this, hit Subscribe for updates and other travel inspiration.  Emails are infrequent, and will not wear out their inbox welcome.  Follow TravelToolsTips on social media too.  Visit the Blog for other great intel.